Fattet Hummus Recipe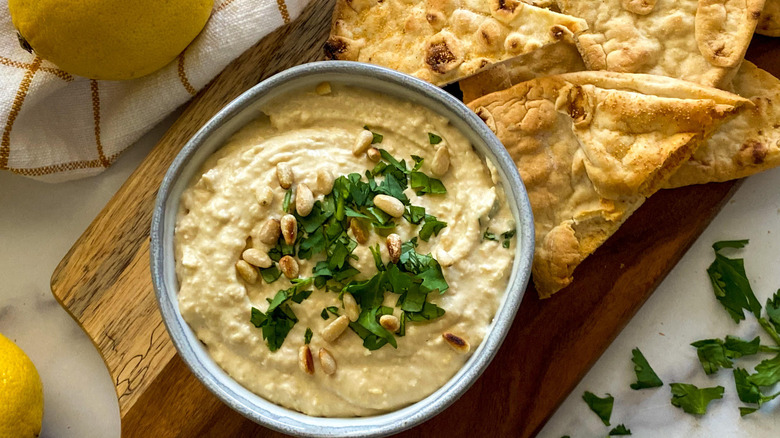 Miriam Hahn/Health Digest
Hummus is one of the most nutritious and tastiest dips that you can make. If you are looking for a new recipe for this fan-favorite, look no further than recipe developer Miriam Hahn's fattet hummus. "This dip is very similar to regular hummus with the added ingredient of yogurt," she says. "I love that it is really creamy and lighter than typical hummus." It's a slightly more sour version of hummus that's popular in some parts of the Middle East.
This dip also features lemon zest and lemon juice, making it incredibly fresh and flavorful. It also helps to know that there are so many benefits to eating it. "Homemade hummus is super healthy. I love making it myself so I can control the ingredients," Hahn shares. "Most store-bought hummus can be very oil-heavy, and I love that this recipe only has one tablespoon in the whole batch. I also like to use organic garbanzo beans (chickpeas) ... Beans are full of fiber and nutrients that are so good for you, so this is another way to get them in this delicious dip!"
Keep reading to find out how to make this yummy hummus.
Gather the ingredients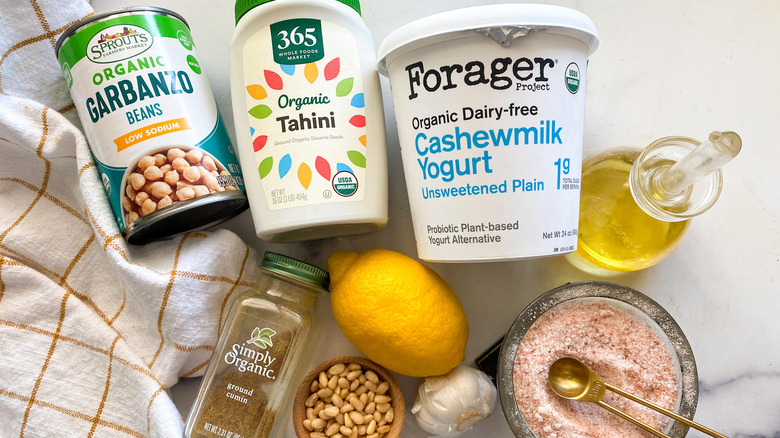 Miriam Hahn/Health Digest
Once you are ready to get things started, make a list of ingredients that you will need for this delicious hummus recipe. To start, grab a can of chickpeas (also known as garbanzo beans), which are the main ingredient in most hummus recipes. You will also need some plain, unsweetened yogurt, and you can choose whether you want to use a dairy or dairy-free version.
For flavor, grab some tahini, a clove of garlic, and one lemon for juice and zest. Add olive oil, salt (Hahn notes that she uses pink Himalayan), and cumin powder to complete your shopping list. There are also two optional ingredients: toasted pine nuts and Italian parsley for topping.
Zest the lemon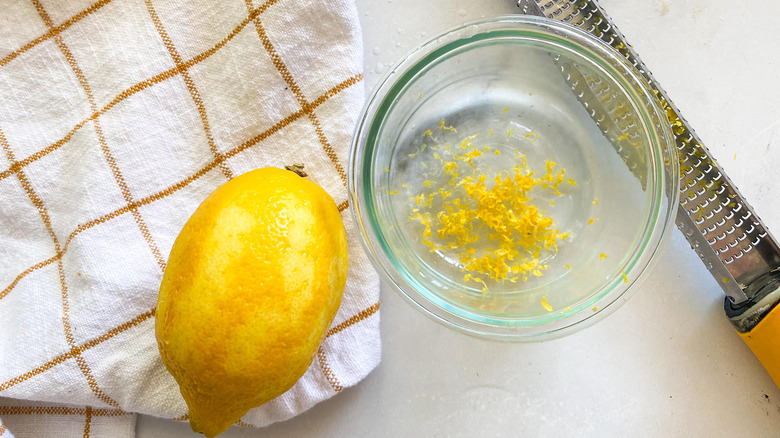 Miriam Hahn/Health Digest
Without further ado, let's get down to business. By now, you should have all of your ingredients purchased and laid out on the counter in front of you. Grab your lemon and use a Microplane to zest it. "A Microplane is a zester," Hahn notes. "I use it mostly for lemons, limes, and ginger. It is just a really fine grater and super handy to have in the kitchen." 
Put the zest in a cup or leave it on a cutting board and set it to the side because you will need it in just a minute.
Add the ingredients to the food processor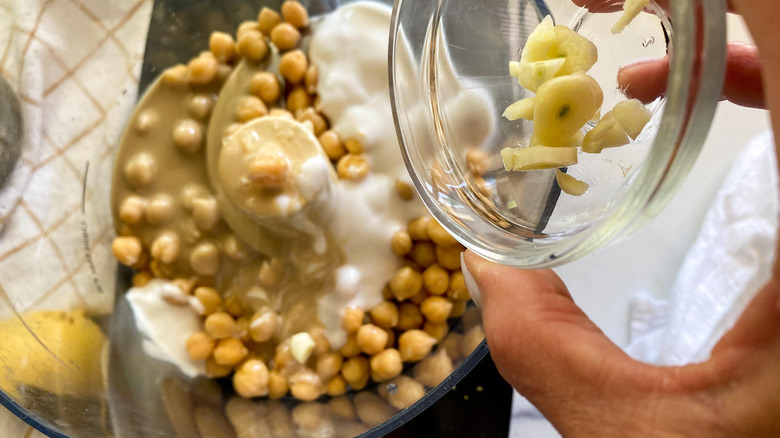 Miriam Hahn/Health Digest
Now, it's time to bust out one of the best kitchen helpers out there: the food processor. Open the lid and toss in all of your ingredients. Start with the chickpeas (a.k.a. garbanzo beans), and pour them in. Just a quick reminder that you should have drained and rinsed the beans ahead of time. Then, grab the yogurt, garlic, and lemon juice, and throw them in. At this time, you can also grab the lemon zest and add it with everything else. 
The last few items that you need to include are the olive oil, salt, and cumin.
Blend the hummus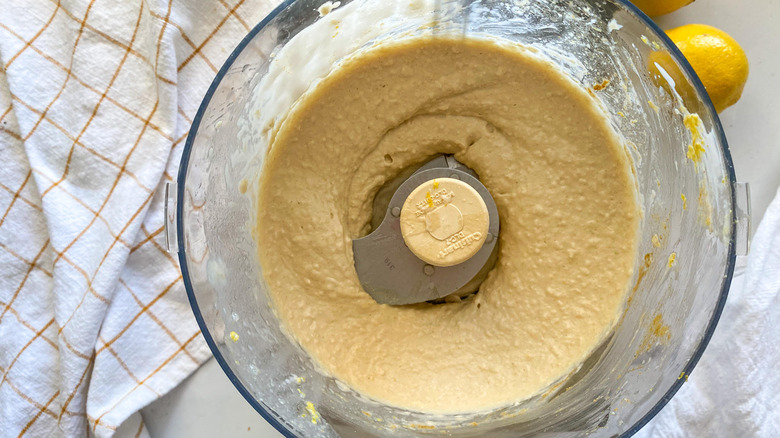 Miriam Hahn/Health Digest
Pop the lid back on the food processor and start to blend all of the ingredients. It should only take about two minutes for the mixture to get smooth and creamy, which is a good indicator that it's done. It should also look like any hummus that you've enjoyed before. 
Once the hummus is good to go, grab a serving bowl or whatever you would like to store it in and use a spoon or spatula to scrape the sides, making sure you get every last bit of hummus out. Trust us — you don't want to waste any!
Serving and leftovers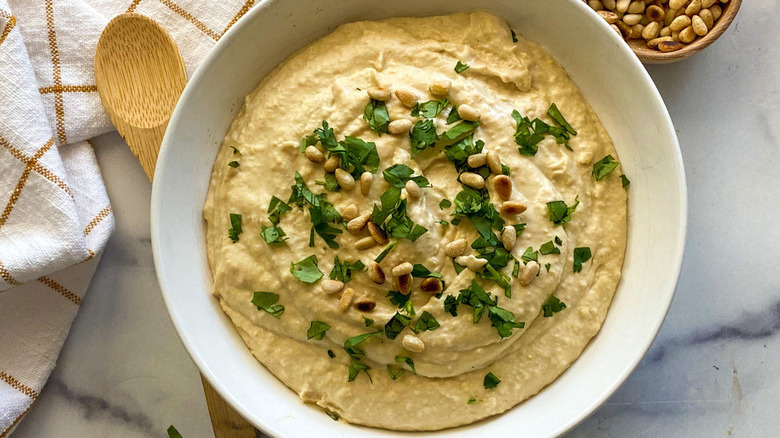 Miriam Hahn/Health Digest
The last thing you need to do is top your fattet hummus with fresh chopped parsley and pine nuts. "This dip is great to serve with pita chips or vegetables, but is also great layered on a whole grain wrap and then piled high with roasted vegetables, fresh spinach, and tomatoes," Hahn suggests. "This makes a great lunch or dinner. I also use this dip in my Buddha bowls. To make it more of a dressing in a Buddha bowl or salad, I just thin it out by adding some fresh lemon juice."
As far as leftovers go? "This will store great for up to a week in a glass air-tight container. However, it never lasts very long in my house," Hahn shares. "I make it, and it is devoured, seriously." Yum!
Fattet Hummus Recipe
If you are looking for a new recipe for this fan-favorite, look no further than recipe developer Miriam Hahn's fattet hummus.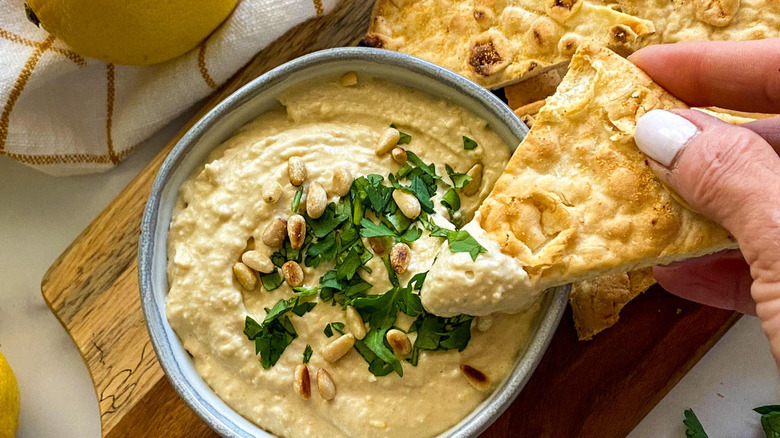 Ingredients
Juice and zest of one lemon
1 can chickpeas, rinsed and drained
½ cup plain, unsweetened yogurt
⅓ cup tahini
1 clove garlic, minced
1 tablespoon olive oil
1 teaspoon salt
1 teaspoon cumin powder
Optional Ingredients
¼ cup toasted pine nuts, for topping
Italian parsley, for topping
Directions
Using a micro plane, zest the lemon.
Add the beans, yogurt, tahini, garlic, lemon juice and zest, olive oil, salt, and cumin to a food processor.
Blend for about 2 minutes until it is smooth and creamy.
Top with pine nuts and fresh chopped parsley if desired. Serve with pita bread!
Nutrition
| | |
| --- | --- |
| Calories per Serving | 215 |
| Total Fat | 12.2 g |
| Saturated Fat | 1.9 g |
| Trans Fat | 0.0 |
| Cholesterol | 2.7 mg |
| | |
| --- | --- |
| Total Carbohydrates | 21.0 g |
| Dietary Fiber | 6.1 g |
| Total Sugars | 4.1 g |
| Sodium | 273.0 mg |
| Protein | 8.2 g |