Healthy Turkey Meatloaf Recipe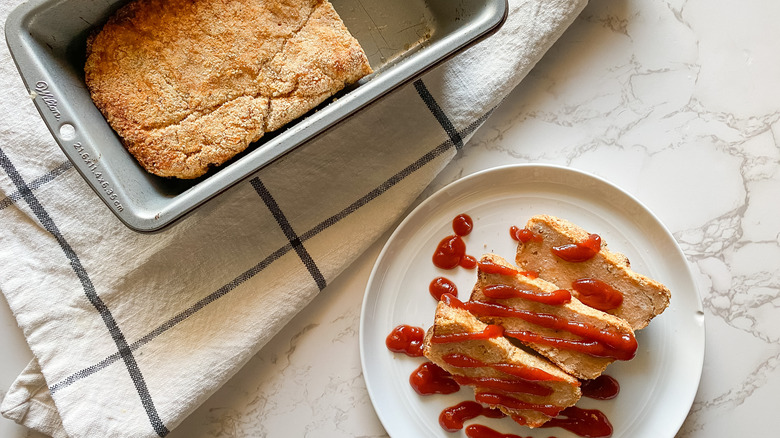 Kristen Carli/Health Digest
Meatloaf is one of the all-time best comfort foods, and just saying the name out loud gives us a warm and fuzzy feeling that brings us back to childhood. When most people think of meatloaf, they think of a nice homemade meal that grandma or mom made, maybe for a special occasion or one with the family gathered around the table. Most of the time, people opt to use beef for meatloaf, but there are several other subs that you can use instead that are slightly better for you. Take ground turkey, for example. It's a little bit lighter and healthier, so you can feel better after you eat. 
Recipe developer Kristen Carli came up with this great twist on meatloaf, and we know you're going to love it! "This is the ultimate healthy meatloaf," she says. "I used turkey for a leaner protein option with less fat," she raves. We like the sound of that!
If you're looking for a way to spice up your meatloaf, then this is just what the doctor ordered. Keep reading to find out how to make this fantastic turkey meatloaf.
Gather the ingredients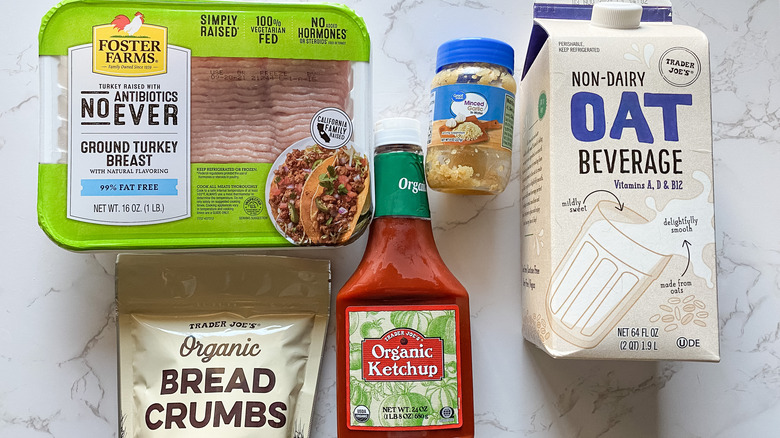 Kristen Carli/Health Digest
To start, grab a pen and paper and jot down the items you need to make this filling meal. Luckily, the list is relatively small, and you may already have a few of these items at home. The first ingredient you will need to get at the store is a pound of ground turkey. In addition, you will need a dash of salt and pepper — both of which are standard in most recipes.
The next item you will need is some oat milk, which may seem different, but it's healthier than many other types of milk, and it adds a nice flavor to your meatloaf. You will also need some organic ketchup, organic bread crumbs, and minced garlic. Now, it's time to get started.
Preheat the oven and spray the loaf pan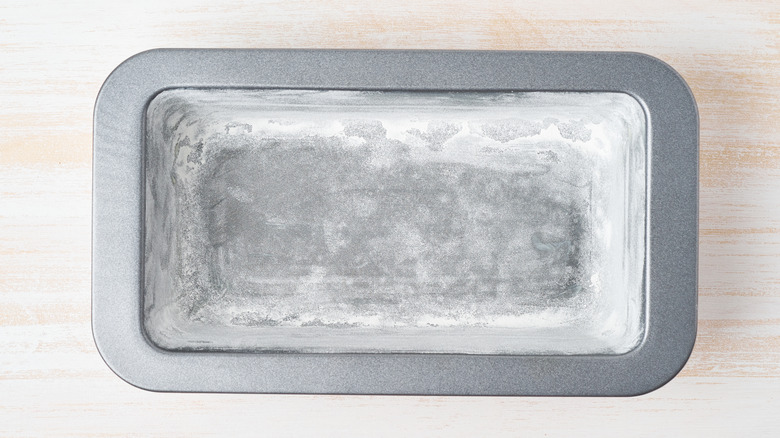 Nata Bene/Shutterstock
The first thing you will need to do is preheat your oven so it's ready to go when it's time to put the meatloaf in. Preheating may seem like it's not a big deal, but we cannot stress enough that it is. The oven must be at the right temperature for the meatloaf to cook correctly, or else it could ruin your whole meal. Be sure to set the temperature to 400 F.
After you turn the oven on, grab a loaf pan and spray it with nonstick cook spray. Set it to the side, as you'll need it shortly.
Mix the meatloaf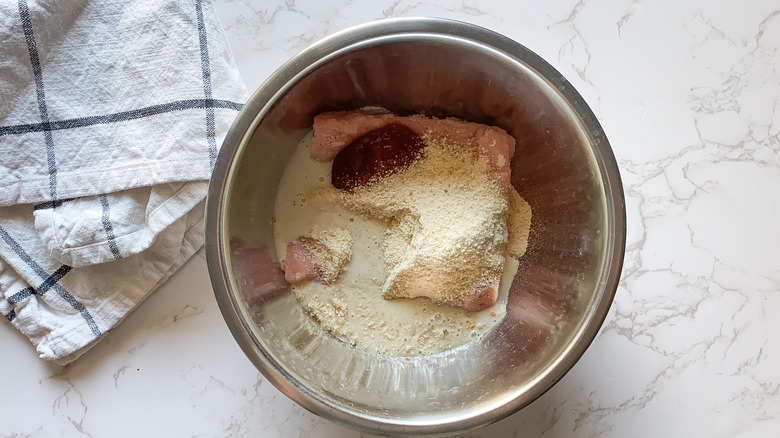 Kristen Carli/Health Digest
Take out a large bowl that is big enough to fit all of your ingredients. Then, add every single item that you got on your shopping trip. Start with the ground turkey and the salt and pepper. Next, toss in the oat milk and breadcrumbs. The last item that goes into the meatloaf is garlic because garlic goes well in anything and everything. Use your hands to combine the meatloaf, as this is the easiest way to get all the ingredients mixed. If you'd prefer to wear gloves, you can also do that to prevent the meat from sticking to your hands.
Form the meatloaf and bake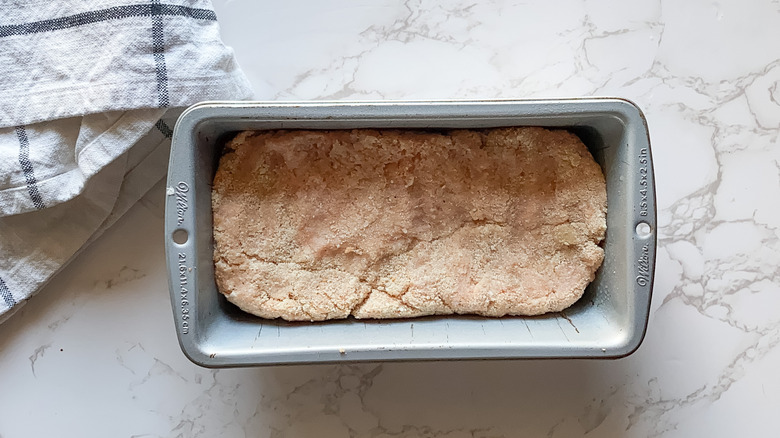 Kristen Carli/Health Digest
Once you've mixed everything together, form the turkey mixture into a loaf shape and place it in your loaf pan. Try to make sure all portions are even so the meat cooks evenly.
Next, double-check that your oven has hit the 400 F mark. If it has, you can pop in the pan and set your timer for 40 minutes. "To check for doneness, be sure to use a meat thermometer. [It should read] 165 F," Carli suggests.
Then, grab your oven mitts and take the meatloaf out. Congrats! You did it, and the rest is smooth sailing. 
Serving suggestions and leftovers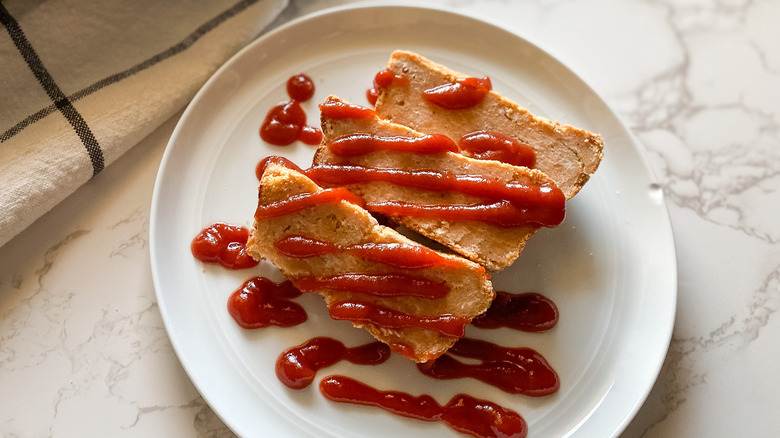 Kristen Carli/Health Digest
Feel free to slice and plate the meatloaf however you please. Some people may want a bigger piece, and some may ask for a smaller portion. The meatloaf is filling by itself, but several options would go well with it. "This recipe is great on the side of some cauliflower mash and green salad," Carli shares. We also think that it would be great with some Brussels sprouts or mashed potatoes.
We don't foresee you having leftovers, but they will keep well for a few days if there are any. "Leftovers store well in an airtight container in the fridge for up to three days," Carli says. We hope you loved this recipe as much as we do! 
Healthy Turkey Meatloaf Recipe
Most of the time, people opt to use beef for meatloaf, but there are several other subs that you can use instead that are slightly better for you.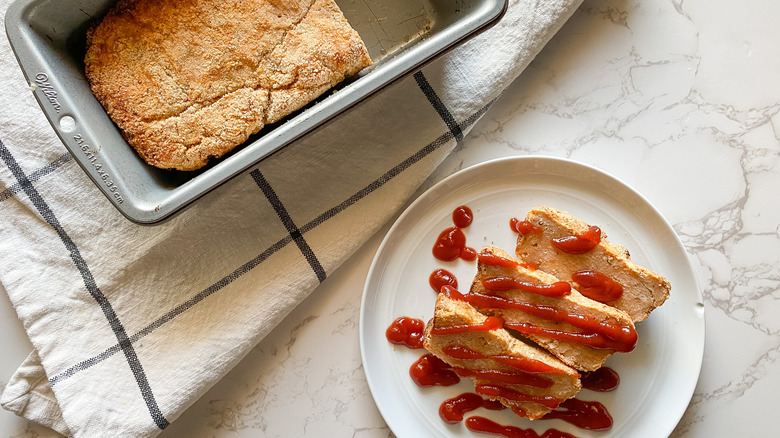 Ingredients
1 pound ground turkey
1 teaspoon salt
½ teaspoon pepper
¼ cup oat milk
¼ cup organic ketchup
1 cup organic bread crumbs
1 tablespoon minced garlic
Directions
Preheat oven to 400 F.
Spray a loaf pan with nonstick cooking spray.
In a large bowl, add turkey, salt, pepper, oat milk, ketchup, bread crumbs, and garlic. Using your hands, mix to combine.
Form into loaf shape and place in loaf pan.
Bake for 40 minutes.
Serve and enjoy.
Nutrition
| | |
| --- | --- |
| Calories per Serving | 202 |
| Total Fat | 7.1 g |
| Saturated Fat | 1.9 g |
| Trans Fat | 0.1 g |
| Cholesterol | 53.2 mg |
| | |
| --- | --- |
| Total Carbohydrates | 16.8 g |
| Dietary Fiber | 0.9 g |
| Total Sugars | 3.8 g |
| Sodium | 271.0 mg |
| Protein | 17.8 g |