Why The CDC Issued An Urgent Alert For Pregnant Women To Get The COVID-19 Vaccine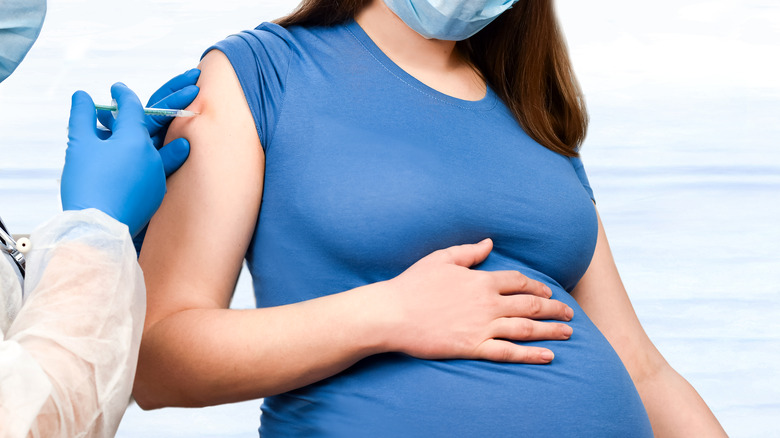 Marina Demidiuk/Shutterstock
As of September 29, 55% of the U.S. population has been fully vaccinated against the COVID-19 virus (via Our World in Data). However, that percentage falls to 31% in pregnant individuals (via NPR). Some people across the country remain hesitant to receive the vaccine, with the spread of misinformation influencing many people's reluctance, according to NBC News.
On Wednesday, September 29, the Centers for Disease Control and Prevention (CDC) announced the "urgent" need for those that are pregnant, planning to become pregnant, as well as those that are currently breastfeeding to get vaccinated. This recent push for vaccination among pregnant individuals stems from recent data from the CDC revealing a total of 22,000 hospitalizations and 161 deaths occurring in pregnant people across the country. With over 20 of these deaths occurring within this past August, health officials emphasized that those with preexisting health conditions, including pregnancy, are at an increased risk for severe outcomes associated with COVID-19.
Pregnant individuals are at an increased risk for severe COVID-19 complications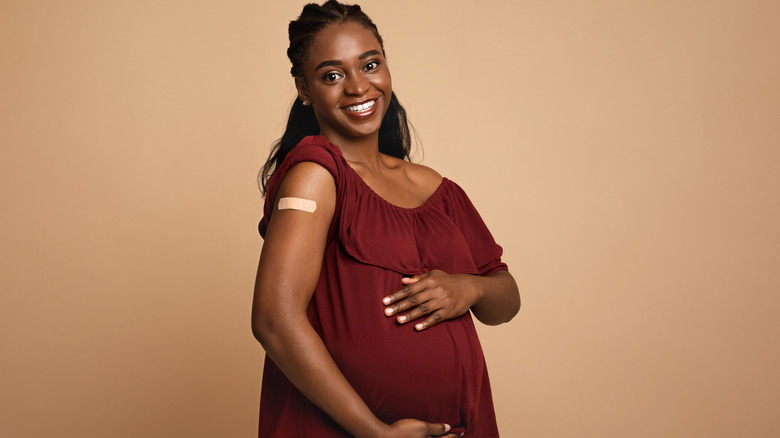 Prostock-studio/Shutterstock
In addition to increased risk for hospitalization and death, unvaccinated pregnant individuals are at an increased risk for birth complications should they contract COVID-19. One of these risks includes premature birth, which can cause respiratory problems in newborns, according to the CDC. This risk is compounded if the infant also contracts the virus through transmission from the mother (via NBC News).
CDC Director Dr. Rochelle Walensky issued a statement via NBC News, saying, "I strongly encourage those who are pregnant or considering pregnancy to talk with their health care provider about the protective benefits of the Covid-19 vaccine to keep their babies and themselves safe." In addition to the benefit of increased protection against serious COVID-19 complications, the CDC also revealed that receiving the vaccine while pregnant helps develop antibodies. Recent research detected the presence of antibodies in the blood of a pregnant person's umbilical cord after having been vaccinated. While more research is still needed, these antibodies may provide increased protection for the baby.
"Pregnancy can be both a special time and also a stressful time — and pregnancy during a pandemic is an added concern for families," said Walensky (via NPR). As the CDC explained, evidence shows the vaccine to be both safe and effective for pregnant individuals. Choosing to receive the vaccine may help ease families' fears surrounding COVID-19 infection.