Healthy Piña Colada Smoothie Recipe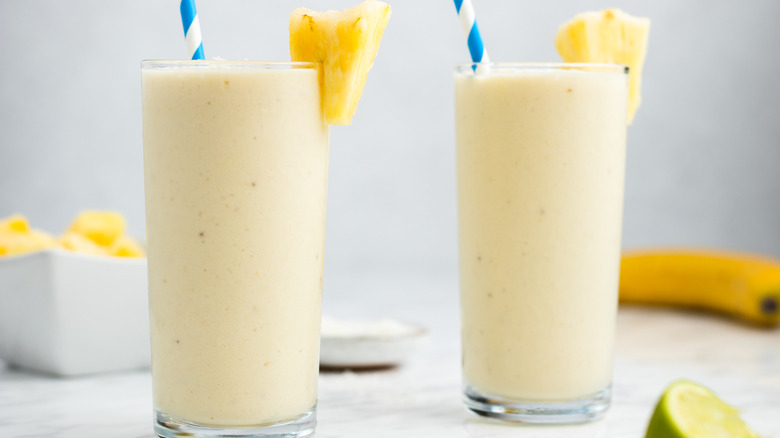 Catherine Brookes/Health Digest
This gorgeous and refreshing-looking piña colada designed by chef and recipe developer Catherine Brookes is supposed to be healthy, and sugar and booze are not healthy the last time we checked! So what gives, you ask? Why, it's an added sugar-free and non-alcoholic take on the drink, but it's still absolutely delicious. And easy to prep. Brookes says it's "super simple, you can't really go wrong," adding: "Pineapple, banana, and coconut is such a delicious combo, full of natural sweetness, creaminess, and tropical flavor." Of course, this is a clear choice for the summer months, but this smoothie is so delicious, you can enjoy it all year long.
The best part of all is the fact that this smoothie whips up in no time at all, so you're only a few minutes away from a cold, refreshing smoothie you'll want to drink every day. Here's how to make it.
Gather your ingredients for a healthy pina colada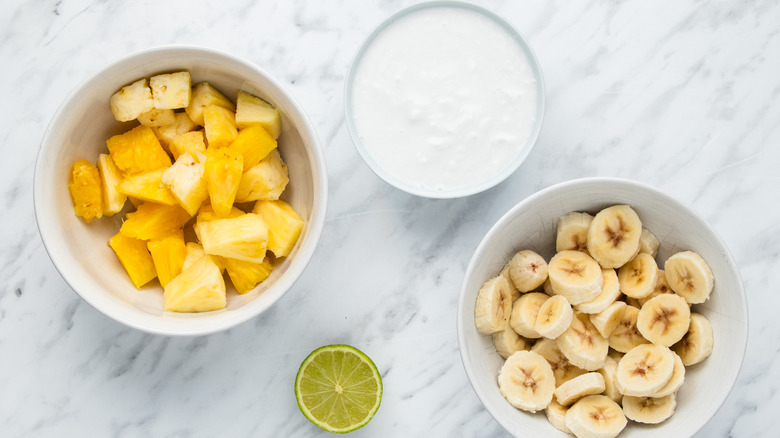 Catherine Brookes/Health Digest
It doesn't take much to make a delicious piña colada, and by the way, yes, now is a good time for us to admit it: You can also just call this a smoothie, maybe a banana pineapple coconut smoothie? Nah, piña colada still sounds better. 
So, to make this non-alcoholic pina colada, gather about one and a half cups of fresh pineapple, two large ripe bananas (peeled, sliced, and frozen well ahead of time), a cup of canned coconut milk, and the juice of half a lime. Brookes also says: "You could add some crushed ice if you want to make it more like a slushie or a squeeze of honey if you want to sweeten it up even more."
Blend and enjoy — it's that easy1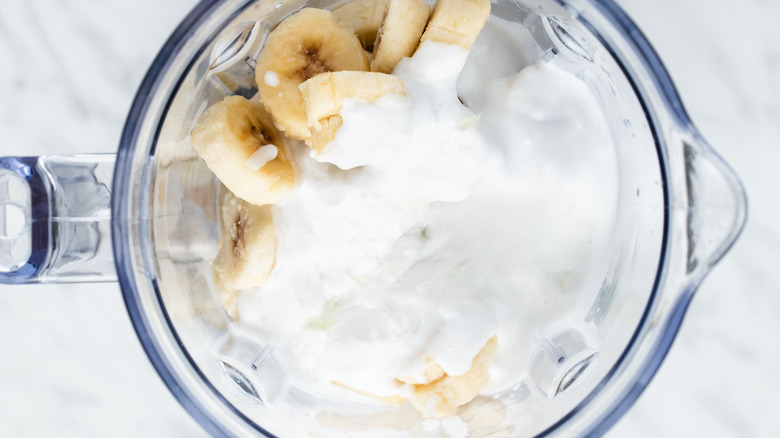 Catherine Brookes/Health Digest
See if you can hold on with this next step: Add all of the ingredients — so those are the frozen banana slices, the fresh pineapple pieces, the cup of coconut milk, and the lime juice — to a blender and run that blender at high speed until everything is blended and smooth.
Still with us? Awesome, because you're done. Now simply pour out servings, garnish the glasses with a wedge of fresh pineapple (and some dried coconut flakes, if you'd like), and enjoy. And look, if you want to pour in a shot of rum, go right ahead.
The health benefits of pineapple and banana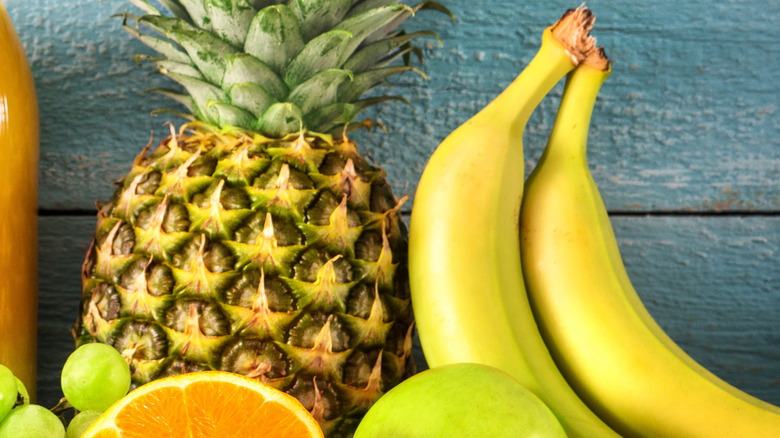 Alexander Raths/Shutterstock
Granted, you know that fruit is good for you. But isn't it nice to have some specifics? Like when we talk about bananas, the specifics are 33% of your daily vitamin B6 needs, 10% of your copper, 9% of your potassium, and 8% of your magnesium all in one medium-sized banana, according to Healthline. They also pack in some fiber, a bit of protein, and almost no fat.
And when it comes to pineapples, the vitamin C is through the roof, as in 131% of your daily needs. Plus, there's 76% of your needed manganese and decent amounts of copper, folate, magnesium, and much more. Pineapples are also loaded with antioxidants, and they may improve digestive health and boost your immune system. Also, they taste great.
Healthy Piña Colada Smoothie Recipe
This gorgeous and refreshing-looking piña colada designed by chef and recipe developer Catherine Brookes is actually healthy!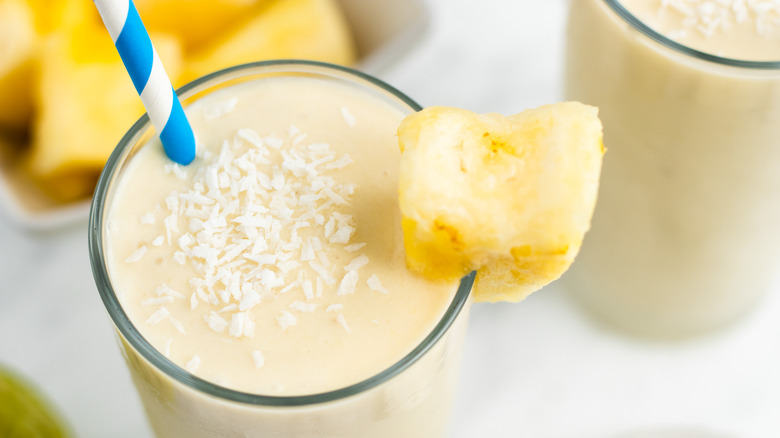 Ingredients
1 ½ cups fresh pineapple
2 large ripe bananas (peeled, sliced, and frozen)
1 cup canned coconut milk
Juice of half a lime
Directions
Add all ingredients to a blender and blitz until smooth.
Pour out servings, add pineapple garnish, and enjoy.
Nutrition
| | |
| --- | --- |
| Calories per Serving | 411 |
| Total Fat | 24.7 g |
| Saturated Fat | 21.5 g |
| Trans Fat | 0.0 |
| Cholesterol | 0.0 mg |
| | |
| --- | --- |
| Total Carbohydrates | 52.2 g |
| Dietary Fiber | 5.7 g |
| Total Sugars | 29.1 g |
| Sodium | 17.6 mg |
| Protein | 4.6 g |