Why Doctors Say There Is No Need To Panic About Waning Vaccine Immunity
Dimitris Barletis/Shutterstock
The Centers for Disease Control and Prevention recommends a booster shot six months after getting the second COVID-19 vaccination for those older than 65, adults with underlying medical conditions, and adults who live or work in high-risk settings or long-term care settings. Per the CDC, COVID-19 vaccinations' effectiveness decreases over time, which is likely due to waning immunity and the increased infectiousness of the delta variant. 
The FDA approved an emergency use authorization for Pfizer's booster shots for people over 65, adults at risk for severe COVID-19, and those who live or work in a setting that puts them at high risk (such as health care workers). While you may be anxiously awaiting your turn for a booster shot, experts say there's no reason to panic about waning immunity. Dr. Ann Falsey, a specialist in viral respiratory diseases, told CNN, "It's not like suddenly one day you're completely susceptible, like you were before you were vaccinated."
Studies show the Pfizer vaccine is still effective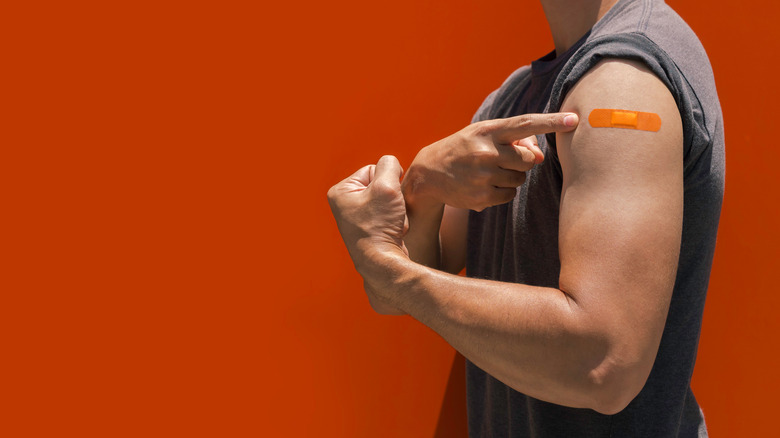 tete_escape/Shutterstock
Two studies, both published in The New England Journal of Medicine, one from Israel and one from Qatar, have shown that immunity from COVID-19 vaccinations begins to wane after about two months. Still, two doses of Pfizer's vaccine continue to protect against severe illness, hospitalizations, and death. 
The Israel study covered nearly 5,000 health care workers who received both doses of the Pfizer vaccine, which is 94% to 95% effective seven days after the second dose. Researchers found that their antibodies do wane — especially in people who are male, immunocompromised, or older than 65 — within six months. Researchers also found that immunity in people who've had COVID-19 and then got vaccinated was strongest and lasted longer.
The Qatar study researched Pfizer vaccine effectiveness against severe and fatal COVID-19 over eight months. Protection against COVID-19 started to wane after the second dose, but protection against hospitalization and death remained strong — over 90% — within six months following the second shot. The researchers added that the reduction in defense could be due to vaccinated people's behavior. They tend to loosen up social distancing and masking after getting vaccinated, which could contribute to the waning effectiveness.