Vegetarian Refried Beans Recipe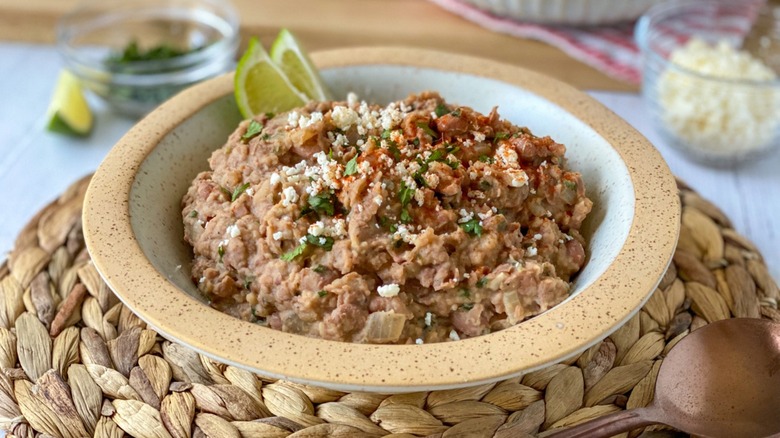 Hayley MacLean/Health Digest
Refried beans are a delicious, nutritious part of many Mexican meals. What's more, they can be plant-based, and thus safe for people of all dietary preferences, right? (Well, maybe not strict low-carb dieters, since beans do have a lot of carbohydrates.) Well, no, not always. Recipe developer Hayley MacLean says, "It can be difficult to find vegetarian refried beans in restaurants and stores, as most varieties are made with lard or chicken broth!" She adds that '"If you are vegetarian or vegan, it is important to ask or check the label before assuming they will not contain any animal product. There are some great brands out there that do make vegetarian versions."
The best option when it comes to refried beans, however, is to make your own. As MacLean remarks, "Fresh-made always tastes the best!" She tells us that her favorite part of this vegetarian refried beans recipe is "how fresh the flavors are," explaining, "if you're used to canned refried beans, this is such a nice change with the bright spices and fresh cilantro."
The ingredients for this recipe are easy to find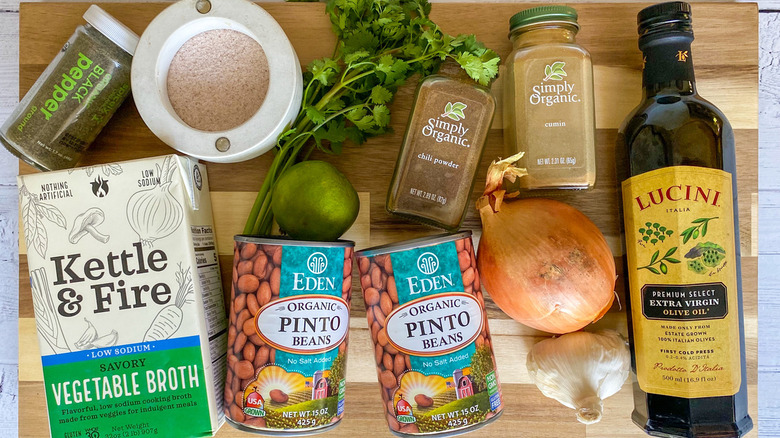 Hayley MacLean/Health Digest
Many of the ingredients you'll need to make these refried beans may be items you already have on hand. You need olive oil and vegetable broth for cooking as well as a few fruits and veggies: yellow onion, fresh garlic, cilantro, and lime. You'll spice things up with chili powder and cumin.
The beans in this recipe are the canned pinto variety. You can switch things up if you like, though. MacLean says, "Black beans are the best substitute in this recipe, as they have a similar taste. However, you can experiment with many different kinds of beans, including navy, cannellini, or even kidney! They will all have slightly different flavor profiles but should mash up just the same."
Start by sautéing the onions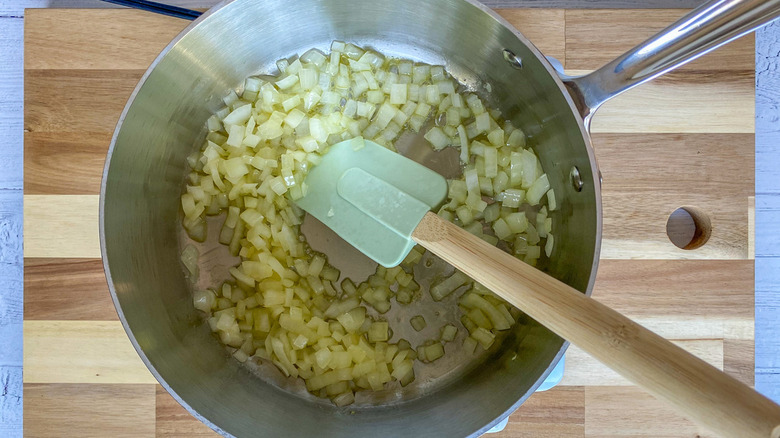 Hayley MacLean/Health Digest
You will need to peel and chop both the onion and the garlic before you start cooking. Once these tasks are done, heat the oil in a medium-sized saucepan over medium-high heat. Sauté the onions for four to six minutes until they start to soften, then add the garlic and the spices to the pan and cook the veggies for another minute or until they are fragrant. Keep on stirring as you cook — that way, you can keep an eye on the garlic to make sure it doesn't burn.
Cooked the beans before and after mashing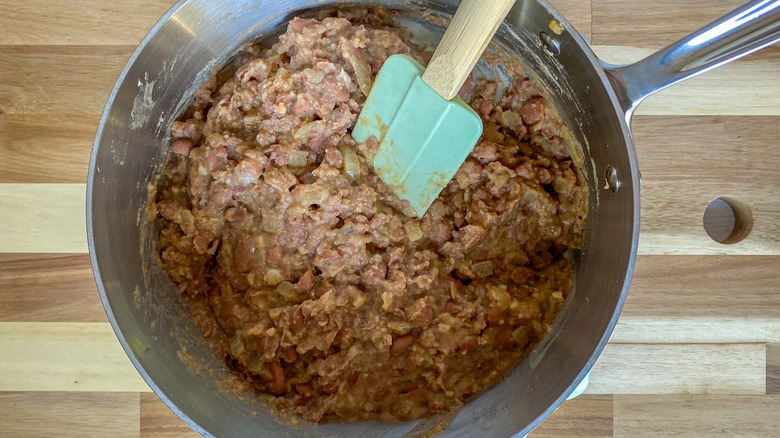 Hayley MacLean/Health Digest
Drain the beans, then stir them into the onions along with the broth. Cover the pan with a lid and cook the beans for five minutes. Turn the heat down to low and take the lid off — go ahead and put it in the dishwasher or the sink since you won't be needing it any more at this point.
Take a potato masher or a fork and mash up about half of the beans, maybe a little more, until your refried beans are whatever consistency you want them to be. Cook them for another five minutes, stirring, then turn off the heat and stir in the cilantro and lime juice. As a final touch, add as much salt and pepper as you think the refried beans need. You can also add some powdered chili or a dash of hot sauce, if you like.
These refried beans are very versatile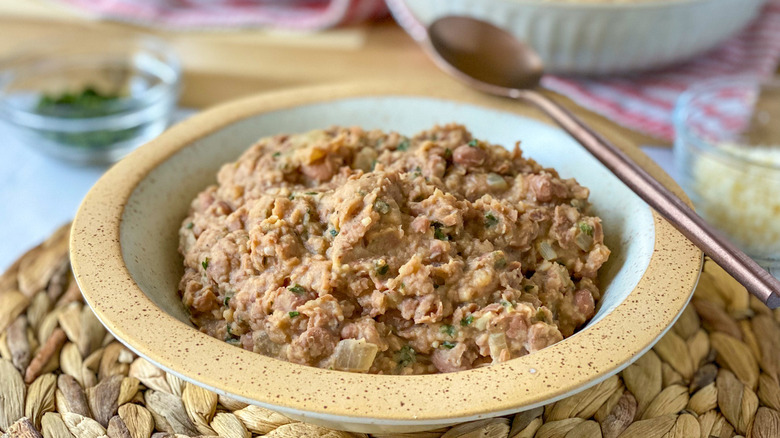 Hayley MacLean/Health Digest
These beans make a great side dish on their own, or they could also be served with rice. That's not all you can do with them, though. MacLean says, "I love serving these beans in nachos, taco salads, enchiladas, burritos — so many different Mexican dishes!" She also suggests serving them "as a chip dip on game day."
MacLean advises that the beans should keep in the fridge for up to five days if you store them in an airtight container, although you can also freeze them for up to six months if you prefer.
Vegetarian Refried Beans Recipe
Tired of seeing too many refried beans that are made with animal products? Here's how to make your own vegetarian version at home.
Ingredients
1 tablespoon olive oil
½ medium yellow onion, finely chopped
3 cloves garlic, minced
½ teaspoon chili powder
¼ teaspoon cumin
2 cans pinto beans, rinsed and drained
½ cup vegetable broth
2 tablespoons fresh cilantro, finely chopped
1 tablespoon lime juice
Directions
Warm the olive oil in a medium saucepan over medium-high heat.
Add the onions to the pan and cook until softened, 4 to 6 minutes.
Add the garlic, chili powder, and cumin to the onions and cook, stirring continuously, for about 1 minute or until fragrant.
Stir the drained beans and vegetable broth into the pan, then cover the pan and cook for 5 minutes.
Reduce the heat to low and remove the lid.
Use a potato masher or fork to mash a little over half of the beans until they reach your desired consistency.
Cook the beans, uncovered, for 5 more minutes, stirring frequently.
Remove the refried beans from the heat and stir in the cilantro and lime juice.
Season the beans with salt and pepper to taste.
Serve the beans immediately or store them in an airtight covered container until ready to serve.
Nutrition
| | |
| --- | --- |
| Calories per Serving | 133 |
| Total Fat | 3.2 g |
| Saturated Fat | 0.5 g |
| Trans Fat | 0.0 g |
| Cholesterol | 0.0 mg |
| | |
| --- | --- |
| Total Carbohydrates | 20.4 g |
| Dietary Fiber | 5.4 g |
| Total Sugars | 1.0 g |
| Sodium | 231.1 mg |
| Protein | 6.7 g |