This Is What Pumpkin Seed Oil Can Do For Your Body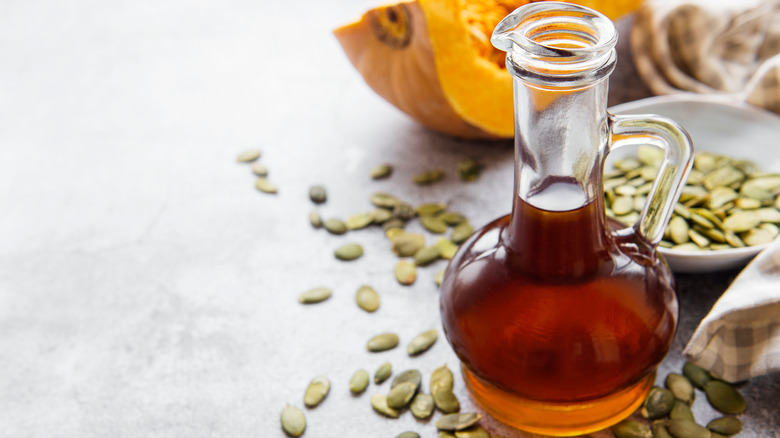 Almaje/Shutterstock
When the summer has said its final goodbyes, a new time is upon us. As the leaves start to change from green to vibrant orange, it means a couple of things. Firstly, fall has appeared. Second, it's time to usher in all things pumpkin-related into our lives. Light up those pumpkin patch-scented candles in every room of the house. Switch out your morning iced cold brew for a piping hot pumpkin spiced latte, and gather the family after dinner to enjoy some warm pumpkin pie.
In our society, pumpkin is associated with colder weather and all things cozy. It appears the craze for the absurdly heavy orange vegetable is only getting more cemented into our traditions as the years pass. However, there is one thing made from pumpkin that you can add into your daily routine, no matter what season you're in. Enter pumpkin seed oil. PSLs have some competition from PSO, or pumpkin seed oil. Here is what the beneficial oil can do for your body.
Pumpkin seed oil is versatile and healthy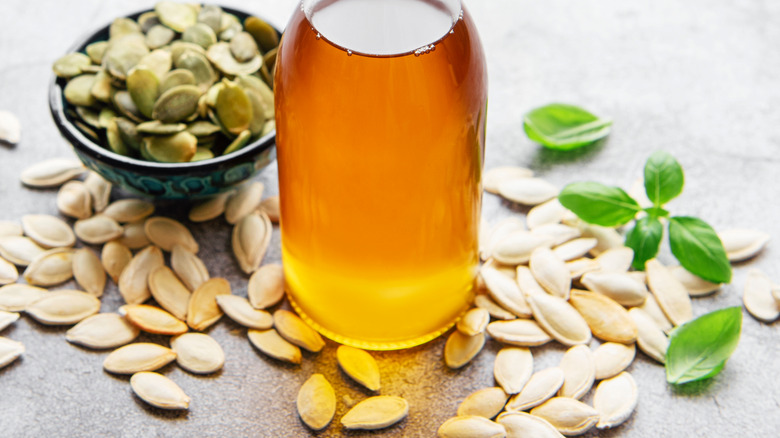 Almaje/Shutterstock
According to Healthline, pumpkin seed oil is often referred to as pepita oil. As its name suggests, it is made from oil that has been extracted from pumpkin seeds. It's astounding that PSO is not as mainstream as many other pumpkin-based products, as it is incredibly versatile. It can be taken as a supplement, added to existing recipes, and even used as a hair mask.
Verywell Health dives even deeper and hands out some helpful tips on how to best use this oil. If you're in the kitchen, it can work as a cooking oil, a salad dressing, or a marinade. Research on pumpkin seed oil shows that it can be extremely beneficial to your health by possibly easing menopause symptoms, improving prostate and heart health, and treating overactive bladder. As a beauty product, it shines as well. Healthline shares that when used as a hair mask, it can help prevent hair loss and promote growth.
Our society's obsession with pumpkin is a charming quirk of our culture. Considering the many benefits pumpkin seed oil has, we're thinking the craze for pumpkin-based products, such as this one, should be promoted year-round.