Celebrities Who Have Been Diagnosed With Multiple Sclerosis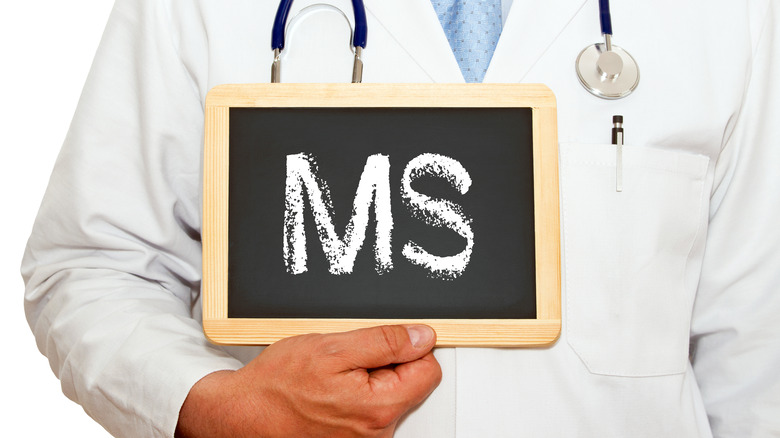 docstockmedia/Shutterstock
Despite not having multiple sclerosis himself, the actor Martin Sheen helped raise awareness of the condition through his portrayal of President Josiah Bartlet on the hit TV series "The West Wing." The show was "lauded for accurately portraying MS," according to the Pittsburg Post-Gazette. And that was no accident.
The director of chapter communications for the National Multiple Sclerosis Society at the time, Vivian Frommer, said the writers working on the show were "trying to be accurate. I know they've come to us for information." Case in point, they weren't vague about President Bartlet's condition. He had a specific form of the disease known as relapsing-remitting MS, which according to the Society's website, is a common form of the disease and follows a cycle of attacks (relapses) followed by temporary remissions of some or all symptoms.
Keep in mind that since MS is an immune-mediated disease in which the immune system attacks the central nervous system, a person with this condition can experience a host of medical problems (via National Multiple Sclerosis Society). It's important to remember that MS is different for everyone, meaning there is no one-size-fits-all list of symptoms that every person with MS will experience. Let's now take a look at some outspoken celebrities who've been diagnosed with the disease.
Christina Applegate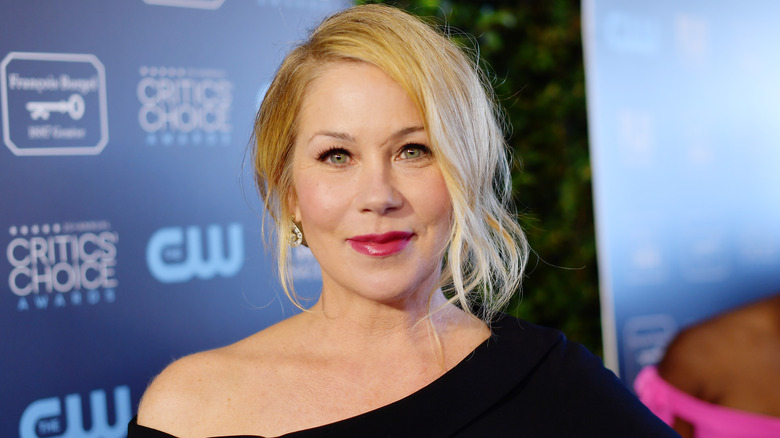 Matt Winkelmeyer/Getty Images
Any child of the '80s probably first saw Christina Applegate on the sitcom "Married... with Children" in which she portrayed Kelly, the promiscuous daughter of Al Bundy, played by actor Ed O'Neill (via CNN). But the real-life challenges that Applegate has dealt with are not punctuated by a laughing studio audience. For one, she was diagnosed with breast cancer and underwent a double mastectomy, a surgery that calls for removing either a portion of the breasts or all of the breasts (via CNN). And in 2021, she announced that she has been diagnosed with multiple sclerosis.
In August, Applegate tweeted, "Hi friends. A few months ago I was diagnosed with MS. It's been a strange journey. But I have been so supported by people that I know who also have this condition." Applegate went on to acknowledge that her journey has been difficult so far. "But as we all know, the road keeps going. Unless some a**hole blocks it," she continued. Among those who have reached out to Applegate was fellow actress Selma Blair who tweeted back, "Loving you always. Always here. As are our kids. Beating us up with love" (via People). After announcing her diagnosis, Applegate indicated that she would be taking a proactive approach to managing the disease and asked for everyone to respect her privacy (via People).
Selma Blair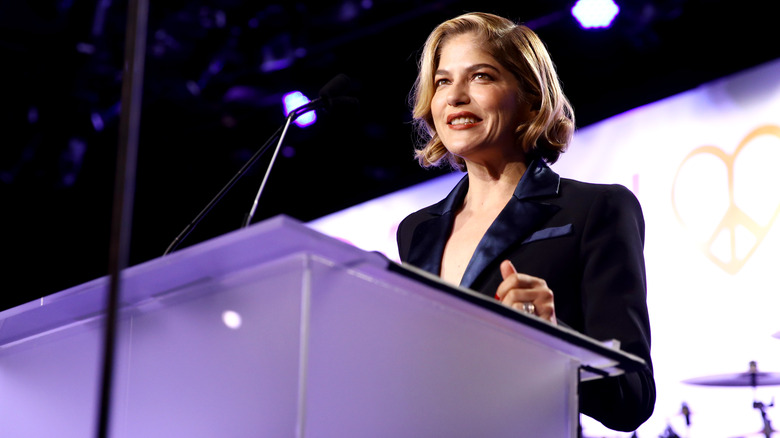 Rich Fury/Getty Images
Although Selma Blair has dedicated herself to her acting craft, that doesn't mean she doesn't have other passions in her life. One of her personal goals was to learn to ride a horse since she "always wanted to be a great rider" (via People). But no sooner did she purchase her horse, Mr. Nibbles, than she realized something was off with her body.
"I couldn't feel my bum or left leg on my horse," she remembered (via People). "The proprioception issues, inability to sit still, spasms, twitches. Jerks. Dystonia increased." At first, Blair assumed she was just feeling the normal aches and pains of aging. But it wasn't long before she was diagnosed with multiple sclerosis and, as she explained, "it got too big." In the years that followed, Blair's symptoms worsened to the point that she couldn't use her left leg as well as she once had and had trouble communicating verbally (via People). Motivated not only for herself but also for her son, Arthur, Blair eventually underwent a combination of chemotherapy and stem cell transplant surgery, which she attributes to her MS finally going into remission.
And what about her horseback riding goals? Blair posted a video of herself on Instagram riding Mr. Nibbles along with the caption, "I did it. I stayed still and riding. A huge deal. Really proud I am recovering and learning and focusing."
Teri Garr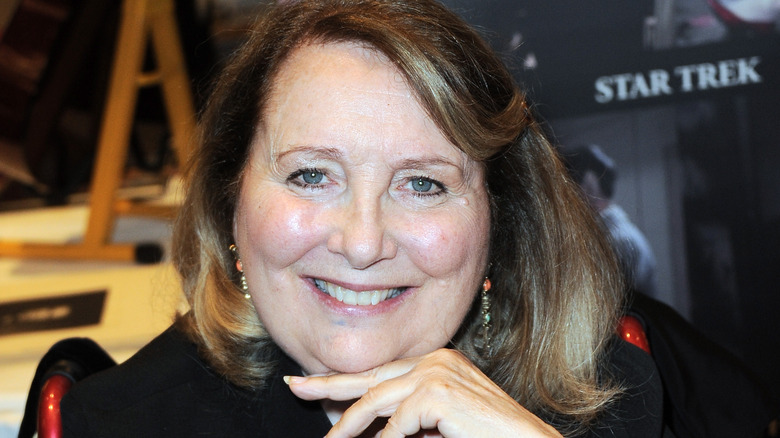 Albert L. Ortega/Getty Images
Imagine you're going about your day when suddenly mysterious symptoms occur. Even more concerning, they keep surfacing every few months. Looking for answers, you go to multiple doctors, but no matter what they tell you, the symptoms keep returning and disrupting your life. This was what actress Teri Garr lived with for nearly two decades before she was finally diagnosed with multiple sclerosis (via Everyday Health).
Garr's first warning sign that she had MS was an odd feeling in her right foot similar to pins and needles. From there, she began to experience other symptoms that something was off. "I had weakness on the right side — arm, leg, and foot," Garr told Everyday Health. In fact, she had difficulty with activities like jogging, and that weak feeling in her arm escalated to stabbing pain. In addition, Garr said she, like others with MS, had to figure out ways to "manage fatigue" and described hot weather as potentially "devastating" for someone with MS.
Although it was close to 20 years before Garr received the correct diagnosis for her condition, she told Everyday Health that she is "relieved to finally know what it was." Since her diagnosis, Garr took up bicycling, has written a book, and became one of the National Multiple Sclerosis Society's MS Ambassadors. 
Rachel Miner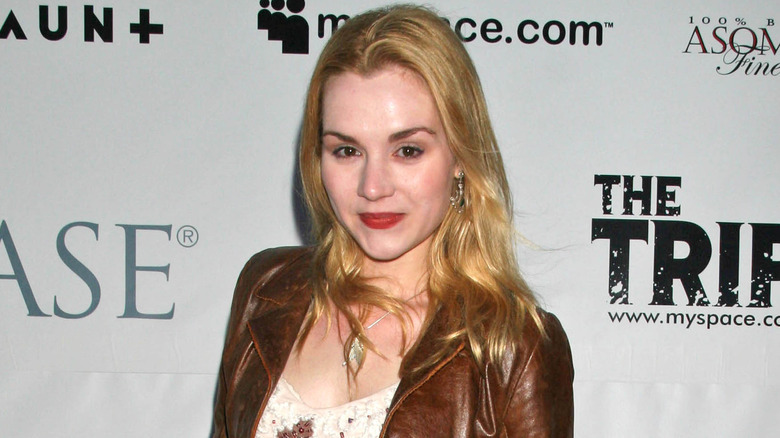 s_bukley/Shutterstock
Mention Rachel Miner to any fan of the TV series "Supernatural" and they'll talk all about her role as the demon Meg (via IMDb). However, Miner's acting career spans back to her childhood, starting with her part in the movie "Alice" and continuing as she played a wide variety of characters, including "Michelle Bauer" on "Guiding Light" (via IMDb). You may not know that Miner's "Supernatural" character Meg need to be written off the show due to the actress' health.
"The physical constraints were at the point that I feared I couldn't do Meg or the writing justice," Miner said during the Dallas Comic Convention in 2013 (via Healthline). In a tweet, Miner wrote not only about how MS was impacting her but also how others around her were reacting to it. "As my MS progressed I had many a time falling over, having to sit in the middle of a crowded NYC sidewalk, being pushed as I wobbled around etc. It seemed like people were too afraid and embarrassed to offer help (or maybe thought I was drunk)."
According to Healthline, Miner said that MS wasn't the "official" reason she left "Supernatural," but she highlighted how important it is to pay attention to what your body is trying to tell you and not push yourself beyond what is safe and healthy.
Jack Osbourne
Kathy Hutchins/Shutterstock
For Jack Osbourne, 2012 was a year of significant changes: He became a father and experienced partial vision loss (via Everyday Health). "The eye doctor sent me to the ER, and the ER was like, 'We need an MRI,' and then spinal taps, and blood work, and talking with neurologists," Osbourne recalled. It wasn't long before the then-26-year-old was diagnosed with multiple sclerosis.
Looking back, Osbourne realizes he had a warning sign of his MS before he lost his vision. More than a year earlier, he had lost feeling in his legs. Nevertheless, in 2013 he competed on "Dancing with the Stars" and managed to finish third despite experiencing MS-related health issues. "I hid it well, but I was having really bad problems with fatigue and balance, and I started getting tingling up my arms and legs," he told Everyday Health.
Beyond the physical issues of MS, he said the disease can take its toll mentally. "A lot of the challenge of living with MS is fear, the mental health aspect of it — worrying if a symptom is being caused by MS," he explained. Nevertheless, Osbourne said he appreciates how our knowledge of MS is growing (via Everyday Health). For example, he revealed that he was initially advised that diet and exercise would not significantly help him with his symptoms. Today, both are considered important aspects of multiple sclerosis treatment plans.
David Osmond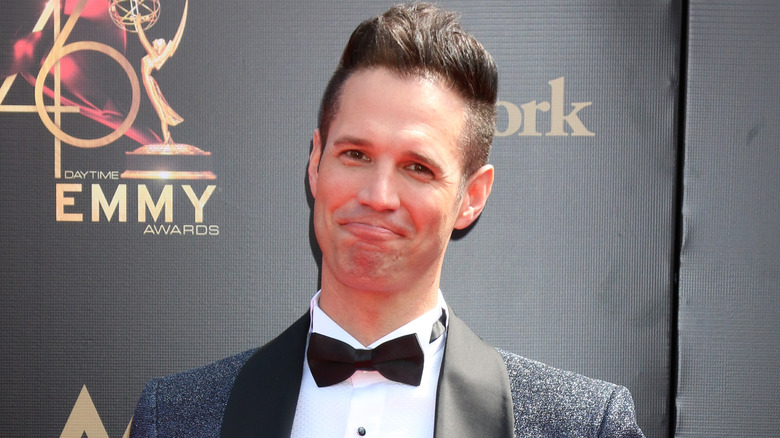 Kathy Hutchins/Shutterstock
Even though singer and performer David Osmond knew his father Alan Osmond has multiple sclerosis, he didn't realize he also had the disease even when he started experiencing symptoms (via Everyday Health). This is understandable. While Alan had primary-progressive MS (PPMS), David developed relapsing-remitting MS (RRMS), and the impact of these two versions of the same condition can be drastically different.
According to the National Multiple Sclerosis Society, RRMS involves periodic attacks followed by times when the disease is in a state of remission. With PPMS, however, the disease isn't usually punctuated by clear-cut attacks and remissions but is more constant in nature. So, although David recalled that his father needed to give up performing because of his MS, he didn't recognize his own MS symptoms, which included severe pain in his feet that spread throughout his body, vision issues, and eventually losing a great deal of mobility (via Everyday Health). When he finally was diagnosed with MS, David recalled that he was in a state of disbelief, saying he thought at the time, "How could I be worse off than my dad in a matter of months than he was in decades?"
Because of inspiration from his father's positive attitude towards MS and medical intervention, however, David was able to begin performing again (via Everyday Health). And both he and his father had the honor of presenting the Spirit of Life Award to each other at two National Multiple Sclerosis Society events.
Jamie-Lynn Sigler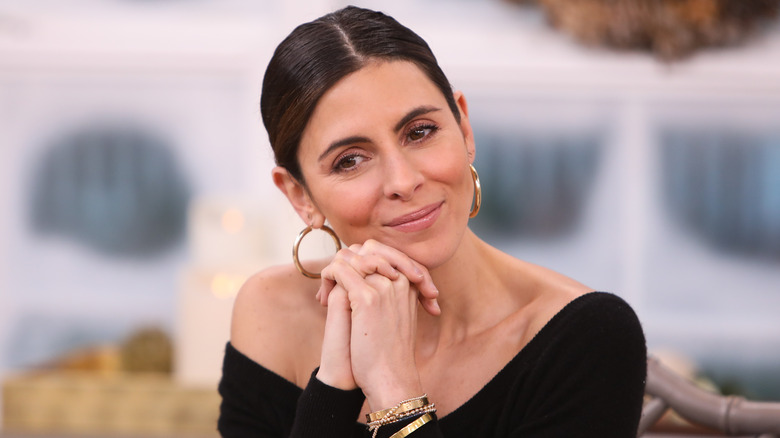 Paul Archuleta/Getty Images
Known for her role as Meadow on "The Sopranos," Jamie-Lynn Sigler was about to begin her fourth season on the HBO show when she learned that she had multiple sclerosis (via ABC). Sigler has since opened up about her condition and the symptoms she has experienced.
"Sometimes all I needed was like five or 10 minutes to sit and recharge," she recalled about her time after "The Sopranos" concluded, adding "but I wouldn't ask, because I didn't want them to be suspicious" (via People). In addition to work-related challenges, Sigler said everyday activities became harder with MS. "When I walk, I have to think about every single step, which is annoying and frustrating," she explained. Although Sigler kept her condition private for years, becoming a wife and mother has changed her perspective on MS. "I'm at a point in my life with my son, with my new marriage, it's a new me," she told People. "I don't want to hold a secret where it feels like I have something to be ashamed of or have something to hide." She also said she didn't want her son to someday keep secrets from her.
With medical treatments like infusions and medications, Sigler has described her MS as being "manageable" (per People). "It takes a fighting attitude to deal with all this," she said. "This disease can absolutely take over your life if you let it."
Clay Walker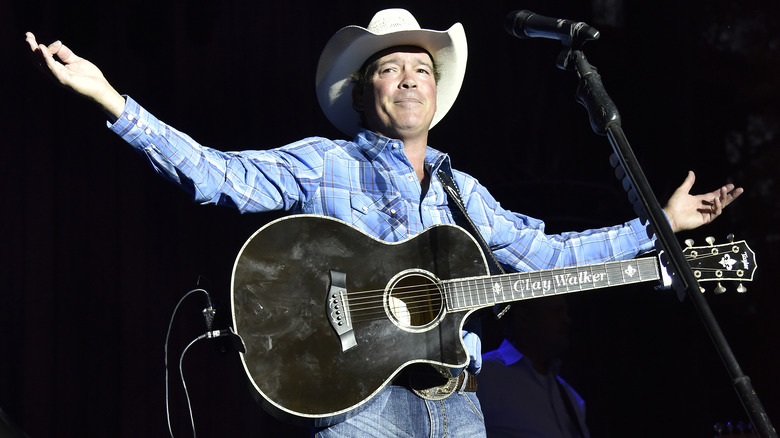 Tim Mosenfelder/Getty Images
When country music performer Clay Walker first started having symptoms of multiple sclerosis, he mistook them for a pinched nerve (via Los Angeles Times). He said he was playing a friendly game of basketball when he started having difficulty with his balance. Soon, he was unable to hold a guitar pick, was seeing double, and experiencing spasms in his face. But as frightening as that day was, his diagnosis left him feeling broken and unable to sleep.
"When I was diagnosed the doctor told me I'd be in a wheelchair in four years and dead in eight," Walker recalled. In an interview with CNN, Walker revealed, "I kept wondering, 'Why me? Why now?' My career was progressing, and there were many positive things going on in my life: I had just recorded my fourth album and was celebrating the birth of my first child." Faced with this heavy news, Walker said he prayed and "felt this strength" that allowed him to face the future.
As of this writing, more than two decades after his diagnosis, Walker is very much alive and still performing (via Los Angeles Times). One of his tips to manage MS is stretching his muscles both on his own and with assistance from another person. He also said that he does a variety of types of exercises like cardio (such as bike riding) and weight training, as well as workouts that target his core.
Montel Williams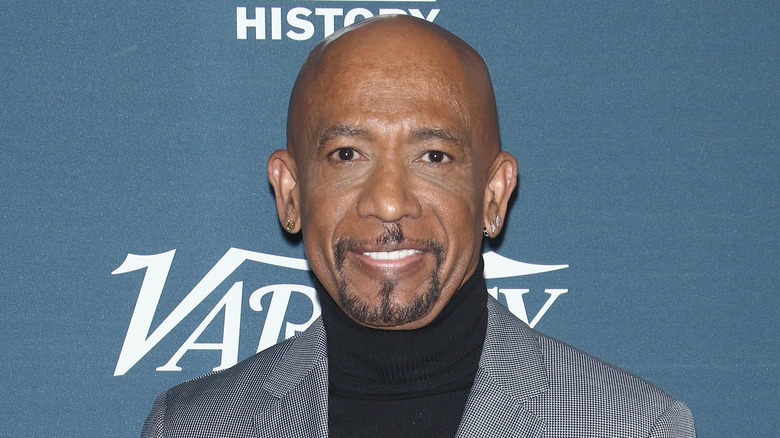 Jim Spellman/Getty Images
Talk show host Montel Williams would have to wait almost two decades before he was finally diagnosed with multiple sclerosis (via MedicineNet). Just before graduating from the Naval Academy, he suddenly began experiencing problems with his eyesight to the point where he was almost completely blind in his left eye. However, this was in 1980 and as Williams' story illustrates, there have since been leaps in our understanding of MS.
"No one at the time even speculated MS," Williams told WebMD (via MedicineNet). "Back then, the disease was only associated with Caucasian females of northern European descent, and here I was a 22-year-old African-American male and at that point 100% in great shape." However, even after receiving his diagnosis in January 1998, Williams didn't go public about his condition until August of that same year. "The reason why I hid my diagnosis is because I thought if I came forward, I'd lose my job," he admitted. "I thought I'd lose my family." Looking back now, he said, "Even today I don't understand why I was so surprised, but I was surprised that everyone supported me a million percent."
Although Williams found the support he needed, he revealed he'd considered ending his life on two separate occasions (via MedicineNet). This emotional toll may have been compounded by the doctor who diagnosed him saying that he would in all likelihood have to give up important aspects of his life like his work. Instead, Williams wrote a book and spearheaded numerous new companies.
If you or anyone you know is having suicidal thoughts, please call the National Suicide Prevention Lifeline​ at​ 1-800-273-TALK (8255)​.
Jonathan Katz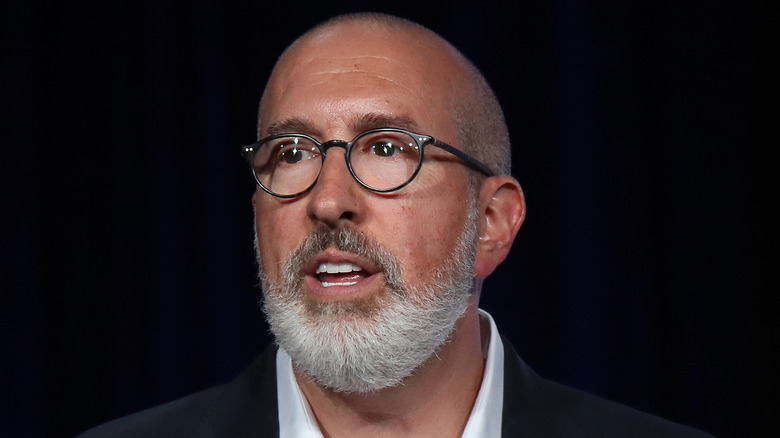 David Livingston/Getty Images
For comedian Jonathan Katz, laughter is more than just the best medicine — it's a crucial part of how he manages his multiple sclerosis (via Boston.com). Known for his voiceover work as the title animated character on "Dr. Katz: Professional Therapist," Katz was first diagnosed with MS in 1997 but went public about his condition in 2005.
"When you hear a diagnosis as major as MS, it's something that terrifies," Katz told the site. "It's the kind of disease where you recognize things in retrospect." Initially, Katz shied away from meeting other people with MS because in some cases, their symptoms were more severe than his own. He explained, "Part of me doesn't want to think that's what I have." However, Katz decided to develop an informative and comedic PowerPoint presentation specifically for audiences made up of fellow MS patients. During a typical performance, Katz would explain that he and his brother-in-law liked to have foot races, but two years before his official diagnosis, he fell. The seriousness of this warning sign of his condition is then contrasted by him saying, "The X-ray shows I was ahead at the time I fell."
Despite his humor, Katz says MS can be challenging. He revealed that he sometimes needs to use an electric scooter because of the fatigue caused by his condition. However, the comedian continues to try to "enjoy the ride" and has altered the speedometer of his scooter, so that it features the Aesop characters the tortoise and the hare.
Annette Funicello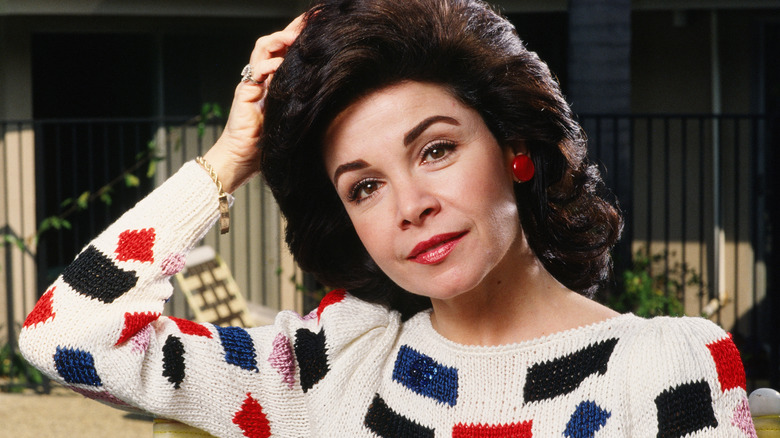 George Rose/Getty Images
If you're a Disney fan, you've likely at least heard of the late Annette Funicello. Arguably, she is one of the most famous Mouseketeers from the original "The Mickey Mouse Club," (via Biography). And non-Disney fans might remember her from lighthearted movies with Frankie Avalon. But when she reunited with Avalon and others in 1987 for a comedic new film, she began to experience the beginnings of multiple sclerosis (via The Saturday Evening Post).
During filming, Funicello noticed that she had difficulty maintaining her balance and problems with her eyesight. Once she was diagnosed with MS, she and her immediate family managed to keep her condition private for five years. Since the body of her work was connected to light, happy projects, Funicello said she was concerned how her fans would react to her having MS. "I've always had a sort of fantasy existence in show business and have never had to face a lot of disappointments and hard knocks," she explained. "Because people think my life is so perfect, I didn't want to upset them or burst their bubble."
When Funicello finally went public about her condition, she found an outpouring of love and support (via The Saturday Evening Post). She went on to establish the Annette Funicello Research Fund for Neurological Diseases (AFRFND). To help support this fund, she created a perfume line and the Annette Funicello Teddy Bear Company.
Walter Williams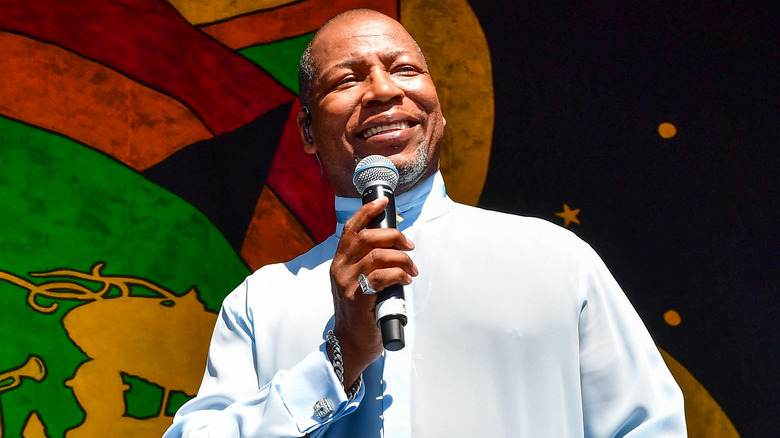 Erika Goldring/Getty Images
Fans of R&B will recognize the O'Jays for songs like "Use ta Be My Girl" and "Love Train" (via Everyday Health). But even the group's biggest fans might not be aware that the O'Jays' founder, Walter Williams, has been living with multiple sclerosis since the 1980s.
According to Everyday Health and The Plain Dealer, Williams' first warning that he had MS was incredibly subtle: His toe was numb. That very dismissible issue, however, soon began affecting his entire leg, and in a matter of months, he received a diagnosis. Williams took a proactive approach to his condition and began paying attention to his symptoms, so he could figure out what was triggering them. "What aggravated it was heat, so I took cold showers and had a bucket of ice on stage that I could put on my head," he told Reuters. He also turned to diet and exercise to help manage his MS.
Ultimately, Williams found the drug interferon beta-1a (also called Avonex) especially helpful and eventually became a paid spokesperson for the drug (via Everyday Health). Although the O'Jays have gained and lost members over the years, Williams continues to perform with them. "There is help, and there is hope," the artist told The Plain Dealer in 2019.
Richard Pryor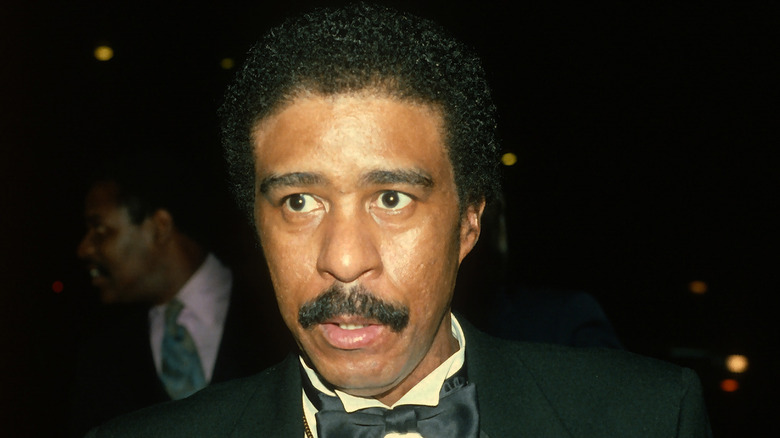 Yvonne Hemsey/Getty Images
Although Richard Pryor is no longer with us, he has left his mark not just as a comedian but also an actor and television writer. Pryor was diagnosed with multiple sclerosis in 1986, according to Biography, and his acting career continued after he learned he had multiple sclerosis. The same year he was diagnosed with MS, he cowrote, directed, and starred in "Jo Jo Dancer, Your Life Is Calling," a dramedy about a brush with death changing a comedian's life (via IMDb).
Other projects had him sharing the spotlight with well-known comics like Redd Foxx and Eddie Murphy. As his symptoms eventually affected his mobility, Pryor continued to act as well as perform stand-up comedy. And even though his last film was "Lost Highway," he did play Joe Springer, a man with MS, for an episode of "Chicago Hope" in which he got to work alongside his daughter Rain (via Biography).
Before his death, Pryor wrote his autobiography, established an animal charity (Pryor's Planet), and received the Mark Twain Prize for American Humor. He stated, "I am proud that, like Mark Twain, I have been able to use humor to lessen people's hatred" (via Biography). In 2005, roughly 19 years after his MS diagnosis, Pryor died of a heart attack.
David Lander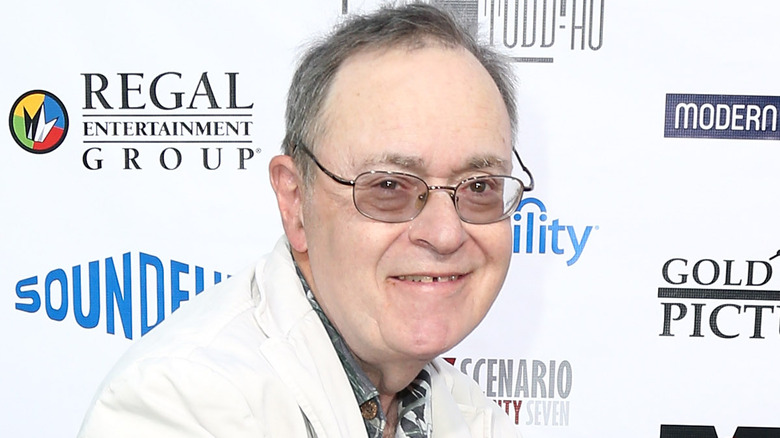 David Livingston/Getty Images
In 1999, David L. Lander's book, "Fall Down Laughing: How Squiggy Caught Multiple Sclerosis and Didn't Tell Nobody," was published (via Brain&Life). This was how Lander broke the news to his fans; however, he'd actually been experiencing symptoms of MS not long after "Laverne and Shirley" (the sitcom where he brought the truck driver nicknamed "Squiggy" to life) concluded.
"I remember having difficulty holding a glass," Landers told Brain&Life, remembering that he'd dropped the glass. But it's not entirely surprising that this happened since there was a numb sensation in his hands (as well as his feet). Although he laughed off the incident, the diagnosis was initially frightening. "My doctor painted a fairly bleak picture of the disease, even going so far as to tell me I probably wouldn't walk again," Lander recalled. Fortunately for Lander, the diagnosis was not 100% correct. With support from his wife and daughter and some important changes like moving into a house with only one story, Lander continued walking, albeit more slowly. He continued to perform stand-up and even incorporated MS into his act.
Prior to his death in 2020, Lander became a National Ambassador for the National Multiple Sclerosis Society, using his experiences to encourage others. "When I was first diagnosed with multiple sclerosis, there was nothing you could do about it," Lander said. "Now, there are many treatments available to control this progressive disease."