How To To Choose The Best COVID-19 Booster Shot For You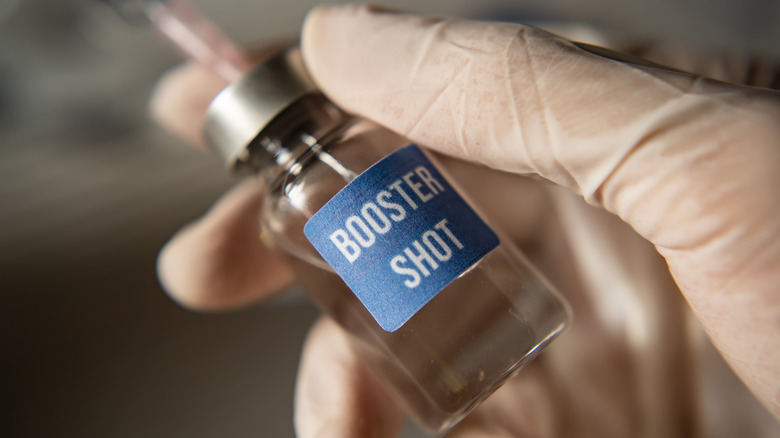 Wachiwit/Shutterstock
The U.S. Centers for Disease Control and Prevention (CDC) endorsed booster shots of the Moderna and Johnson & Johnson COVID-19 vaccines last week, expanding the number of people eligible to receive either the second or third dose of the vaccine. Much like the guidelines for the Pfizer-BioNTech booster shot, Americans who are now eligible for the Moderna booster shot include people over 65, adults with underlying medical conditions, and adults who live or work in high-risk settings.
Meanwhile, all adults who received the first dose of the Johnson & Johnson vaccine are now eligible for the booster shot. While those who initially received the mRNA vaccines are eligible for a booster 6 months after the second shot, those who received the one-shot Johnson & Johnson vaccine only have to wait 2 months to receive a second booster shot.
The CDC also gave booster-eligible people the green light to mix-and-match vaccines, allowing them to receive a different COVID-19 vaccine for their booster shot than the one they got for their initial dose. This means that there are now 3 available COVID-19 booster shots to choose from, but which one is the best?
Get the COVID-19 booster shot that is most readily available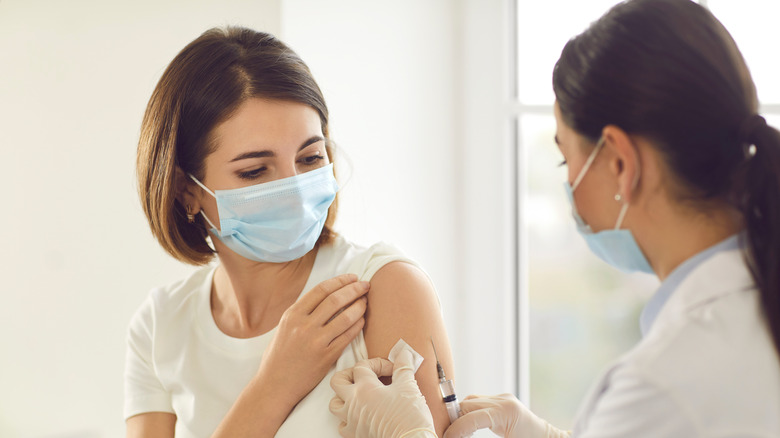 Studio Romantic/Shutterstock
According to experts, the best COVID-19 booster shot is whichever one is more readily available to you. If your local clinic or hospital is only offering one type of booster shot, then that's the one you should get (via CNBC). If there's a little bit of flexibility and you do have a choice, however, it all comes down to personal preference.
According to research from the National Institutes of Health (NIH), all possible combinations of the 3 COVID-19 booster shots generated a robust immune response and resulted in higher antibody levels. The only difference between the vaccines is the severity of the expected side effects, which include fatigue, muscle soreness, pain at the injection site, headache, fever, swelling, chills, nausea, and joint pain.
While the Pfizer and Johnson & Johnson booster shots are the same dose as the original vaccine series, the Moderna booster is half the dosage of the first 2 shots, which reportedly yields fewer side effects than a full-dose booster shot. "Those effects could be the same as when you got it the first time around, could be nothing, or could be a little bit worse than what it was before," Dr. Mohammad Sobhanie, an infectious disease physician at OSU Wexner, told CNBC. However, mild and temporary side effects are a sign that the vaccine is working, so there's really nothing to worry about, regardless of which vaccine you get for your booster shot.