Is This How Most Parents Really Feel About The Covid-19 Vaccine For Young Children?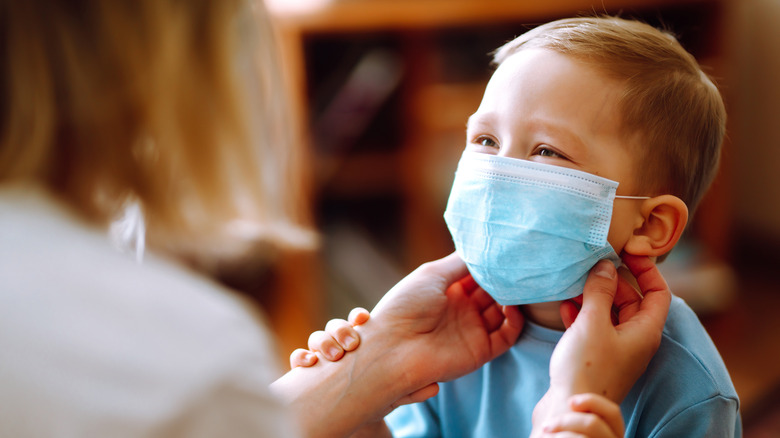 Max Belchenko/Shutterstock
In late August, the Pfizer COVID-19 vaccine became the first official FDA-approved vaccine for those at least 16 years of age (via U.S. Food and Drug Administration). With mask mandates being lifted in various states across the country (via NBC News), this has left concerned parents awaiting information as to when the vaccine will be made accessible to young children.
In an ongoing research project conducted by the Kaiser Family Foundation (KFF), a recent October survey revealed that parents' initial interest in vaccinating their children seems to have dwindled. With the U.S. Centers for Disease Control and Prevention (CDC) deciding on whether it will officially recommend the Pfizer vaccine for those ages 5-11, should it be approved, the vaccine may be accessible to young children within the week (via CNN).
However, the results of the KFF survey reveal that the number of parents who will bring their children to their local pharmacy for vaccination remains unclear.
Parental concerns over the vaccination of young children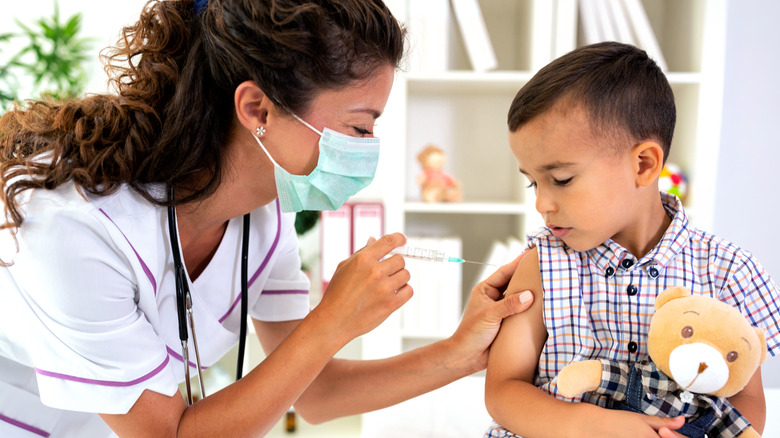 Didesign021/Shutterstock
Of those surveyed, the number of participants who reported they would vaccinate their child "right away" once authorized dropped from 34% in September to 27% in October (via KFF). About 30% of individuals reported that they would "definitely not" vaccinate their 5 to 11-year-old, compared to September's findings of 24%, indicating an increase in vaccine resistance. However, the largest survey percentage was that of the "wait and see" responses. "Those in the 'wait and see' category are persuadable and movable," Dr. Chris Pernel, health equity officer at Rutgers New Jersey Medical School, told CNN. "We just have to speak to them in plainspoken terms."
In addition to statistics, the survey also cited the most reported areas of concern for parents, with concerns over future fertility and long-term side effects ranking highest. Other parents cited concerns related to healthcare barriers, such as lack of transportation, cost, or the inability to take time off of work. Addressing the concerns of 66% of respondents in regards to reproductive health, the CDC has reported that no data indicates that COVID-19 vaccines negatively impact one's ability to become pregnant (via CNN).
While the Pfizer COVID-19 vaccine may soon become accessible to young children, it appears that a number of parents may choose to delay or forgo their child's vaccination altogether.