Is There Really Science Behind Women's Athletic Uniforms?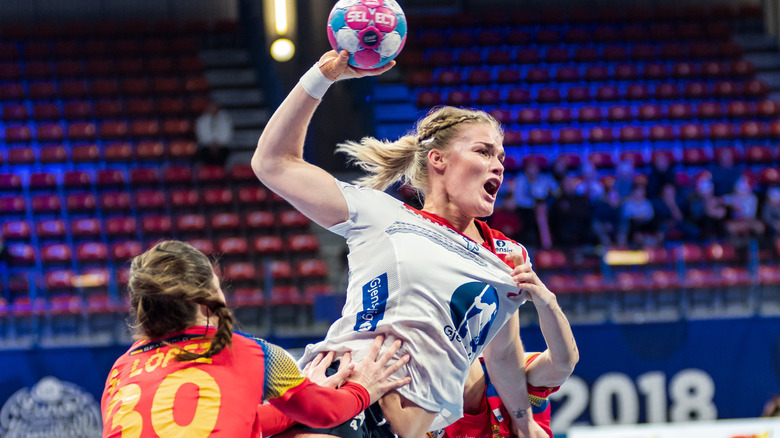 Dan Potor/Shutterstock
Many women who live in modern American society don't think twice about throwing on a pair of stretchy yoga pants to go for a run or pulling on an oversized sweater on the way to the gym. Athletic apparel has made so much progress over the last few decades that it has gone mainstream. It has even carved out its own industry, often referred to as athleisure. According to Grand View Research, the athleisure market was valued at $79.4 billion as of 2019. With such a variety of items to choose from, it's easy to feel caught in a tornado of spandex and mesh. 
Although women's sports apparel has especially seen some drastic changes, modern-day women still feel pressured to dress a certain way to participate in professional sports. This leaves us wondering: is there science behind women's professional athletic apparel? Or are they simply constructed for the societal culture wherein they are worn?
Women's athletic uniforms have changed throughout the years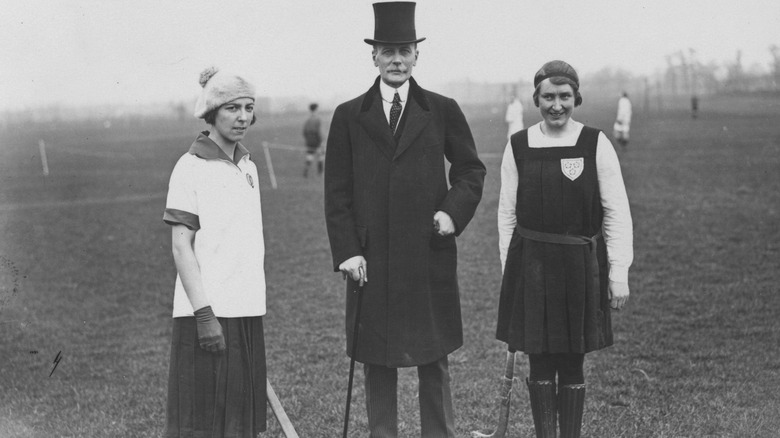 Topical Press Agency/Getty Images
Recently, women's athletic uniforms became a hot topic when the Norwegian women's beach handball team was fined for "improper clothing" during the European Championships in Bulgaria. The Conversation reports that because they chose to wear briefs instead of a regulated bikini bottom that was "a close fit and cut on an upward angle toward the top of the leg," they were fined. This reported breach of rules concerning what they wore is one of many similar stories currently in the media. Women athletes in handball and gymnastics also faced controversy when they accused uniform regulations of being too overtly sexual. 
The sexualization of athletic uniforms hasn't always been the issue. In fact, the problem has been historically the opposite. According to the BBC, when competitive sports became more popular for women participants, they struggled to find uniforms that could give them a full range of flexibility. The challenge was developing athletic wear that was '"modest" and '"feminine." Over time, women in specific sports came to be seen as revolutionaries as they challenged traditions and opted for uniforms that allowed them to show more skin and perform better. Iconic French tennis player Suzanne Lenglen was one of the first in her sport to swap out long skirts for short-sleeved pleated dresses that offered a better range of motion. She also wore a bandeau for style and to prevent sweat from getting into her eyes.
Many sports still have strict uniform regulations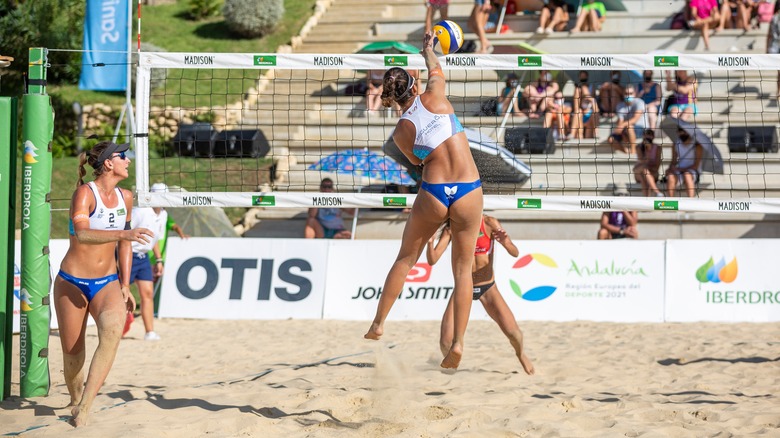 Alfaguarilla/Shutterstock
Another trailblazer in tennis is Serena Williams. The legendary player has been a spokesmodel for athletic fashion and a proponent of exercising her right to wear what she chooses while competing. "I love when fashion becomes a vehicle for sharing a powerful message," said Williams (via Nike). 
For many professional athletes, what they wear can be a deciding factor in if they win or not. According to NPR, there have been accounts of entire teams feeling demoralized for what they had to wear. "You should feel like a superhero in it because you're representing in a very special and positive and powerful way, and [you shouldn't] have to worry about the cut of the short," said retired soccer player Briana Scurry.
For women athletes, tradition and culture appear to play a heavy influence on what they wear while competing, despite years of progressive change. The extra focus on what women athletes wear has been a debate both on and off the court since they were first allowed to compete. Women's uniforms may have come a long way scientifically in terms of picking the right material and finding the right fit. However, it appears there is still a lack of freedom over what one can wear in different sports arenas while competing at a professional level.