Allegra Versus Claritin: What's The Difference?
dturphoto/Shutterstock
When your eyes start watering and your entire face starts to itch, the last thing you want to do is comparison shop for the best medicine. Unfortunately, that's what ends up happening to people who don't already have a go-to allergy medicine — or worse, someone whose usual choice doesn't seem to work against whatever is setting off their allergies.
Comparing medications isn't made any clearer by the fact that most people know them by their brand names rather than their drug names. Benadryl, for example, is a household name in many places. Diphenhydramine, on the other hand, isn't a word many people will recognize. But according to Benadryl's website, that is exactly what is in their products.
It's not just Benadryl, though. Other popular medications like Claritin and Allegra are also better known by their brand names rather than the actual chemicals in the products. And while knowing the drug names might not answer all of a person's questions, knowing which is which may help a person pick the right medication for their needs based on the way the drugs differ.
It's what's inside that counts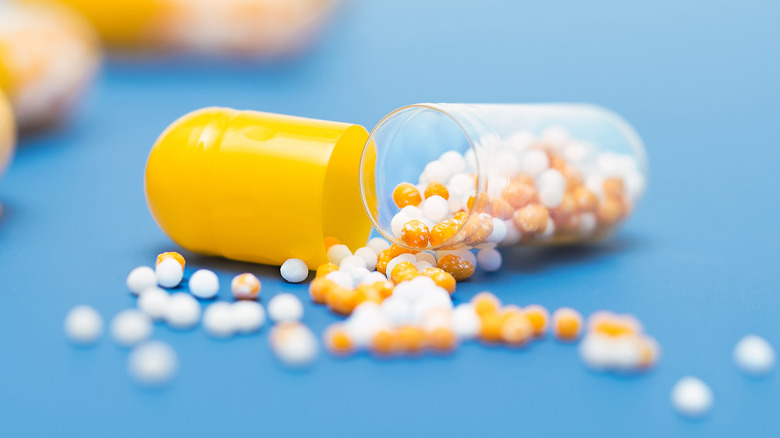 anyaivanova/Shutterstock
Claritin's chemical name is loratadine, per the National Institute of Health. It has been on the market since 1993 and is classified as an OTC or "over the counter" drug, meaning it can be purchased without a prescription. Its main use is to counter itching of the nose, throat, and eyes, as well as watery eyes, runny nose, and sneezing. The medication comes in the form of round white pills. Each pill contains 10 mg of loratadine in addition to two inactive ingredients, corn starch and lactose monohydrate. Both are binding agents; lactose monohydrate is a type of sugar, likely to make the pill slightly more palatable (via the National Library of Medicine).
Meanwhile, Allegra is composed of the chemical fexofenadine HCI. The pills are purple with a white band in the middle. Each contains 180 mg of the active drug plus a range of inactive ingredients that include binding agents, dyes, and pharmaceutical-grade ink. The medication has been on the market since 2014 and is listed as treating the same symptoms as loratadine (via the National Library of Medicine).
Their similar symptom list doesn't make them identical, however. The website Drugs.com states that Claritin reacts faster to alleviate symptoms, while Allegra causes less sleepiness and is more effective against skin-related allergy symptoms. Allegra also reacts to grapefruit juice while Claritin has no known food reactions. The drugs are similar, but these small differences can matter when choosing your next allergy treatment.