Are Quest Protein Bars Good For You?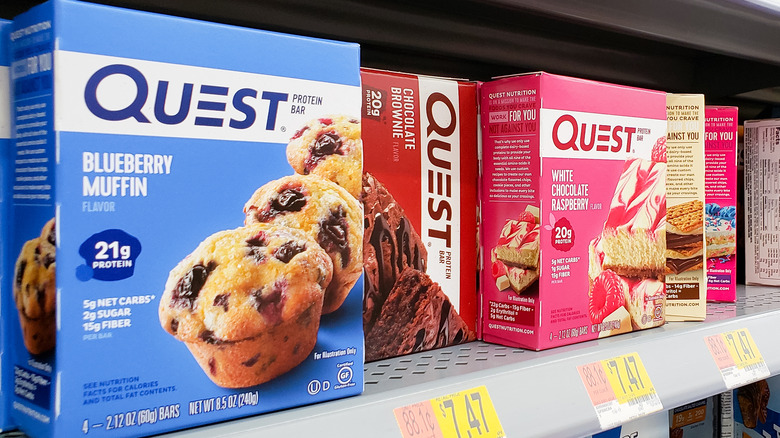 Tonelson Productions/Shutterstock
With their crunchy texture and rich flavor, Quest protein bars are a favorite choice among gym-goers. They're low in carbs, rich in protein, and packed with goodness, leaving you craving for more. Plus, they fit into your pocket and make a great snack for when you're on the go. Their nutritional value is subject to debate, though.
Quest bars became popular in 2013. Unlike other similar products, they contained no gluten or added sugar. "Everything else on the market was a candy bar in disguise," said Quest's co-founder Tom Bilyeu in an interview with Bon Appétit. Bilyeu and his team wanted to create a line of products that support metabolic health, so they decided to skip the sugar and other fillers. Today, Quest protein bars come in about 20 different flavors, including blueberry muffin, pumpkin pie, and lemon cake. However, their composition has changed over the years.
Some say that Quest is one of the best protein bars for athletes, but can you trust these claims? Let's take a look at their nutritional value and what it means for your health.
Quest protein bars: no gluten, sugar, or trans fats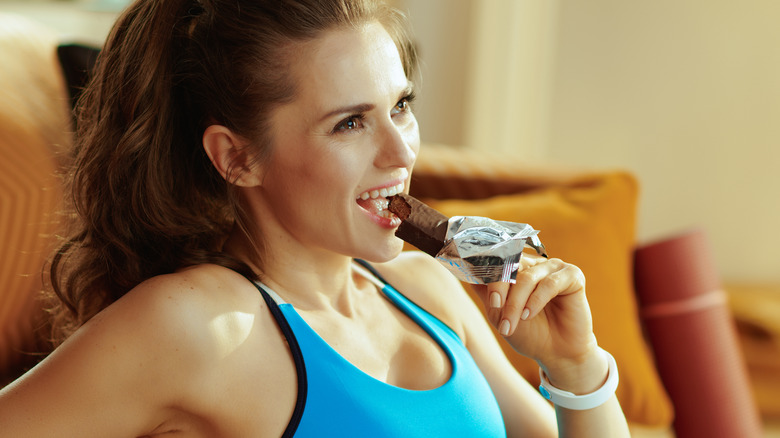 Alliance Images/Shutterstock
Some protein bars have just as much sugar as milk chocolate or other treats. That's not the case with Quest, which uses stevia, sucralose, and erythritol in its recipes. Stevia is a natural sweetener, while erythritol is a sugar alcohol, explains Healthline. Both ingredients may cause digestive problems when consumed in excess, but neither of them affects blood sugar levels. Sucralose, an artificial sweetener, has been proven safe in more than 100 studies, according to the International Food Information Council. Like stevia and erythritol, it doesn't raise blood glucose levels.
Quest bars also contain a source of protein and other ingredients. For example, Quest Cookies & Cream is made with milk and whey protein isolate, almonds, soluble corn fiber, natural flavors, sweeteners, and additives such as xanthan gum, palm kernel oil, and sunflower lecithin (via Quest Nutrition). Each bar provides 200 calories, 21 grams of protein, 8 grams of fat, and 21 grams of carbs, including 1 gram of sugar and 15 grams of fiber. It also delivers 10% of the recommended daily calcium intake, along with moderate amounts of iron, potassium, and other nutrients.
Are Quest protein bars really that healthy?
Supavadee Butradee/Shutterstock
The ingredients in Quest protein bars look safe at first glance. There's no sugar, gluten, flour, or trans fat, and you'll get a hefty dose of protein. However, certain compounds may pose health risks. Sucralose, for instance, has been shown to alter the gut flora and cause liver inflammation in mice (via Frontiers in Nutrition). These snacks are also high in saturated fat, which may contribute to heart disease and stroke when consumed in excess, warns the U.S. National Library of Medicine. One serving provides 8% to 25% of the daily value for saturated fat, depending on the flavor. Other ingredients, such as whey protein isolate, are heavily processed. 
Also, note that Quest protein bars supply up to 50% of the recommended daily intake of fiber. The experts at Duke University say that excessive fiber intake can lead to digestive problems, diminished appetite, and mineral deficiencies. To stay on the safe side, aim for about 25 grams per day if you're a woman or 38 grams if you're a man.
All in all, Quest protein bars offer both flavor and nutrition. Just make sure you enjoy them in moderation. While it's perfectly fine to grab a protein bar when you're in a rush or on the go, try not to make a habit out of it. Ideally, reach for whole foods to meet your daily protein requirements. Cottage cheese, lean meat, tuna, beans, lentils, and nuts are all great choices.