Expert Explains Why A 'Viral Blizzard' Is Coming To The US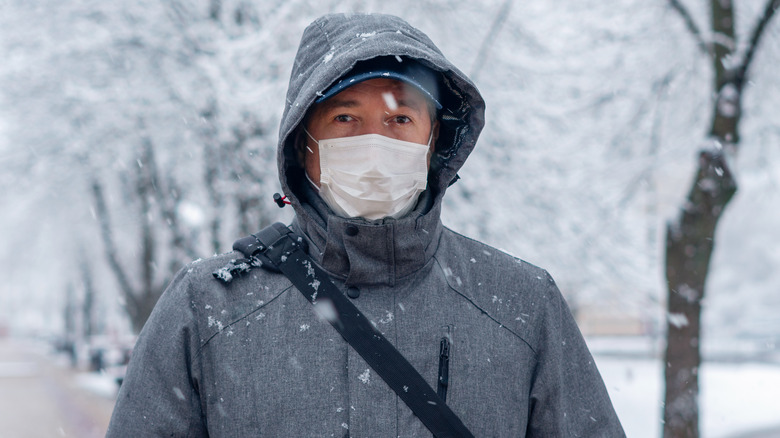 Afanasiev Andrii/Shutterstock
As COVID-19 cases and hospitalizations continue to rise in the United States ahead of the holiday season, an expert is warning of a potential "viral blizzard" that could sweep the nation in a matter of weeks (via CNN). With both the Delta and Omicron variants of COVID-19 circulating across the country, the U.S. could soon see a steep surge in infections, according to Michael Osterholm, the director of the Center for Infectious Disease Research and Policy at the University of Minnesota.
"We're really just about to experience a viral blizzard," Osterholm told CNN. "In the next three to eight weeks, we're going to see millions of Americans are going to be infected with this virus, and that will be overlaid on top of Delta, and we're not yet sure exactly how that's going to work out."
This impending surge could cause a significant strain on America's health care system if proper safety precautions aren't taken. As of this writing, Broadway shows and professional sports games have already been postponed or canceled as cases continue to climb.
Vaccines are the best way to fight Omicron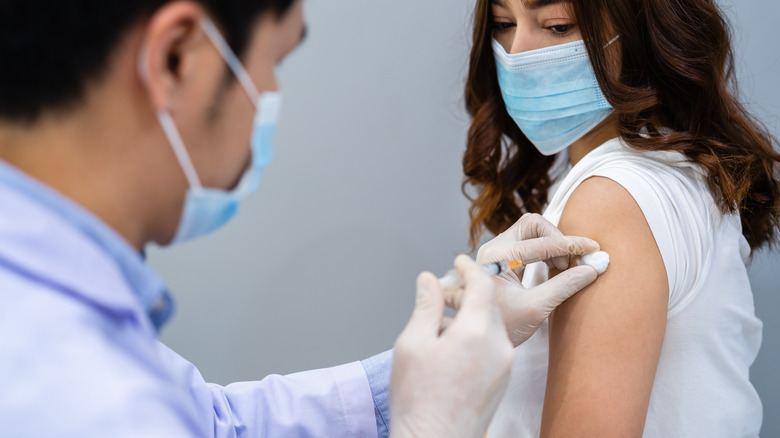 Ball Lunla/Shutterstock
Fortunately, vaccines are still the best way to fight COVID-19. Even with the emergence of the highly transmissible Omicron variant, vaccines can still offer substantial protection against the virus (via People).
While breakthrough infections are possible, COVID-19 vaccines can certainly help prevent severe illness, hospitalization, and even death, which is what the vaccines were largely designed to do in the first place. That's why it's important to get the primary series of the COVID-19 vaccine and an additional booster shot six months later. Although the two-dose COVD-19 vaccines are 70% effective at preventing hospitalization in patients infected by the Omicron strain, a third dose can increase protection to 75% (via CNBC).
"Our booster vaccine regimens work against omicron. At this point, there is no need for a very specific booster," White House chief medical advisor Dr. Anthony Fauci said during a White House COVID-19 briefing on December 15. "And so the message remains clear: If you are unvaccinated get vaccinated, and particularly in the arena of omicron if you are fully vaccinated, get your booster shot."