Fitness Influencer Ali Kay Dishes About Her Alcohol-Free Journey - Exclusive
Ali Kay started sharing her fitness journey on TikTok in 2020. Her relatable story immediately resonated with people. As a mother of two and a small business owner, Ali had a lot on her plate. But she still managed to make time for movement and self-care.
When one of her videos went viral in January 2021, Ali became a TikTok sensation. She realized that she could help others transform their lives the way she'd transformed hers. So, she started a personal coaching business and launched the "Invest Your Best" podcast. Her continued work on her relationships with food, movement, and self-care prompted Ali to look at other aspects of her life, which led to the realization that the way she was drinking alcohol didn't sit right with her. She decided to go alcohol-free for a while, just to see how it impacted her daily life.
In an exclusive interview with Health Digest, Ali talked about the reasons behind giving up cocktail hour, how it's changing her life, and why she wants to support other "sober-curious" people.
'Is this bringing me closer or further away to my goal?'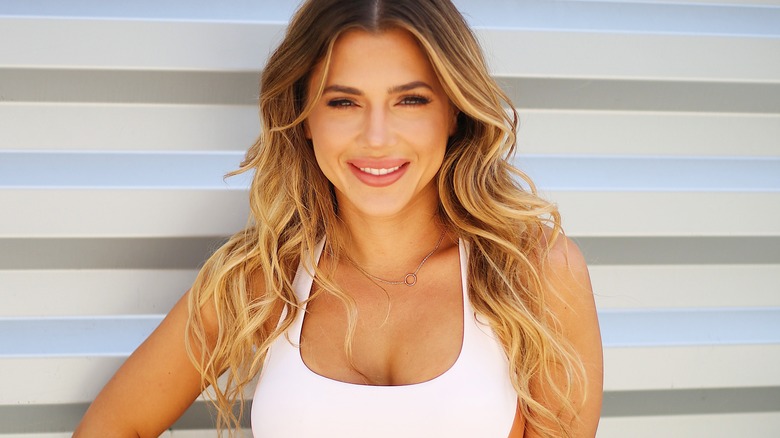 Tracy Mark
Like many people, Ali Kay started drinking more while stuck at home during the pandemic. She said that she fell into a pattern of daily cocktail hours pretty quickly, but that it didn't feel right to her. A friend suggested she read "This Naked Mind" by Annie Grace. Ali loved the book, which focuses on the obsession with drinking culture and how to leave it behind. Ali said she mulled over the ideas in the book for about a year before one night of drinking completely opened her eyes.
In fall 2021, she went out with her sister and mom and ended up somewhat overindulging. When she woke up the next morning with a wicked hangover, she asked herself, "Is this bringing me closer or further away to my goal?" She decided to document the moment in a raw, emotional video. She told her followers, "I don't want to feel this way anymore." She said that alcohol kept her from being her best self, that she didn't want her kids to see her hungover, that she couldn't show up for them the way she wanted to when she was hungover, and that alcohol wasn't bringing anything positive to her life.
Then and there, she decided to go alcohol-free. Ali emphasized to Health Digest that she's not saying she'll never drink again. She's just seeing where this alcohol-free experiment goes. She's still alcohol-free as of this writing, about four months later.
Helping other 'sober-curious' people
Ali Kay explained that helping other people change their relationship to alcohol has become very important to her. She's starting 2022 by organizing a two-week-long alcohol-free challenge for her social media followers and podcast listeners.
"Going into January, I think I am going to be sharing more about that alcohol-free journey and really providing that support and that accountability with a group," Ali told Health Digest. "And even if people don't want to give up alcohol for the long term, this is a great way to just restart your relationship with alcohol or take that break after the holidays and have a group of people. It's amazing how many strangers will support you in a group. Especially like-minded people all working towards the same goal."
People who want to join the challenge can sign up on WayBetter. She'll also be talking about going alcohol-free on her podcast, as well as talking to guests about their alcohol-free experiences.
For tips on how to invest in your best, follow Ali on Instagram and Youtube and check out her podcast, "Invest Your Best with Ali Kay."