How Long Until The COVID-19 Booster Shot Is Effective?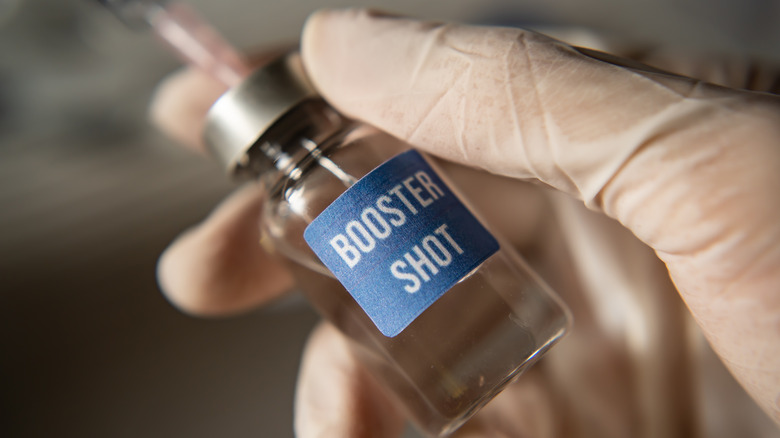 Wachiwit/Shutterstock
Now that the highly transmissible Omicron variant is the dominant strain of COVID-19 in the U.S., health officials are urging all eligible Americans to get fully vaccinated and receive a booster shot. As COVID-19 cases continue to rise, booster shots can provide an added layer of protection against the disease (via Health). According to the Centers for Disease Control and Prevention (CDC), booster shots are currently available and recommended for all adults and children aged 16 and older.
While the primary series of the COVID-19 vaccines provide substantial protection against the virus, an additional dose around six months later can generate a more-robust immune response to the vaccine. "Once you incorporate another jab, your memory B cells can sense the proteins made by the virus. Then they start making more antibodies," Dr. Pablo Penaloza-MacMaster, an assistant professor of microbiology-immunology at Chicago's Northwestern University Feinberg School of Medicine, told Health.
Booster shots take up to two weeks to become fully effective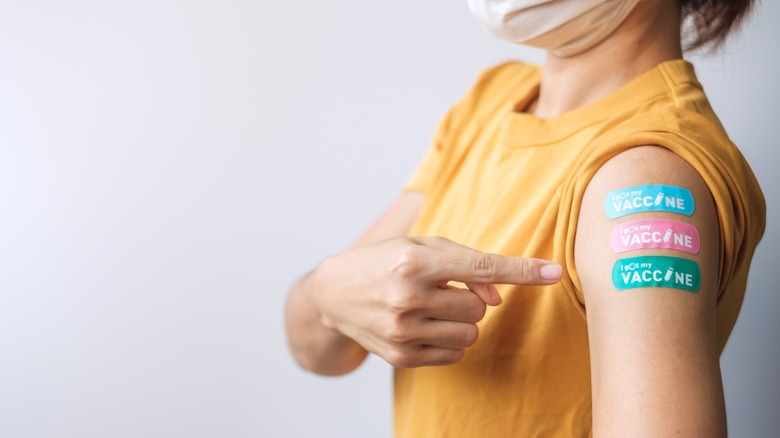 Jo Panuwat D/Shutterstock
While further research is still needed, health experts agree that the COVID-19 booster shots appear to increase immunity at a slightly faster pace than the initial doses of the vaccines (via Good Housekeeping). According to a preprint study conducted by Maccabi Healthcare Services and Yale School of Public Health, booster shots reduce the odds of testing positive for COVID-19 by 48 to 68% within 7 to 13 days after vaccination. However, they should reach their full effectiveness around the same time as the initial doses of the vaccines.
"Boosting should result in antibody production within days of the booster vaccine, but peak levels still occur around the two-week mark, similar to initial vaccines," Dr. Shruti Gohil, a professor and associate director of epidemiology and infection prevention at the University of California Irvine, told Good Housekeeping. "Why? The speed of the antibody production is determined by the same mechanisms — the cells are using the same 'machinery' with the same turnaround time as they did the first time around."