Is There A Difference Between The COVID-19 Vaccine And The Booster Shot?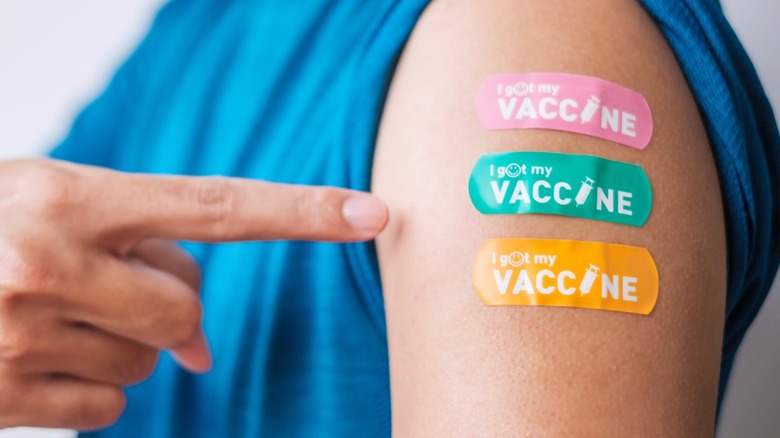 Jo Panuwat D/Shutterstock
As the highly transmissible Omicron variant continues to surge and is currently the cause of most COVID-19 infections in the United States (per USA Today), elected officials and health experts are urging everyone who is eligible for a booster shot to get one.
If you received either the Pfizer BioNTech or Moderna vaccine and are 16 years of age or older, you are eligible to receive a booster shot six months after you've received your second dose of the vaccine, also known as the completion of your primary vaccination (via FDA). If you received the Johnson & Johnson vaccine — which is only one dose — you can receive your booster shot at least two months after your primary vaccination. Johnson & Johnson has developed a booster shot, but health experts report that you can "mix-and-match" your Johnson & Johnson vaccine with either of the other two vaccines (via Yale Medicine). According to the Centers for Disease Control and Prevention (CDC), boosters shots are the same formulation as the initial vaccination series, but the Moderna booster contains only half the amount of vaccine compared to its two initial shots. 
The reason that health experts highly recommend a booster shot is not because the initial shots aren't working. Studies have shown that COVID-19 vaccines are a strong defense against severe illness and reduce hospitalizations. Receiving a booster shot, however, will further reinforce your level of protection (via PBS). 
How a third shot and booster shot differ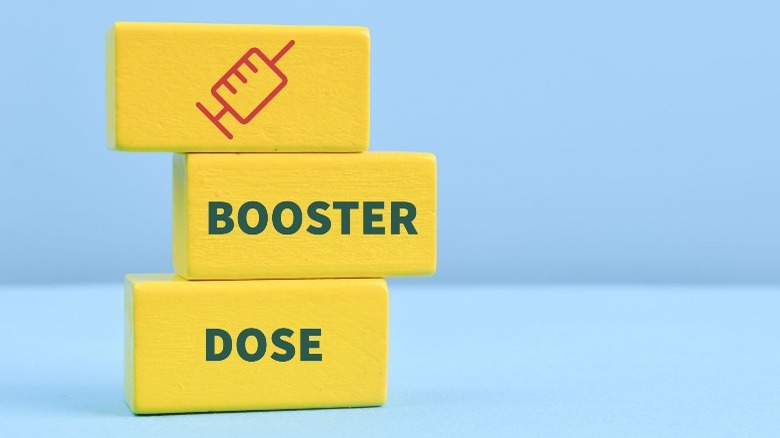 Teacher Photo/Shutterstock
According to Verywell Health, the main difference between a booster shot and a third dose is that people who receive a third dose have compromised immunities such as those who are undergoing cancer treatments, or who have been diagnosed with severe HIV infection, among other underlying health conditions. A third dose is given as part of their prime vaccination series.  
"The purpose of the prime series is to prime the immune system to develop immunity against the target pathogen, while the purpose of the booster dose is to boost the already existing immunity to ensure continued protection against the pathogen," Dr. Richard Martinello of Yale School of Medicine tells Verywell. The extra dose during the primary series provides added protection for those who are immunocompromised and for whom the initial two doses would not be as strong of a shield. "It would be incorrect to call this third dose for those severely immunocompromised a 'booster dose' as research showed they required at least a three-dose prime series to develop this initial immunity," Martinello adds.
As of this reporting, White House Chief Medical Advisor Dr. Anthony Fauci recommends a booster shot as a way to combat Omicron and not to wait for an Omicron-specific booster. "Our booster vaccine regimens work against omicron," Dr. Fauci told the public during a recent White House COVID-19 update. "At this point, there is no need for a variant-specific booster, he said (via CNBC).