Vegan Tzatziki Sauce Recipe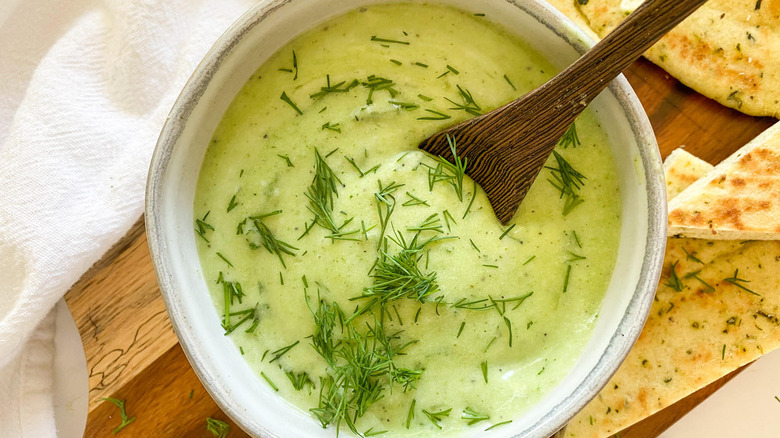 Miriam Hahn/Health Digest
Tzatziki is one of the tastiest and healthiest dips on the planet, and the fact that you can make a vegan version of it makes it that much better. This vegan tzatziki is terrific for many reasons, including its smooth texture and extra fresh taste. It's also worth mentioning that the dip boasts a beautiful green color, making it very aesthetically pleasing.
Recipe developer and wellness coach Miriam Hahn came up with this yummy recipe that is sure to hit the spot. "Hands down, my favorite thing about this recipe is how fresh it tastes with all of that fresh dill. No comparison to store-bought tzatziki! I also love that you can use it as a dip or a dressing because it is light," Hahn shares. It's also great to make in advance if you want to add a burst of flavor to your meal prep favorites. Keep reading to follow the easy directions to make this incredible dip yourself.
Gather the ingredients for this vegan tzatziki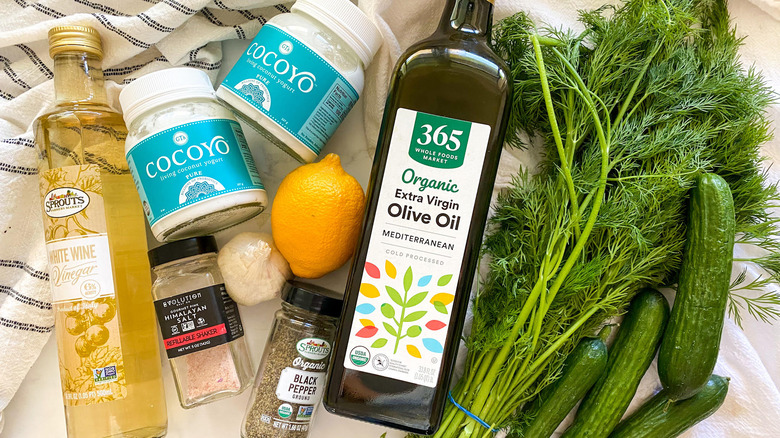 Miriam Hahn/Health Digest
First of all, you'll want to grab the necessary ingredients. Start with either Persian or English cucumbers, then pick up some garlic cloves and fresh dill. You will also need coconut yogurt or cashew yogurt. Next, get some salt, pepper, lemon for the juice, and white wine vinegar. If you want a richer texture, a splash of olive oil will round it out.
There are plenty of health benefits to this dip, and Hahn explains it the best: "Cucumbers are super hydrating and also full of Vitamin K (which is good for bones) and potassium. I buy organic and don't peel them because a lot of the nutrition is in the skin, and when it is blended it isn't tough or anything, so [it] does not affect the finished product." Hahn adds, "It does make it greener than typical tzatziki, which I love." 
Meanwhile, she explains that "Dill, like all fresh herbs, brings a lot to the table too. It is really good for digestion and even helps with bloating." Hahn shares, "I grow it in my garden and love adding it to salads and soups. You can even add it to hot water and make dill tea!" The benefits don't end there and Hahn notes that "Garlic in the raw form is anti-cancerous and can help with infections. I use fresh garlic in all of my dips, hummus recipes, and dressings for this reason. It is like medicine in a tiny bulb."
Start by grating the cucumber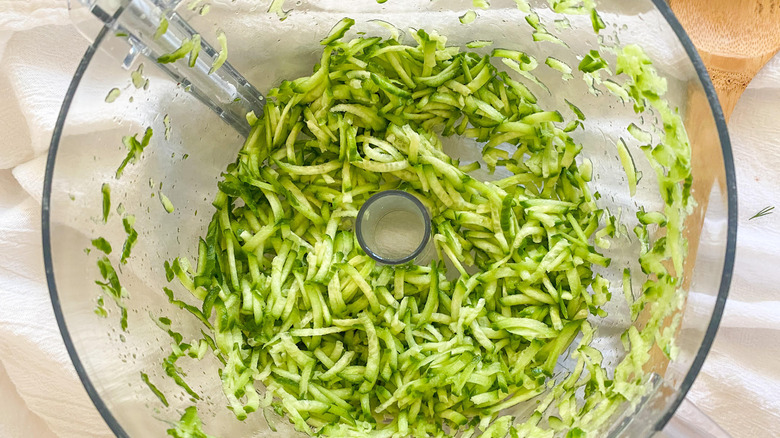 Miriam Hahn/Health Digest
Once you have all of the ingredients in front of you, it's time to get to business. Start with the cucumber, aka the star of the dish. Leaving the skin on, finely grate the cucumber using either a hand grater or the grating blade on a food processor. The result should look like thin cucumber shavings by the time you're done. After grating the cucumbers, lay them out on some paper towels, pressing firmly to drain any excess water. Hahn recommends using Persian or English cucumbers since they are less watery, which means there is less moisture to drain off. 
Blend the rest of the ingredients together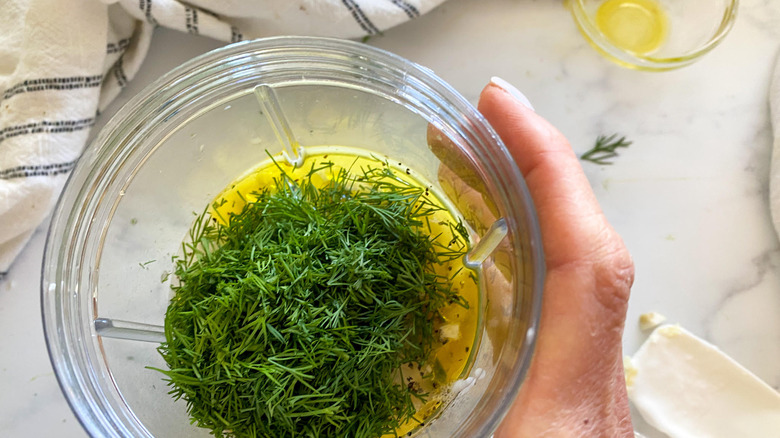 Miriam Hahn/Health Digest
Now, it's time to mix up the remaining ingredients for the tzatziki. Take out your trusty blender and place it in a safe spot on your counter where it can't be bumped or knocked over. "If you don't have a blender, you can use a food processor, and if you have very finely grated cucumber, you can even skip the blending step," Hahn notes. Then, toss in the ingredients, beginning with the yogurt, followed by the garlic and dill. Next, pour in the lemon juice, vinegar, and sprinkle in the salt and pepper. Pour in about 1 tablespoon of olive oil for extra creaminess, if desired. Continue blending until the mixture is smooth.
Serve this tzatziki dip and enjoy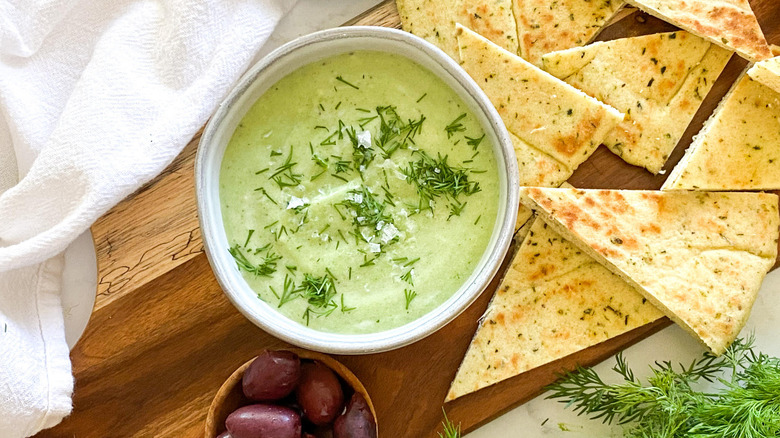 Miriam Hahn/Health Digest
Once you finish blending, transfer the tzatziki into a bowl or serving dish of your choice. Now, it's finally time to enjoy this tasty spread. "My favorite way to serve it is with falafel [...] but [it] is also great on a Greek salad or buddha bowl, tabbouleh salad, or on chicken or fish," Hahn shares. "Just using it as a dip is really delicious too. In the photos I am using garlic naan bread." For an easy twist on a simple lunch, she recommends spreading it on a veggie sandwich. If you have anything left, Hahn notes that "It stores great for up to 5 days in a sealed container."
Vegan Tzatziki Sauce Recipe
This refreshing vegan tzatziki checks all the boxes for a delicious and vibrant dip. Serve it with warm pita bread, raw vegetables, or in a sandwich.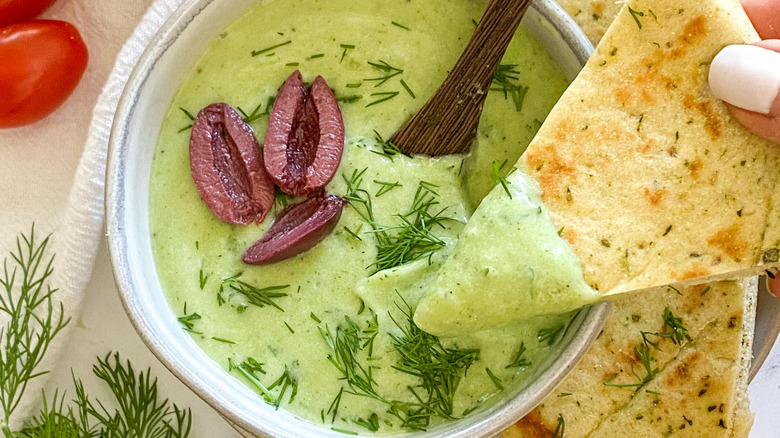 Ingredients
1 to 2 Persian cucumbers or ½ English cucumber (1 cup grated)
1 ½ cups unsweetened coconut yogurt or cashew yogurt
3 cloves garlic, minced
¼ cup fresh dill + more for topping
½ teaspoon salt
¼ teaspoon pepper
½ lemon, juiced
1 teaspoon white wine vinegar
Optional Ingredients
Directions
Finely grate the cucumber with the skin on, using either a hand grater or the grating blade on a food processor.
Measure out 1 heaping cup.
Lay it out on paper towels and press down firmly to drain any excess water. (Persian or English cucumbers are less watery.)
Add the cucumber along with the yogurt, garlic, dill, salt, pepper, lemon juice, vinegar, and olive oil (if using) to a blender and blend until smooth.
Transfer the tzatziki to a bowl and serve.
Nutrition
| | |
| --- | --- |
| Calories per Serving | 45 |
| Total Fat | 2.0 g |
| Saturated Fat | 1.3 g |
| Trans Fat | 0.0 g |
| Cholesterol | 8.0 mg |
| | |
| --- | --- |
| Total Carbohydrates | 4.7 g |
| Dietary Fiber | 0.3 g |
| Total Sugars | 3.4 g |
| Sodium | 212.6 mg |
| Protein | 2.4 g |