How Accurate Are At-Home COVID-19 Tests?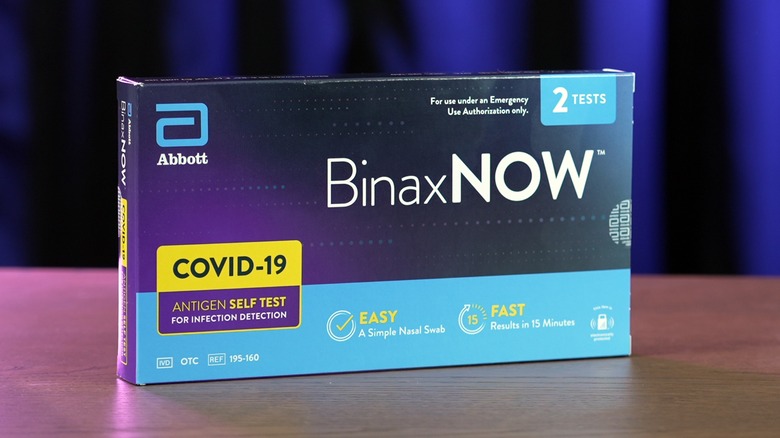 Orlowski Designs LLC/Shutterstock
Of the many preventive measures put in place over the course of the COVID-19 pandemic by government health officials, at-home COVID-19 test kits may be one of the most welcome. The Centers for Disease Control and Prevention clarifies that an at-home test can go by different names including, "home test," "self-test," or "over-the-counter (OTC) test." With the benefit of producing rapid test results, at-home tests can be used for any reason the user deems necessary, such as prior to family gatherings, before or after travel, or when experiencing symptoms.
At-home COVID tests can provide the user with test results in a matter of minutes. For example, at-home COVID-19 test manufacturer BinaxNOW instructs users to read test results 15 minutes after having conducted the test in order to receive an accurate reading (via Food & Drug Administration). Because at-home COVID-19 tests are self-administered at the time of the user's choosing, you may be wondering if there's more room for error with these tests than with a standard PCR test administered outside of the home.
Self-tests are highly effective at detecting COVID-19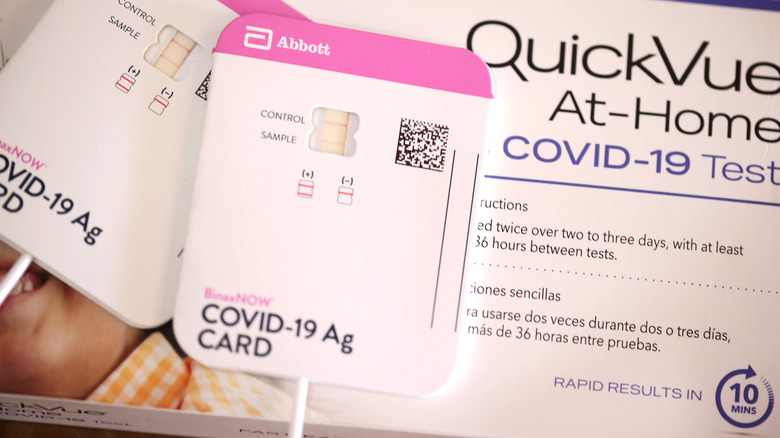 Scott Olson/Getty Images
At-home COVID-19 tests are highly effective at detecting high traces of the virus, particularly in those who are symptomatic and test within the first week of having developed symptoms (via The New York Times). However, if the user takes the test too early on or is asymptomatic, at-home tests may not always pick up on these smaller viral loads. For this reason, many at-home test kits are designed to be taken twice to ensure an accurate read. As per the CDC, a second at-home test should be taken 24 hours or more after the first. For those who have been exposed to the COVID-19 virus, experts advise waiting three to five days before conducting an at-home test to avoid the possibility of a false-negative test result.
As reported by The New York Times, certain at-home COVID-19 tests rank at an 85% detection rate, leaving 15% undetected. Knowing these rates of accuracy, are at-home tests equally as effective at detecting the highly transmissible Omicron variant? White House chief medical advisor Dr. Anthony Fauci explained that some at-home antigen tests may not be as effective at detecting the COVID-19 Omicron variant (via NBC Chicago). However, preliminary studies reveal two versions of at-home tests that have been effective in doing so. The FDA reports that Abbott BinaxNOW and Quidel QuickVue antigen tests appear to pick up on the presence of the Omicron variant "with similar performance as with other variants" (via NBC Chicago), though further research is still needed on the subject.