Lemon Pea Risotto Recipe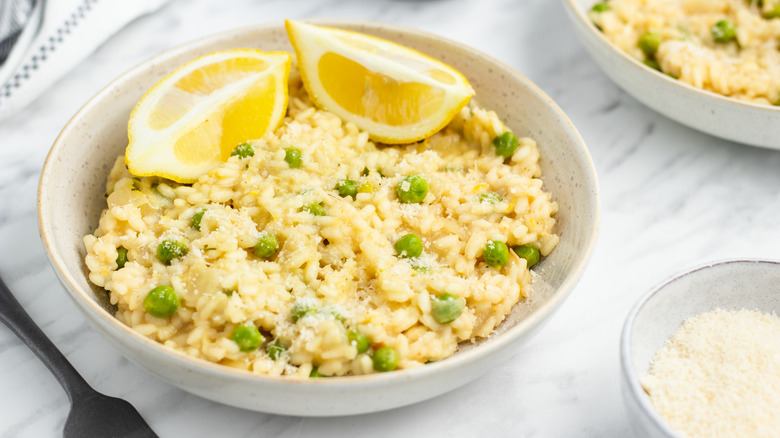 Catherine Brookes/ Health Digest
Are you in the mood for a really flavorful plate of risotto? As we all know, risotto is one of the tastiest dishes that you can eat. Just add a little bit of lemon for a bold citrus flavor and some peas for extra texture and you have a delicious and bright risotto dish you will be pleased to try. If you thought that you had to go to a restaurant to enjoy this fantastic dish, think again. Believe it or not, you can make risotto in the comfort of your own home, and it's not even that hard.
Recipe developer Catherine Brookes is the brains behind this wonderful recipe that would be a definite highlight if you serve it at your next dinner party. "I love the combination of fresh zesty lemon flavor and rich Parmesan cheese in this creamy risotto!" Brookes raves. If that description sounds equally enticing to you, then keep scrolling for step-by-step instructions on how to make it.
Gather the ingredients for lemon pea risotto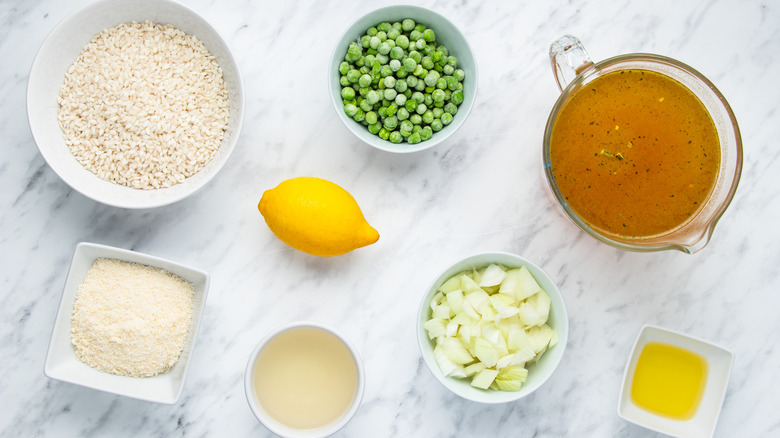 The first step is to make a list of ingredients and head to the grocery store. You will only need a few items, but it's worth mentioning that you should check at home for ingredients you may already have. Start by grabbing some olive oil and then head to the produce section to pick up a white onion and a lemon that you will use for both the juice and zest. Grab an extra one if you want to serve the dish with lemon wedges. 
Next, you will need a few cups of risotto rice — arborio is a common variety used for the dish. You'll also need some white wine — who doesn't love a recipe with a bit of added wine? Pick up some vegetable stock and to keep the prep simple, grab a bag of frozen peas. Next, pick up some grated Parmesan cheese (or grate it yourself) and make sure you have salt and pepper to season. 
Heat the olive oil, onions, and add the rice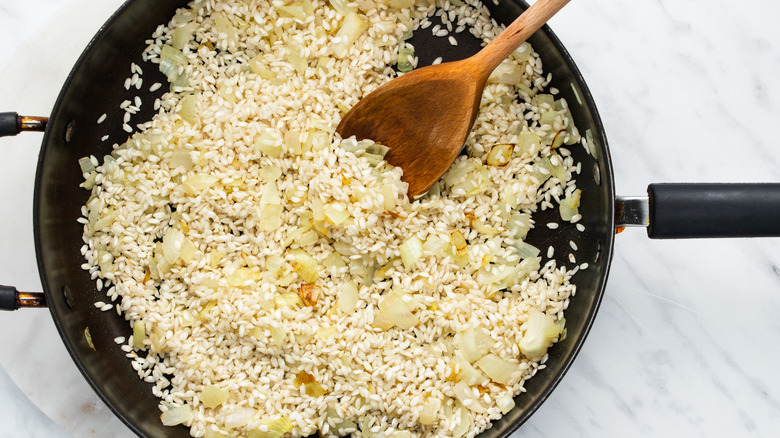 Now that you have gathered all of the ingredients, take out a large frying pan and place it on your burner. Pour in the olive oil first and let it get nice and warm on medium-high heat. Then, add the onion and fry it for about 5 minutes until it softens. Next, toss in the rice, which is the star of the show. Cook it for about 2 minutes with the onion and olive oil, stirring constantly. "It definitely isn't difficult to cook, [it] just takes a little patience as you need to add the stock slowly and stir consistently to get that nice creamy texture," Brookes explains about the method.
Add the white wine and vegetable stock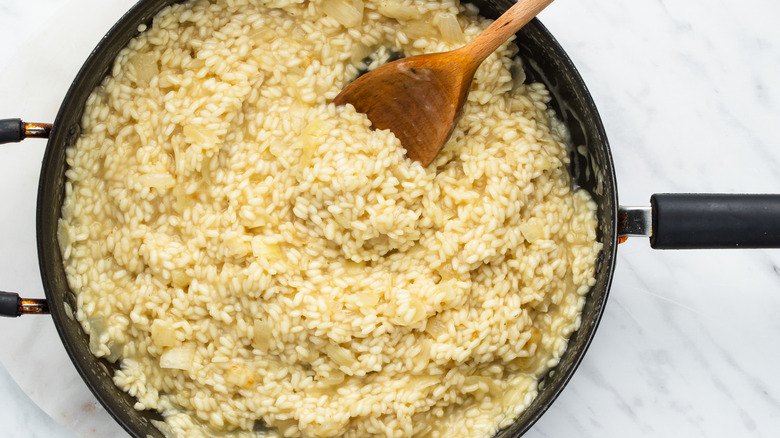 Once you've let the rice toast for a few minutes with the onion and olive oil, pour in the white wine and continue cooking for another 3 minutes or so. Be sure to constantly stir the mixture to prevent the risotto from sticking to the bottom. "I used a chardonnay but any [wine] should be fine! Just whatever you have in the fridge," Brookes shares. Then, add about ½ cup of vegetable stock at a time. Be sure to stir frequently between each addition until the liquid is fully absorbed.
Cook the risotto and add the peas and Parmesan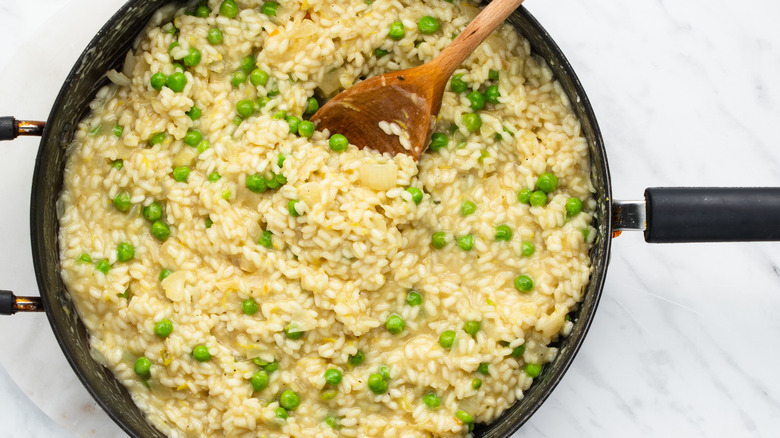 Let the rice cook for about 25 minutes while you stir, until it is almost fully cooked. Pour in the last little bit of vegetable stock and add the lemon juice and zest. At this point, you can also toss in the frozen peas and half of the Parmesan cheese. "You could maybe go for green beans or diced zucchini," Brookes suggests if you want a substitution for the peas. Stir the peas and cheese into the rice and let the contents cook for another 5 minutes.
Serve and enjoy this lemon pea risotto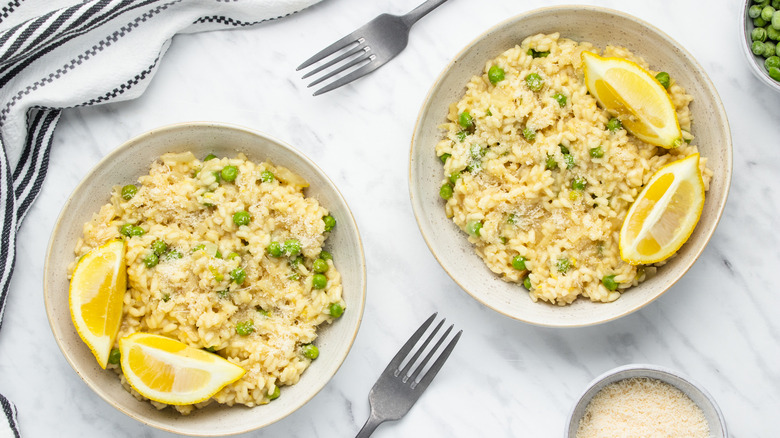 Now, it's time for a taste test! Sample the risotto and add a little bit of salt and pepper if you think it is needed. Sprinkle the remaining cheese on top and add some lemon wedges on the side if you wish. "[You] could serve [it] with some steamed broccoli, fresh crunchy salad, or even as a side with some grilled chicken. Leftovers will keep for up to 24 hours in an airtight container in the fridge," Brookes shares. "To reheat, add a splash of water and stir through before microwaving until piping hot (about 4 minutes)." 
Lemon Pea Risotto Recipe
Try this bright and zesty lemon pea risotto for a fun twist on a classic dish. Perfect in the summer or as a comforting meal in cooler weather, you'll love it!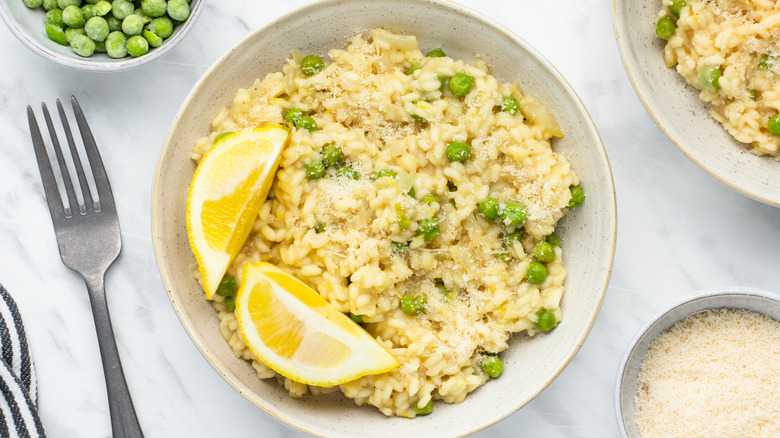 Ingredients
1 tablespoon olive oil
1 white onion, diced
1 ½ cups risotto rice
⅓ cup white wine
4 ½ cups vegetable stock
1 lemon, zest and juice
¾ cup frozen peas
½ cup Parmesan cheese, grated
salt and pepper, to taste
Optional Ingredients
lemon, wedges for serving
Directions
Heat the olive oil in a large frying pan.
Fry the onion on medium heat for about 5 minutes until it has softened.
Add the risotto rice and cook for about 2 minutes, stirring constantly.
Add the white wine and cook for another 3 minutes, stirring constantly to stop the rice from sticking.
Add the vegetable stock a ½ cup at a time, stirring frequently between each addition until the liquid is absorbed. After about 25 minutes the rice should be nearly cooked.
When it comes time to pour in the last of the vegetable stock, add the lemon juice and zest, frozen peas, and ¼ cup of Parmesan cheese. Stir and cook for another 5 minutes.
Taste the risotto and add some salt and pepper if needed.
Serve with the remaining Parmesan cheese sprinkled on top and some extra lemon wedges if desired.
Nutrition
| | |
| --- | --- |
| Calories per Serving | 424 |
| Total Fat | 8.9 g |
| Saturated Fat | 3.7 g |
| Trans Fat | 0.0 g |
| Cholesterol | 12.6 mg |
| | |
| --- | --- |
| Total Carbohydrates | 68.0 g |
| Dietary Fiber | 2.5 g |
| Total Sugars | 3.4 g |
| Sodium | 1,028.5 mg |
| Protein | 13.5 g |