You Can Now Get A Free At-Home COVID-19 Test Sooner Than Expected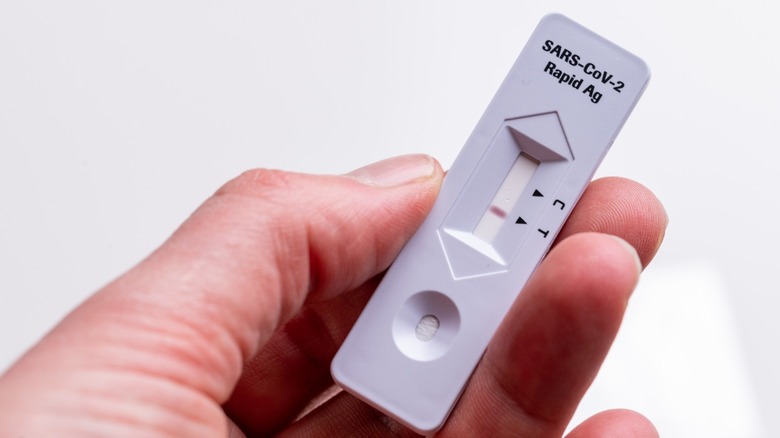 Hugo Goudswaard/Shutterstock
As promised, the Biden administration has launched a website that will allow all American households to order one free kit of four at-home COVID-19 tests. The even better news – the website, COVIDtests.gov, launched a day earlier than planned. However, don't be surprised if you experience bugs – of the non-viral kind – as the website is still in the beta phase to work out kinks as they arise. "We can't guarantee there won't be a bug or two, but the best tech teams across the administration and the Postal Service are working hard to make this a success," White House press secretary Jen Psaki said during a press briefing on Tuesday (via C-SPAN).
USA Today reported that while testing the site's functionality, it received the message, "COVID-19 tests will start shipping in late January". The website also notes that the Postal Service will only send one free set of four COVID-19 test kits per valid residential address. Once ordered, the website states that your free kit will be mailed between seven and 12 days. No credit card is required.
In addition to the free at-home test kits, the Biden administration is also providing 400 million free N95 masks at health centers and pharmacies across the country (via New York Times).
What is a rapid antigen test?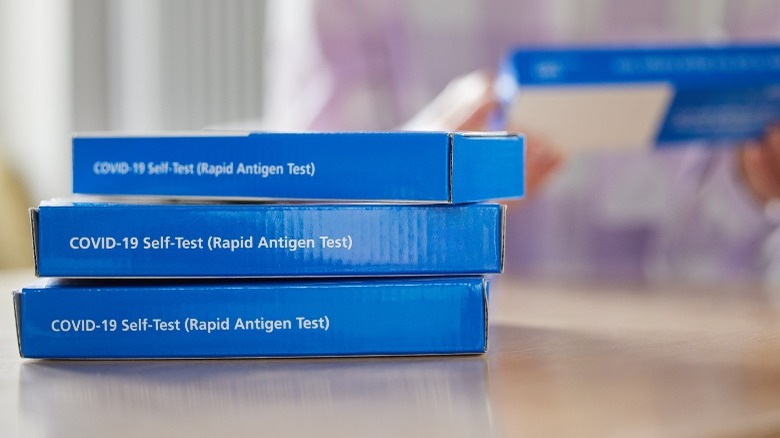 Daisy Daisy/Shutterstock
The type of coronavirus test that the government is sending out for free is the rapid antigen test. The one you will be able to order is approved by the U.S. Food and Drug Administration (FDA); however, you will not have a choice as to which brand you will receive. Antigen tests can provide results generally in around 30 minutes (via Sacramento Bee).
"Rapid antigen tests are a welcome tool in society's fight against the COVID-19 pandemic," notes UMass Chan Medical School molecular biologist Nathaniel Hafer (via The Conversation). This is because rapid antigen tests can detect a protein, or antigen, associated with COVID-19, and give you results quickly, in some cases as soon as 15 minutes. Hafer stresses the importance of getting tested whether or not you have been vaccinated if you believe you are experiencing COVID-19 symptoms. You can get either a PCR test or a rapid antigen test. While PCR results are generally more accurate, their results usually take 12 hours or more.
The Centers for Disease Control and Prevention (CDC) continues to support a combination of testing, vaccination, masking, and physical distancing as the ideal approach to reduce the spread of the virus.