Is Nail Polish Remover Bad For You?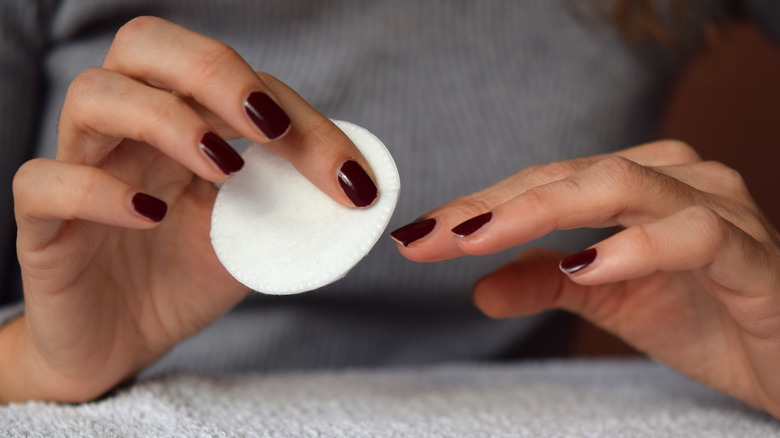 SoloTanja/Shutterstock
Painting your nails can be a fun and easy way to express yourself and liven up your look, but removing your nail polish is considerably less exciting. In fact, it can be messy and damaging to your nails (via Huffington Post). That's because most types of nail polish remover contain a powerful solvent known as acetone, which dissolves and strips the nail polish away. Unfortunately, this can make dry nails drier and increase the risk of damage.
"Many people don't realize that the damage that we do to our nails is not from the polish but rather the remover," Dr. Dana Stern, a board-certified dermatologist and nail specialist, told Huffington Post. She explains, "The polish can actually be protective to the nail. Taking a break from polish remover exposure allows the nail to recover." That's because acetone-based nail polish remover contains harsh chemical ingredients that can cause damage to your nails by making them dry and brittle.
Acetone versus natural nail polish remover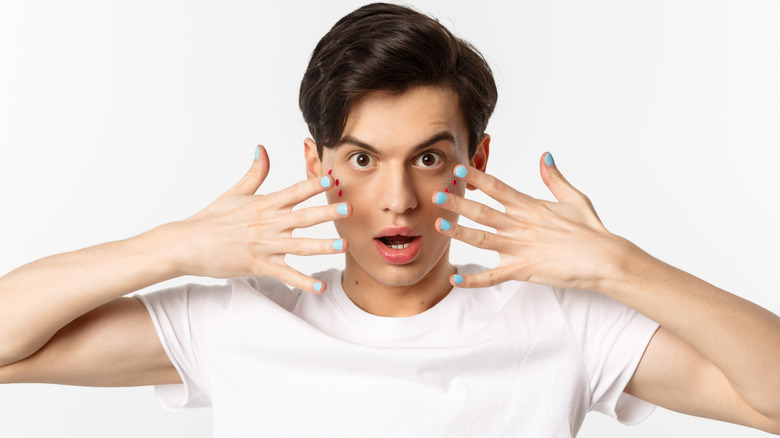 Mix and Match Studio/Shutterstock
As it turns out, acetone and other harsh ingredients in nail polish remover can break down the lipid layer in your nails and skin, leaving them weak and vulnerable. "These lipids help with the skin's natural repair process," Layanna Wilkerson, a celebrity hair and makeup artist, told Martha Stewart. "Breaking them down can cause skin to become brittle and dry and prevent it from holding moisture." As a result, constant exposure to acetone can lead to peeling, breakage, brittleness, and significant dryness of the nail.
But there are safer ways to remove your nail polish, including natural nail polish removers, which are less harsh on your nails, according to Martha Stewart. Since acetone is more effective, however, using natural polish remover may require more effort to get the polish off. If this is too taxing, you can always use a small amount of acetone-based nail polish remover on a cotton ball and quickly wipe the polish away.