Monoclonal Antibody Treatments For COVID-19 Might Be More Difficult To Come By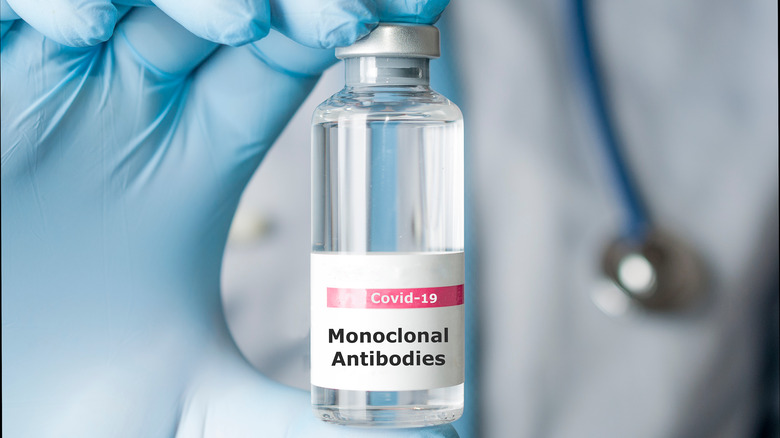 Cristian Storto/Shutterstock
In addition to masking, social distancing, and vaccines, monoclonal antibody treatments have been used as a tool in the fight against COVID-19. Having been authorized for emergency use by the U.S. Food & Drug Administration (FDA) in November 2020, they were used to treat mild to moderate COVID-19 symptoms in high-risk individuals, and were effective against severe complications, emergency room visits, and hospitalizations.
Issued via injection or infusion, these laboratory-made antibodies enter the body, attaching to the virus and helping the immune system fight off the infection (via TN Health Department). Currently, the availability of monoclonal antibody treatments is limited and is primarily available only to those who meet age, symptom, or health status requirements.
Although monoclonal antibody treatments are already in short supply, federal officials are now considering restricting the use of certain brands of antibody treatments, as they have proven ineffective at combating the Omicron variant (via CNN).
Certain brands of monoclonal antibody treatments are no longer effective
Nishantadeb/Shutterstock
According to CNN, the U.S. Food and Drug Administration (FDA) is currently considering restricting Eli Lilly and Regeneron antibody treatments, as research continues to show their lack of effectiveness against the COVID-19 Omicron variant. The National Institutes of Health (NIH) has already taken steps to do so by updating their clinic guidelines against the use of these particular brands of antibody treatments for those experiencing mild to moderate symptoms of COVID-19.
According to the Department of Health and Human Services, roughly 110,000 doses of Eli Lilly and Regeneron antibody treatments have been distributed across the country within the last two weeks (via CNN). To treat Delta variant infections, government officials agreed to continue to send out shipments of the Eli Lilly and Regeneron antibody treatments in early December but have since halted their distribution. In light of the Omicron variant now making up over 99% of all COVID-19 cases across the country, the current administration is now urging states to use other forms of treatment, such as the GlaxoSmithKline's monoclonal antibody treatment or the Merck and Pfizer antiviral pills.
Regeneron has been open about their antibody treatment's ineffectiveness against the Omicron variant, having previously stated in November 2021, "there may be reduced neutralization activity of both vaccine-induced and monoclonal antibody conveyed immunity" (via Reuters).