Why Some Experts Suggest Schools Shouldn't Lift Mask Mandates Just Yet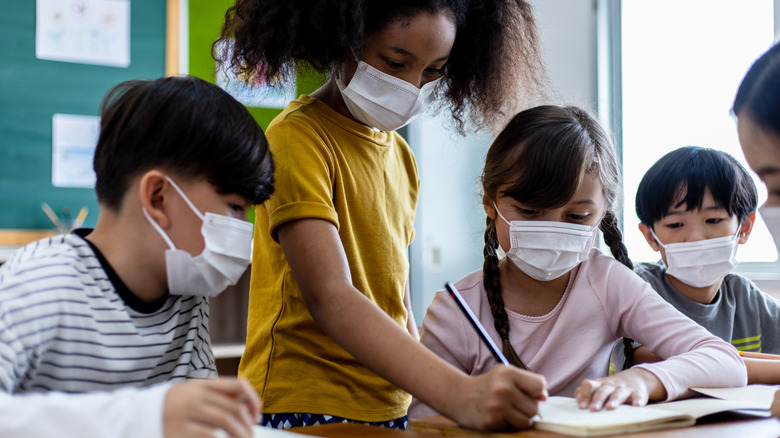 JR-50/Shutterstock
Across the country, several states are lifting their mask mandates in schools, including Connecticut, Illinois, and New York, according to EducationWeek. Only 7 states still have a school mask requirement in effect, and many of those are lifting those mandates in the coming weeks. While there are both proponents and opponents of school mask mandates, health officials are warning that lifting the mandates too soon could have dangerous effects.
Vaccination against COVID-19 is recommended for children 5 years of age and older, though many parents have chosen not to have their children vaccinated. Across the U.S., 25% of children aged 5-11 have been fully vaccinated, along with 57% of 12-17-year-olds, according to the American Academy of Pediatrics. However, these numbers vary widely by state. The percentage of 5-11-year-olds who have gotten their first dose of the COVID-19 vaccine ranges from 14-64% across the country. Despite undergoing intensive safety monitoring, many parents are still doubtful of the COVID-19 vaccine's safety for young children (via the U.S. Centers for Disease Control and Prevention). The CDC suggests that the benefits of the vaccine outweigh the known potential risks.
School mask mandates: What do health officials think?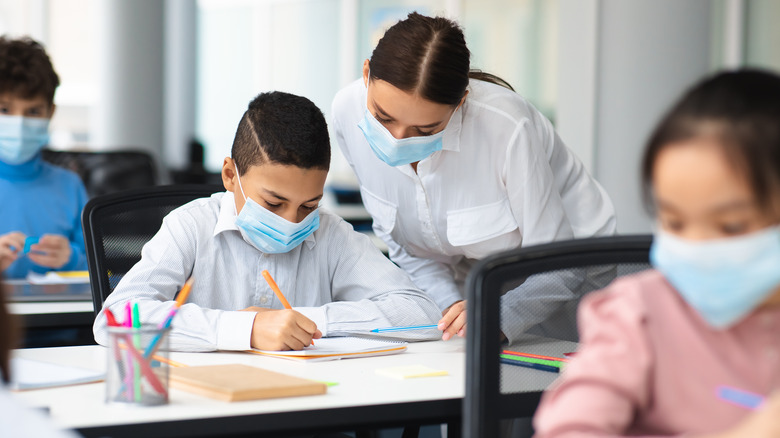 Prostock Studio/Shutterstock
While so many young children are still unvaccinated, masks are the best line of defense, according to health officials (via ABC News). Health experts are sharing concerns that lifting school mask mandates too soon will prompt a significant rise in cases. They cite Laramie County School District 1 in Wyoming, where cases spiked 2 weeks after the mask mandate ended. In Massachusetts, Hopkinton High School dropped the mask mandate and then ended up reinstating it after cases rose. "If data were driving these decisions, we wouldn't at all remove mask mandates right now," said Dr. Mercedes Carnethon, a professor of epidemiology and pulmonary and critical care at Northwestern University Feinberg School of Medicine, told ABC News.
While some claim that mandates can be lifted since children have a low risk of experiencing severe illness, experts disagree. Any amount of cases still means more hospitalizations and deaths, more missed work and school, more persistent symptoms, and more unknown health impacts years down the line, according to Dr. Julia Raifman, assistant professor of health law, policy, and management at Boston University School of Public Health. Some experts call states' decisions to lift mask mandates nothing more than politically motivated. Many recommend that if states are truly intent on ending mandates, they should at least use data-driven approaches to reinstate mandates when there are surges in cases.
How vaccine equity plays a role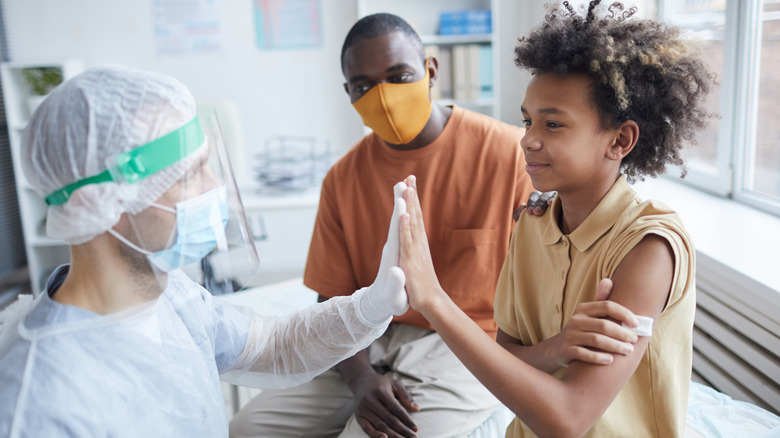 SeventyFour/Shutterstock
In Massachusetts, the Massachusetts Teachers Association pointed out that even though they have high youth vaccination rates, this doesn't account for the disparities between wealthy districts and districts with low-income residents and students of color (via Telegram & Gazette).
In Boston, 54.3% of White children ages 5-11 were vaccinated as of November 2021, while just 6.4% of Black children and 8.3% of Latinx children were vaccinated (via the Boston Globe). Disparities were similarly seen between wealthy Boston suburbs and lower-income areas. Community leaders attribute this to rampant misinformation and a lack of faith in the medical community after decades of being neglected and exploited. This could suggest that lifting mask mandates in lower-income areas may put more vulnerable folks at higher risk.
According to a study conducted by the Urban Institute, school mask mandates were still supported by a majority of parents across all racial and ethnic groups. The CDC still recommends masking in schools, emphasizing the importance of in-person learning and highlighting that vaccination is still the leading public health strategy to end the COVID-19 pandemic.