The One Ingredient That Shouldn't Be In The Chips You're Eating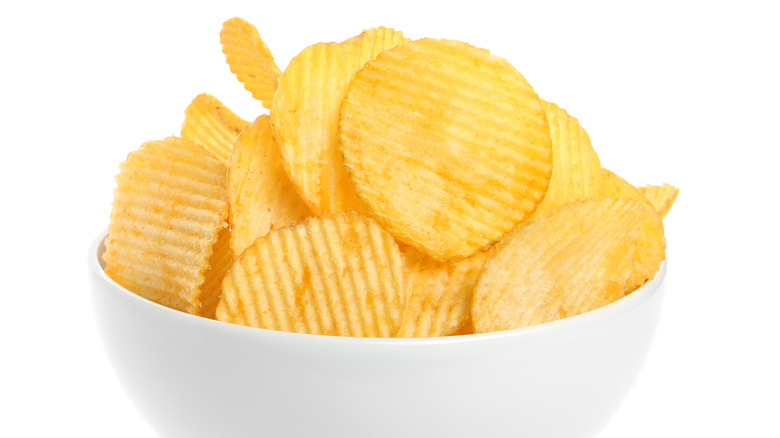 New Africa/Shutterstock
Potato chips are one of the most popular snack items in the United States. Crunchy and salty, they are almost addictively delicious. But while many people think they are made of only potatoes and salt, the reality is most potato chips on the market contain another ingredient that may be less healthy than you think: the oil they are fried in.
To get that lovely thin and crispy texture that makes you want to just keep munching on them, potato chips are fried in refined vegetable oils like palm, soy, canola, and cottonseed oil, which give them a relatively high-fat content. According to the database at FatSecret, a single grab-bag size of regular potato chips contains nearly 20 grams of fat. But it's not just the amount of fat that's in the potato chips that should concern you, it's the kind of fat and how it was processed.
Saturated fat in potato chips may be harmful to your health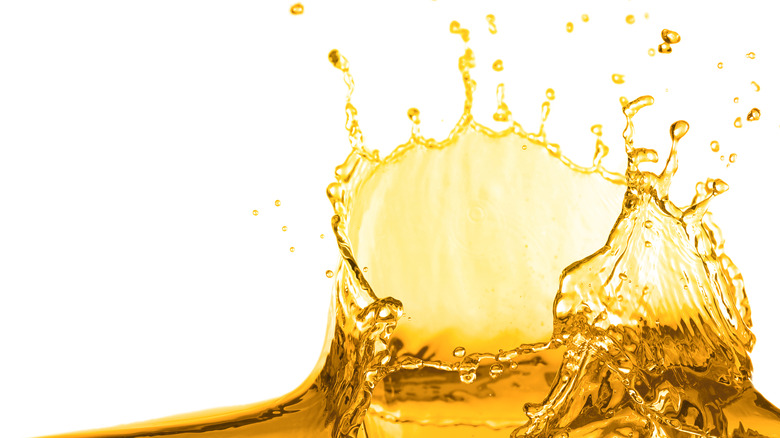 Africa Studio/Shutterstock
Not all fat is bad for you. Many vegetable-based fats like olive oil and avocado oil and those found in nuts and seeds are "unsaturated fats" that have a long list of health benefits, according to MayoClinic. Saturated fats typically are in solid form at room temperature (butter, cheese, palm and coconut oils, and red meat have high amounts of saturated fat) and are linked to heart disease and obesity (via MedlinePlus). Unfortunately, potato chips contain high amounts of saturated fats in a serving.
According to the database at NutritionValue.org, a single one-ounce serving of Lay's brand potato chips contains a whopping 5.8 grams of saturated fat, equal to 22% of the USDA's recommended daily intake. Besides high levels of bad fats in potato chips, a 2020 study published in the American Journal of Bioscience and Bioengineering found that the frying process used in making them may create a "lipid peroxidation" product, which is harmful to human health. A 2021 review of studies done on food products prepared with oils that have undergone lipid oxidation found that they may contribute to serious cardiovascular problems like hypertension and atherosclerosis (per Frontiers in Nutrition).