CDC Shares Ideas Of What The Next Phase Of The Pandemic Looks Like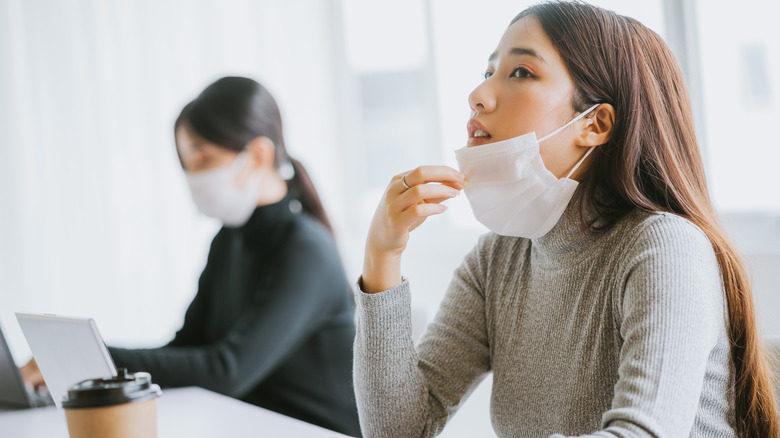 TimeImage Production/Shutterstock
The transition to the "new normal" phase of the Covid-19 pandemic has been a cause of curiosity and anxiety for many. This week, the U.S. Centers for Disease Control and Prevention (CDC) updated its official guidelines on mask use. At the same time, Dr. Rochelle Walensky (CDC Director) and Dr. Arjun Srinivasan (CDC epidemiologist) sat down with 60 Minutes to discuss what the next phase of the pandemic may look like and what Americans should consider as we move through the endemic (via CBS News). Because there have been several recent policy changes and sharp criticism of the CDC's guidance during the pandemic, Srinivasan and Walensky are determined to set the record straight.
New masking guidelines with a particular focus on indoor settings are of the recent changes. The CDC recently released a tracking tool to help citizens determine whether or not masking is right for them and now considers it more of a personal preference. However, the federal mask mandates for travel on airplanes, trains, and buses are still in effect and haven't seen much change yet. But even these mandates are set to expire on March 18th, 2022 (via TSA).
What will the "new normal" be like?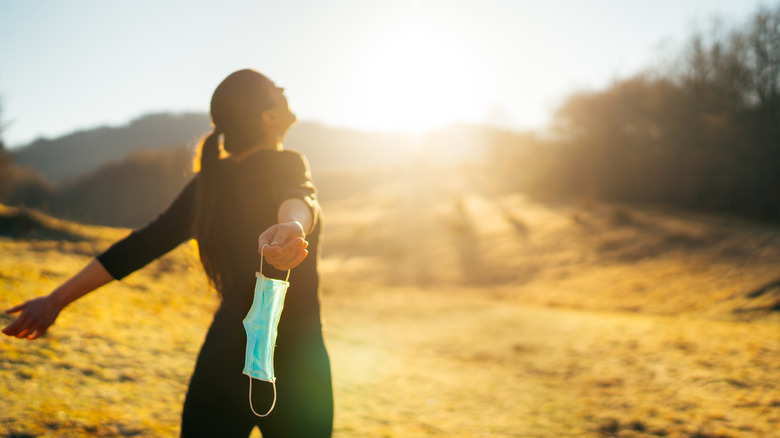 eldar nurkovic/Shutterstock
According to Dr. Srinivasan, society is returning to something that resembles the pre-pandemic era but with more cautionary measures in place. "I think the new normal looks very much like it does now [where] we're able to get back to gathering with friends [and] with loved ones. We're able to travel to do some of these things that we love. But we're always vigilant. And we're ready to reach for things like masks [and] for vaccines when we need them," he told 60 Minutes (via CBS News).
The CDC's update comes just a week after the Biden administration announced its focus on a new "test and treat" approach to the pandemic, where Americans will be able to access free Covid-19 tests at all pharmacies across the country and will be given antiviral pills, manufactured by Pfizer, free of charge if they test positive (per Axios). However, these pills have not yet been made available. Dr. Walensky also suggests that the Covid-19 pandemic has revealed that changes to the American public health system are needed, including more health care support for underserved Black and Hispanic communities who experienced higher rates of hospitalizations and deaths during the peak of the pandemic (via CBS News).