Do Barre Classes Actually Build Muscles?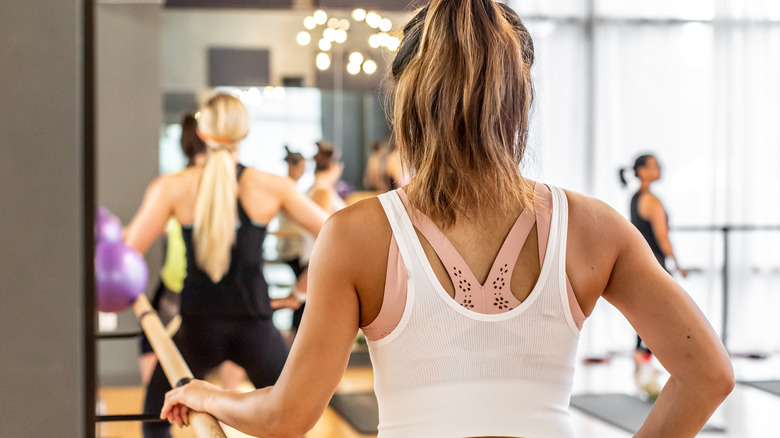 Deanna Did That/Shutterstock
If you're looking to lengthen and strengthen your body, you may want to consider taking a barre class. Created in the late 1950s by a former ballerina, Lotte Berk, it was originally intended as a rehabilitation workout after she injured her back (via GX United). It's come a long way since then, with studios all over the world and many programs offered online.
People flock to barre classes for the challenging yet low-impact workout it provides. Inspired by ballet movements, barre is said to improve posture, muscle endurance, and core strength (via Verywell Fit). Peloton instructor, certified health coach, and barre instructor Ally Love told POPSUGAR, "Barre is an effective low-impact workout, and it helps with toning, balance, deep core strength, and lengthening, so it's really for everyone."
Barre's isolated, low-impact movements are ideal for someone looking for a challenging, total body workout that burns calories and increases flexibility and alignment while going easy on the joints (via WebMD). While it's a great workout that will have you feeling nice and sore the next day, can barre workouts actually build muscle mass?
What barre does for your muscles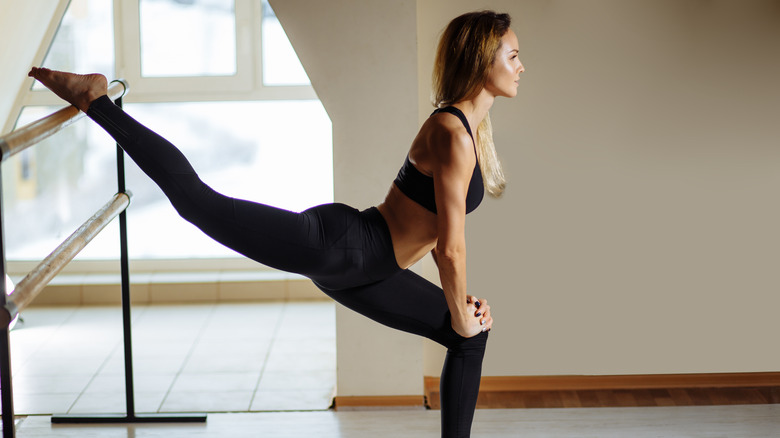 UfaBizPhoto/Shutterstock
Barre workouts incorporate moves using light weights as well as your own body for resistance. While this method will strengthen, sculpt, and tone your muscles, it won't necessarily build muscle mass. Barre instructor Aimee Long explained to Stylist, "You won't necessarily be building bigger muscles, but you will be working on how long the muscles can withstand being under tension."
There is, in fact, a difference between building muscle mass and building muscle endurance. According to Healthline, everyone's body makeup is different, but for the most part, building muscle requires lifting heavy weights for a max of 12 reps, while muscle endurance involves low weight and high reps.
If you're looking to build mass, however, barre workouts may still help you in this regard. According to Stylist, because the nature of barre workouts encourages muscle endurance, this means that you will be able to get more out of your workouts that require heavy weights, eventually leading to muscle gain.