Is Going Maskless Making You Anxious? Here Are Some Ways To Ease Your Fear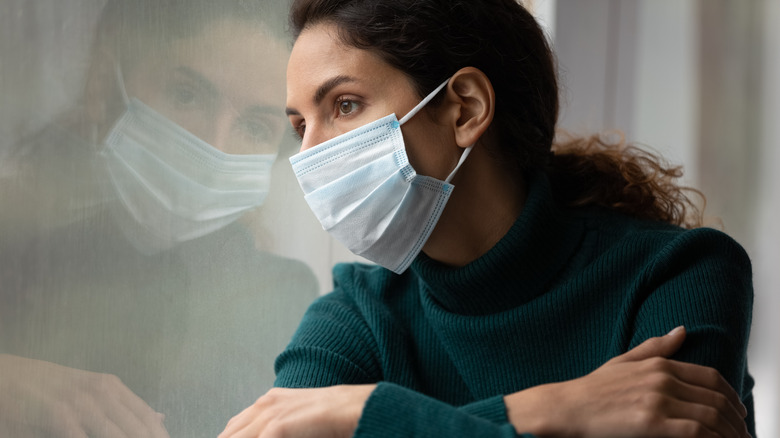 fizkes/Shutterstock
As the Centers for Disease Control and Prevention (CDC) begins to relax guidelines on indoor mask-wearing, you may feel anxious about going maskless after two years of wearing them. Or, you may still plan to wear a mask for the time being but feel anxious around others who are maskless. Health experts say these feelings are understandable, and COVID-19 will be around in some form for the foreseeable future.
"It's clear that COVID is receding, but it's not gone, and it never will be gone. Even if we move from pandemic to endemic, it will be as though we have a truce with this virus," Dr. William Schaffner, professor of preventive medicine and infectious diseases at Vanderbilt University Medical Center in Nashville, Tennessee, told Healthline. He goes on to say that those who are elderly and immunocompromised should continue wearing masks consistently.
So, what can you do to reduce your anxiety as the world begins to find its way back to a new maskless normal?
Take things at your own pace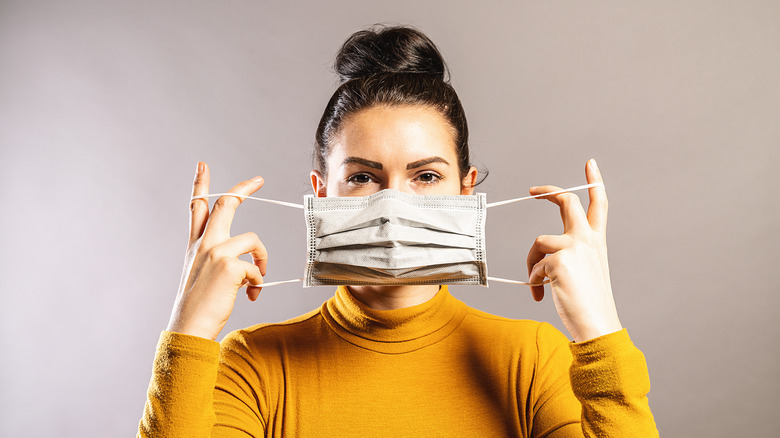 r.classen/Shutterstock
Health experts advise you do what makes you feel comfortable. Dr. Tyler Grove, a clinical assistant professor at Michigan Medicine, told Michigan Health, "I think it's important for people to remember that they can start to engage with others and in activities at their own pace, regardless of mandates." He adds that this is similar to other situations where you gradually expose yourself to things you have previously avoided. "We were told to avoid others and gatherings to prevent illness, so it will take time for people to 'dial down' the precautions that we have adapted to," Grove said.
Health experts also say that you can relieve anxiety by trusting the science. Dr. Georgia Gaveras, chief medical officer and co-founder of Talkiatry, told Healthline, "Science told us wearing masks was necessary. Science is now telling us that vaccines and new mutations are making COVID less dangerous to most people, and we need to trust that." Gaveras also cautioned against being hyper-focused on future "what if" scenarios, which may be unnecessarily raising your anxiety levels. Also, you should feel comfortable talking to your doctor about your safety concerns, as well as friends and family. And remember, the easing mask mandates don't mean you can't wear a mask if you prefer.
The bottom line is if wearing a mask or avoiding social situations brings you a sense of ease right now, you should feel comfortable following these practices.