The Real Reason You Should Avoid Buffets At Restaurants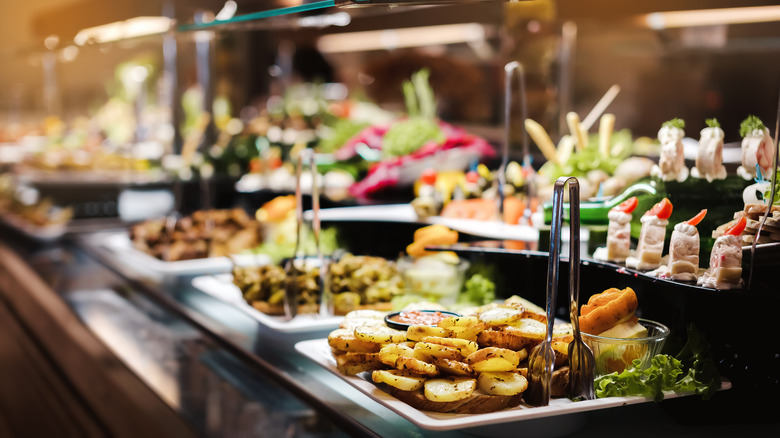 ANAID studio/Shutterstock
Going to a restaurant buffet is a fun, indulgent experience. However, there are many reasons you may want to avoid any buffet-style offering in the future. According to Eat This, Not That!, food dishes that are left out for long periods of time put the eater at risk of developing food poisoning. Anything that needs to be kept cold, like meat and dairy products, can harbor bacteria in warmer temperatures. On the flip side, many foods need to stay warm in order to keep germs away.
If you want to eat at a buffet, you can decrease your risk of getting sick by scouting out the location before you dig into anything. Make sure that cold food is refrigerated or sitting on ice to stay cool. You should also make sure that hot foods are on food warmers. The buffet area should be clean and food should be regularly replenished. Each food tray should have its own serving utensil to avoid cross-contaminating other dishes. If anything feels off, it's better to find another restaurant and avoid the risk of getting food poisoning completely.
Other foods to avoid at restaurants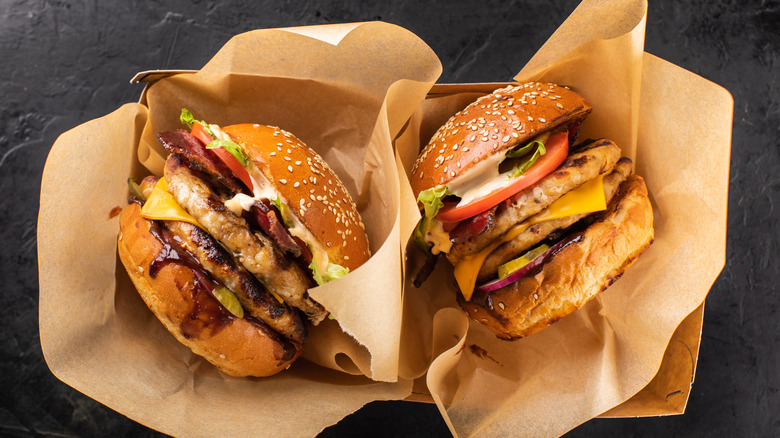 GoncharukMaks/Shutterstock
The buffet table isn't the only thing you should avoid when eating out. According to Health, fans of medium-rare burgers may want to reconsider their choices. Not fully cooking ground meat leaves some bacteria free to linger. Ground meat is exposed to oxygen during processing, so it is unsafe to eat ground meat that hasn't been fully cooked. To stay safe, make sure your burgers are cooked to at least medium.
You may also want to refuse the sprouts offered on your next sandwich. Sprouts are touted as a trendy health food, and while they certainly have some health benefits, they come with risks as well. Sprouts are grown in a warm, moist environment that is a perfect place for bacteria to grow. They may be connected to recent outbreaks of E. coli and Salmonella. You can risk this food if you want, but pregnant women and other people more susceptible to illness should avoid these greens.