Gluten Free Lemon Bars Recipe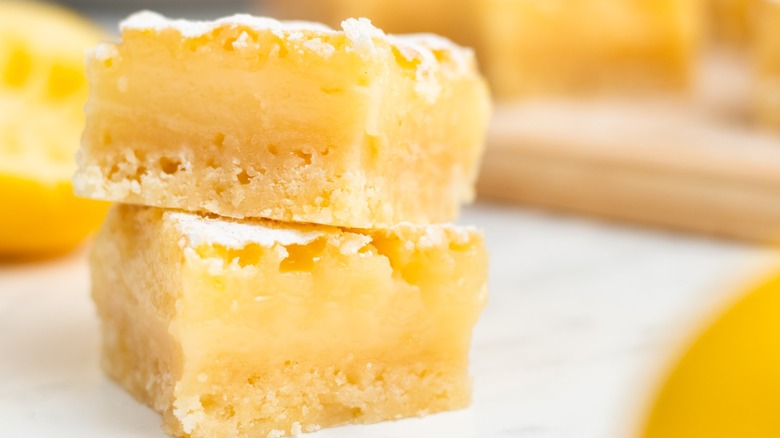 Catherine Brookes/Health Digest
What makes lemon-flavored dishes so summery? Is it the bright yellow color or the tart, fresh taste? We're not sure of the exact reason, but all we know is, we start craving all things lemon as soon as winter starts looking as if it might finally be in the rearview mirror.
Recipe developer Catherine Brookes is our go-to expert on all things related to gluten-free baking, and she uses gluten-free flour to make these lovely lemon bars. As she tells us, these bars "are completely gluten free but you'd never know it!" She tells us that simply swapping out a standard all-purpose flour for a gluten-free one "is super easy with no compromise on flavor and texture." As to how these bars taste, she describes the base as a "sweet shortbread" and the filling — or the topping, as it were — as being "like a slightly more set version of lemon curd."
Assemble the ingredients for gluten-free lemon bars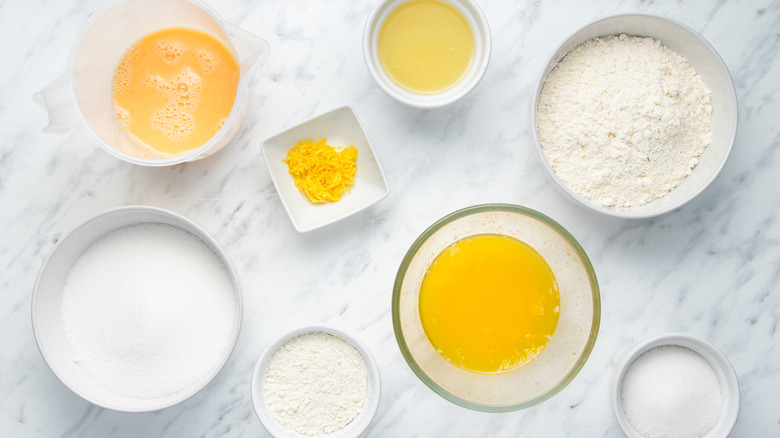 Catherine Brookes/Health Digest
You really only need 5 items to make these lemon bars: gluten-free flour (the all-purpose kind), sugar, butter, eggs, and some lemons. With this last ingredient, you'll need quite a bit of juice — ½ cup in all, something Brookes says may require you to juice 3 or 4 lemons. Before you cut into them, though, be sure to zest enough of the lemon peel to make up 1 tablespoon, as you'll be needing this, as well.
A brief note on the lemon zest: there's no need to run out and buy a dedicated zester, microplane or otherwise. Brookes tells us "I use the small side on the box grater," and provides us with a tip: "To prevent wasting zest, you can scrape a knife along the inside of the grater to try and get as much of the zest out as possible."
Make the shortbread cookie dough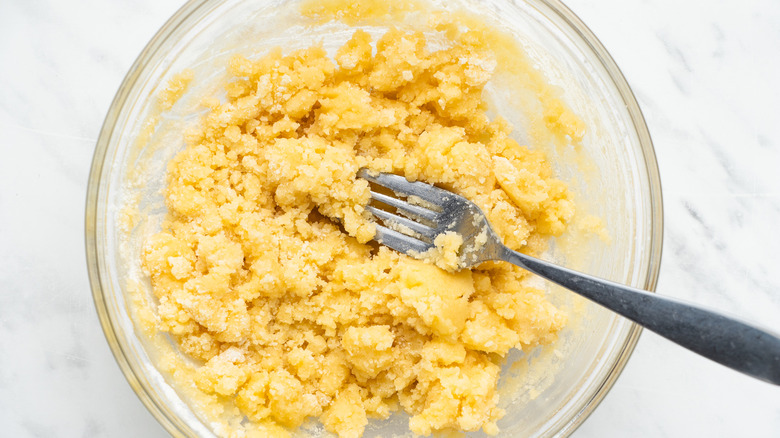 Catherine Brookes/Health Digest
Before you start baking, preheat the oven to 350 F. You'll also need to prep an 8x8-inch square pan, either by greasing and flouring it or lining it with parchment paper. 
Combine 1 ⅓ cup flour with ½ cup sugar, then stir in the melted butter. Once the mixture starts to look like dough, gather it up into a ball with your hands.
Bake the cookie base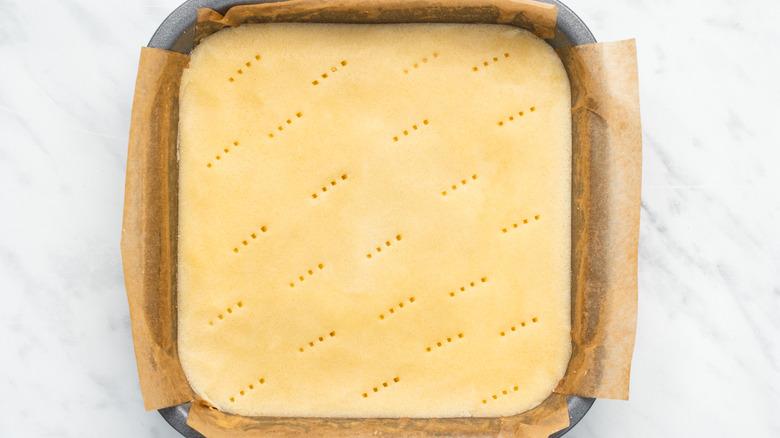 Catherine Brookes/Health Digest
Press the dough down into the prepared pan, smoothing it out to make an even layer (Brookes says she does this bit using the back of a spoon). Use a fork to prick little holes all over the dough, then stick the pan in the oven.
Bake the shortbread base for 20-25 minutes, at which point it should start to turn golden around the edges. Pull the pan out of the oven, then let it just sit (on a wire rack, should you happen to have one handy) for 30 minutes or more to cool down. You should probably turn the oven off at this point, but be aware you'll need to turn it on and preheat it once more for the next step.
Top the bars with a lemony filling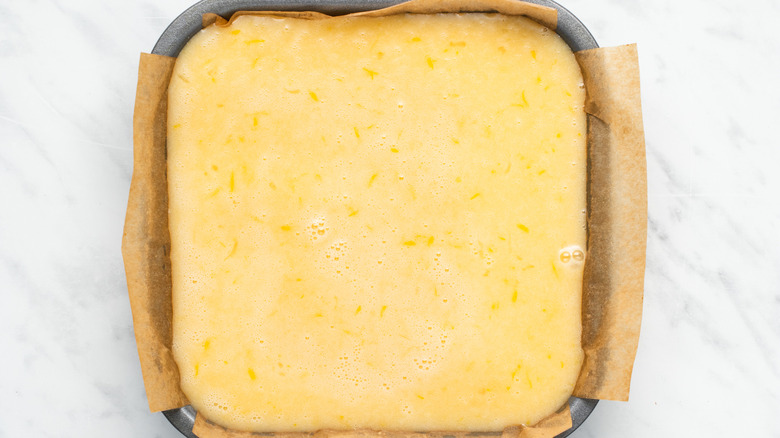 Catherine Brookes/Health Digest
While the bars are cooling, mix the remaining flour and sugar with the lemon juice and zest. Pour this over the top of the cooled base, then return the bars to the re-preheated oven and bake at 350 F for 30-35 minutes, until the lemony part loses its jiggle.
You'll need to let the bars cool for about 2 hours before you cut into them so they can set up. If you like, you can sprinkle them with powdered sugar before slicing them into bars. Brookes says to keep the lemon bars in the fridge where they should stay relatively fresh for around 5 days. She says this dessert is great with tea or coffee, adding that "Strawberries, raspberries, or blueberries are good pairings with lemon, as well."
Gluten Free Lemon Bars Recipe
When you want to bake up a fresh, summery sweet, look no further than this recipe for gluten-free lemon bars. They taste every bit as good as the original!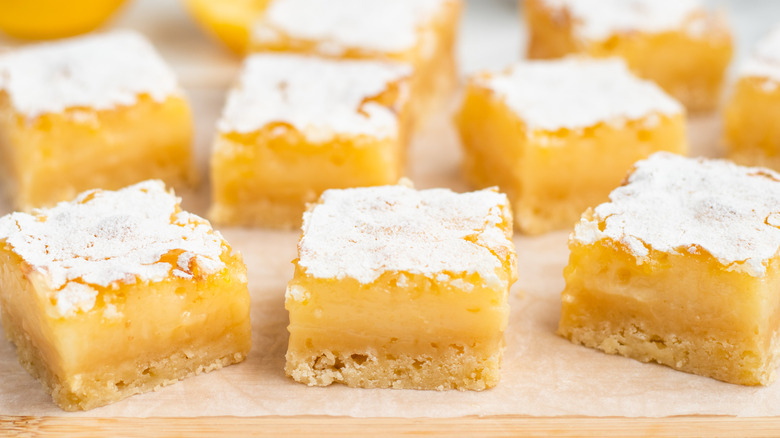 Ingredients
1 ⅓ cup + ½ cup gluten-free all-purpose flour, divided
1 ¾ cup sugar, divided
½ cup melted butter
4 large eggs, beaten
½ cup fresh lemon juice
1 tablespoon grated lemon zest
Optional Ingredients
Directions
Preheat the oven to 350 F and grease or line an 8x8-inch baking pan with parchment paper.
Mix 1 ⅓ cup flour with ½ cup sugar.
Mix the melted butter with the flour and sugar, gathering it into a ball with your hands once it becomes dough-like.
Press the shortbread dough into the bottom of the prepared pan and smooth it into an even layer.
Prick the dough all over with a fork.
Bake the shortbread for 20-25 minutes, until it starts to look golden around the edges.
Let the shortbread cool for at least 30 minutes.
Whisk the remaining sugar and flour together with the eggs, lemon juice, and zest.
Pour the lemon mixture over the base and bake at 350 F for 30-35 minutes, or until no longer wobbly in the middle.
Let the lemon bars cool for at least 2 hours before slicing.
Dust the bars with powdered sugar, if desired, then slice into squares.
Nutrition
| | |
| --- | --- |
| Calories per Serving | 205 |
| Total Fat | 7.5 g |
| Saturated Fat | 4.0 g |
| Trans Fat | 0.2 g |
| Cholesterol | 61.8 mg |
| | |
| --- | --- |
| Total Carbohydrates | 33.5 g |
| Dietary Fiber | 1.6 g |
| Total Sugars | 22.6 g |
| Sodium | 18.8 mg |
| Protein | 3.2 g |