Does Tea Tree Oil Actually Help Your Hair Grow?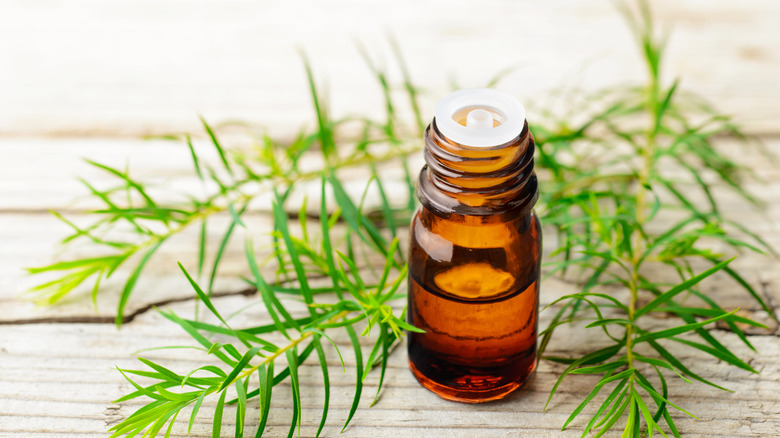 AmyLv/Shutterstock
Essential oils have a long history that dates back thousands of years due to their strong health benefits. Aromatherapy is one of the most common uses of essential oil, but research shows these oils benefit hair health, too. Believe it or not, tea tree oil, or melaleuca alternifolia, is spreading in popularity amongst hair products because of its anti-inflammatory, antibacterial and antimicrobial properties (per Byrdie).
According to Healthline, if pure tea tree oil is used topically it's a powerful cleansing agent that opens up hair follicles and stimulates growth. In fact, one study in 2013 reported tea tree oil in combination with minoxidil does support hair growth, as compared to using just minoxidil for hair growth.
Beyond this powerful combination, however, most research does not point to tea tree oil alone as helping your hair grow quickly (via Healthline). Instead, the cleansing properties of this oil help improve scalp and hair conditions so the hair can strengthen and lengthen. Whether you're needing a scalp treatment, or wanting to unplug your hair follicles, below you'll find the benefits of tea tree oil and safe ways to apply it to your hair.
The benefits of tea tree oil and how to use it step by step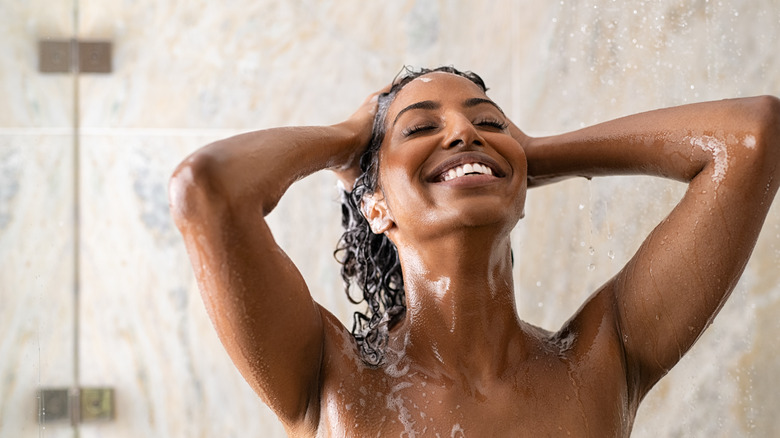 Rido/Shutterstock
Because tea tree oil is antimicrobial, anti-fungal, and antibacterial, it's a powerful way to fight the itchiness of dandruff (per Byrdie). One study published in the Journal of American Academy of Dermatology found that shampoos containing 5% tree tea oil are effective ways to treat dandruff, itchiness, and greasiness. As a matter of fact, participants in the study reported their dandruff symptoms improved by 41% by using these shampoos.
Tee tree oil also reduces inflammation which in turn helps prevent hair loss (via Byrdie). Scalp inflammation in particular is a big contributor to hair loss. However, tea tree oil fights back because it contains antioxidants which give it its anti-inflammatory properties, board-certified dermatologist Morgan Rabach tells Byrdie. Not only all this, but tee tree oil manages oil production and helps treat head lice (per Byrdie).
If you're planning to use tea tree oil, here are a few things to keep in mind. Oils come in various concentrations, so always dilute them and use them sparingly. Healthline recommends two methods: add up to 10 drops into your conditioner and shampoo or dilute 3 drops in a carrier oil, then leave it in your hair for 15 minutes before rinsing out.