Could Peppermint Oil Ease Your Stomach Issues?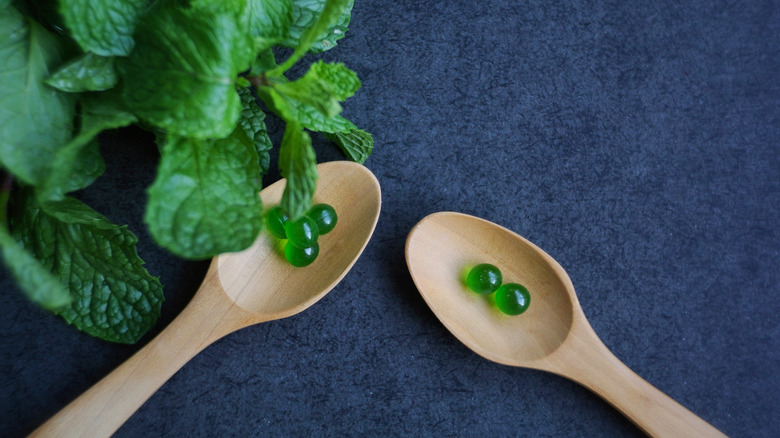 BooDogz/Shutterstock
If you're susceptible to stomach problems such as chronic diarrhea, abdominal discomfort, or constipation, you may be among the roughly 25 to 45 million Americans who deal with irritable bowel syndrome (IBS), per the International Foundation for Gastrointestinal Disorders (IFFGD). While the cause of IBS is not entirely clear, it is thought to occur due to a disruption in brain, gut, and nervous system communication.
Certain medications or dietary changes may prove helpful to relieve symptoms, and experts at the IFFGD suggest that even peppermint oil may be a viable treatment option. Predominantly found in North America and Europe, the peppermint plant has been used medicinally to support digestion throughout history (via American Family Physician). Peppermint oil is taken from the plant's leaves, stem, and flowers. In 2021, the American College of Gastroenterology issued its conditional recommendation for the use of peppermint oil to treat symptoms of IBS.
So how much peppermint oil should we take and what effect does it have on the body?
How much peppermint oil is safe to take?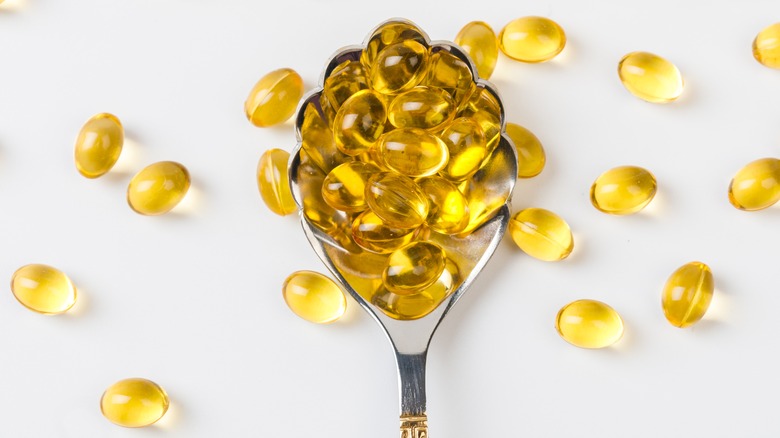 Fototocam/Shutterstock
Peppermint oil eases gastrointestinal muscle contractions (via IFFGD) and relaxes the lower esophageal sphincter (via American Family Physician). One of the main ingredients in peppermint oil — menthol — has also shown to suppress muscle pain through its unique cooling sensations, per WebMD. With these combined effects, peppermint oil can help relieve stomach issues such as bloating, gas, constipation, and pain.
Research regarding the use of peppermint oil for IBS treatment is minimal, so you'll want to consult with your doctor before usage, cautions WebMD. This is particularly important for those with health conditions, those who are pregnant, breastfeeding, or taking any medications. It's also important to note that the current research centers primarily around the use of peppermint oil capsules rather than peppermint tea leaves.
You'll want to seek out peppermint oil enteric-coated capsules, which break down in the intestines — not the stomach. Taking non-coated peppermint oil capsules may leave you susceptible to heartburn. Additionally, peppermint oil should not be taken in combination with antacids. Do not exceed the recommended daily dosage as excessive amounts of peppermint oil can lead to kidney failure. According to WebMD, it's recommended that adults take between 0.2 and 0.4 milliliters of peppermint oil up to three times daily, while children eight years of age or older should take no more than 0.1 to 0.2 milliliters three times per day.