Broccoli Crunch Salad Recipe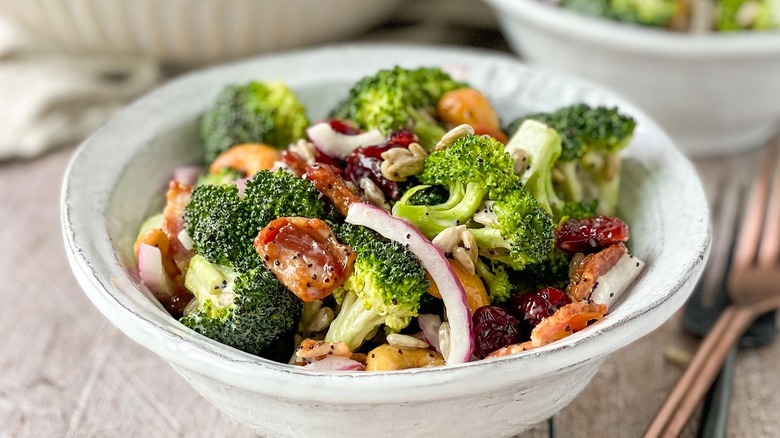 Hayley MacLean/Health Digest
Are you tired of steamed broccoli? Try it in a salad instead! Recipe developer Hayley MacLean has crafted this broccoli crunch salad recipe, which is full of different flavors and textures. It's creamy, savory, nutritious, a little bit sweet, and of course, crunchy.
"I think this recipe is a great healthy choice," MacLean says. "Although the dressing is mayo-based, it is used sparingly compared to the number of great ingredients included!" Plus, green vegetables are front and center here — "Broccoli is so great for heart and eye health and really helps support the immune system, so any way to include it in the diet is a win for me," she adds.
The dressing for this salad is mayo-based, yes, but that's not all it's made of. As MacLean notes, "the poppyseed dressing used in this recipe is what really takes it over the top! It is tangy and lightly sweet, and really melds all the different flavors in this salad together. The apple cider vinegar in it especially helps bring out the bright flavors of the red onion and the cranberries!" You're probably hungry by now — here's how to make broccoli crunch salad for yourself.
Assemble your ingredients for broccoli crunch salad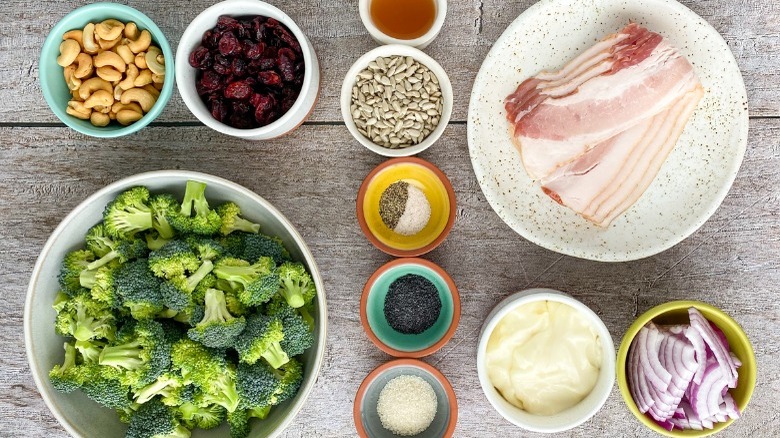 Hayley MacLean/Health Digest
Salads are a relatively simple type of food to make, but they can require a bit of prep before you throw everything in a bowl. Start by getting everything together — you'll need broccoli, dried cranberries, hulled sunflower seeds, roasted and salted cashews, bacon, and red onion. For the dressing, you'll need mayo, apple cider vinegar, sugar, poppy seeds, salt, and pepper. Not a big mayo fan? MacLean has the solution: "Greek yogurt would be a great swap for the mayo in this recipe to make the recipe a little lighter, but keep that same great tangy flavor!"
If you're working with a head of broccoli, separate it into bite-sized florets. Chop the onion into small, thin pieces, and cut the bacon into chunks.
Make the dressing and cook the bacon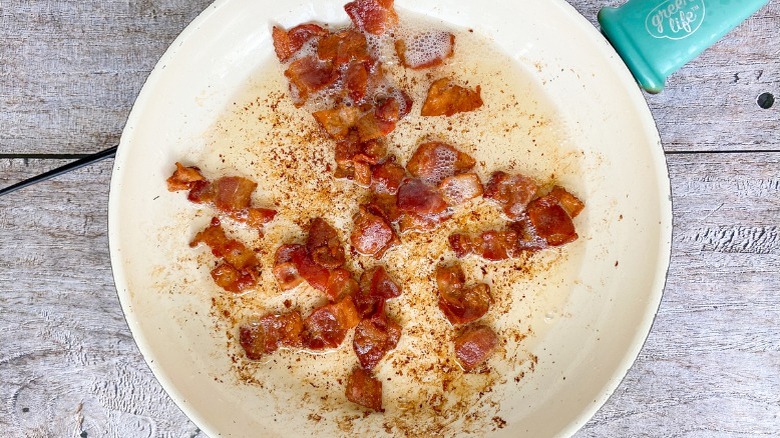 Hayley MacLean/Health Digest
Now, it's time for the only real cooking you'll need to do. Heat a skillet over medium heat, and add in the chopped bacon. Let it cook til your desired level of crispness, and set it aside on a paper towel-lined plate. "To make a vegetarian version of this dish, the bacon can be omitted altogether," MacLean notes. "Or to keep that great salty flavor, using a bacon-flavored tempeh or other plant-based substitute would work just as well."
While that's cooking, stir together the mayo, vinegar, sugar, and poppy seeds together to make the dressing. Throw in some salt and pepper if you want, but it's also fine to wait until you've tossed the salad and evaluated the flavor of the whole thing.
Put it all together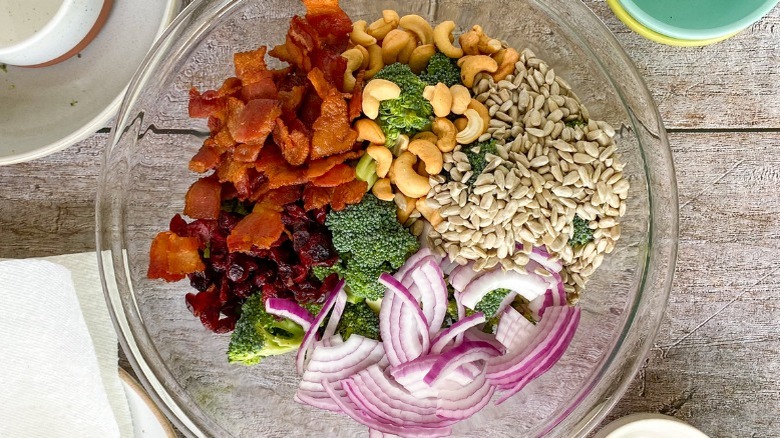 Hayley MacLean/Health Digest
Now, it's time to combine all of the salad elements. Grab a big bowl and toss in the onion, seeds, nuts, cranberries, cooked bacon, and broccoli. Slather the dressing all over and give it a good toss so everything's coated. Give it a taste, and add salt and pepper if needed. There's just one more important step: Let the salad sit for about an hour to let the flavors combine and get even tastier.
It's time to enjoy this crunchy salad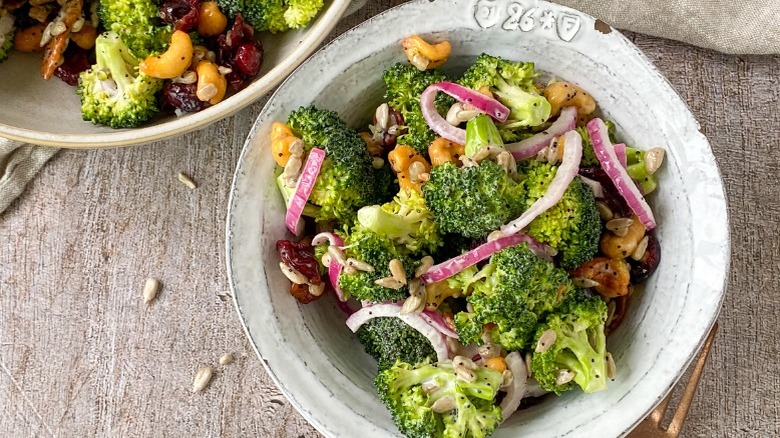 Hayley MacLean/Health Digest
After you've patiently waited, all that's left is to plate up the salad and dig in. "I love serving this salad with some grilled chicken and corn on the cob or baked potatoes," MacLean says. "It is a great light addition to any dinner, especially when served with some BBQ on a sunny day!"
This recipe makes four servings, but if you end up with extra, simply keep it in an airtight container in the fridge and enjoy it for about three more days. "After this, the bacon and broccoli tends to get a bit soggy, although it still tastes delicious and will be good to eat for another 2-3 days," MacLean notes. 
Broccoli Crunch Salad Recipe
This broccoli crunch salad is loaded with fresh flavors, nutritious ingredients, and plenty of crunchy texture.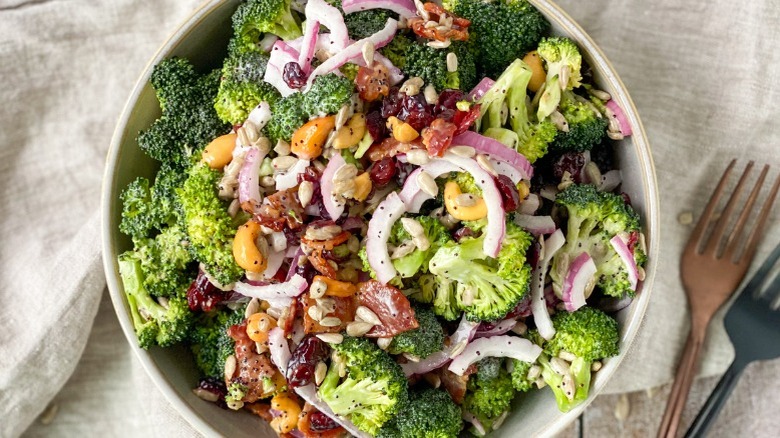 Ingredients
½ cup mayonnaise
1 tablespoon apple cider vinegar
1 ½ teaspoons poppy seeds
½ tablespoon sugar
4 slices thick-cut bacon
4 cups broccoli florets, bite-sized
½ cup dried cranberries
⅓ cup red onion, halved and thinly sliced
⅓ cup cashews, roasted and unsalted
¼ cup sunflower seeds, hulled
salt, to taste
pepper, to taste
Directions
In a small bowl, whisk together the mayonnaise, apple cider vinegar, poppy seeds, and sugar until smooth. Set aside.
Chop the bacon into bite-sized pieces and cook them in a skillet over medium heat until cooked through and crispy. Transfer the bacon to a paper towel lined plate to cool.
In a large bowl, combine the broccoli florets, dried cranberries, red onion, cashews, sunflower seeds, and bacon.
Pour in the dressing and toss to combine. Salt and pepper to taste. Cover and chill for at least 1 hour before serving.
Nutrition
| | |
| --- | --- |
| Calories per Serving | 488 |
| Total Fat | 41.3 g |
| Saturated Fat | 8.3 g |
| Trans Fat | 0.0 g |
| Cholesterol | 30.4 mg |
| | |
| --- | --- |
| Total Carbohydrates | 24.1 g |
| Dietary Fiber | 2.1 g |
| Total Sugars | 13.1 g |
| Sodium | 415.7 mg |
| Protein | 8.9 g |