Steps The Government Is Taking To Address The National Shortage Of Baby Formula
Rebekah Zemansky/Shutterstock
The national baby formula shortage has been concerning for many reasons, and households across the country have been affected. The Guardian reports that the shortage began in February 2022 following a recall of baby formula from Abbott Laboratories. While all states have experienced a shortage, Iowa, Texas, and Tennessee have seen formula shortages of over 50%. Lower income households in all states have been impacted disproportionately. Recently, both the executive branch and the congressional branch of the United States Government have taken actions to address the shortage. 
On Wednesday, May 18, 2022, President Biden enacted the Defense Production Act (DPA) to expedite the immediate and expansive production of critical ingredients needed to make baby formula (per NBC News). The DPA is a law that was adopted in 1950 and provides presidential authority to respond to imminent needs of the nation. In the case of the national baby formula shortage, invoking the DPA will serve to produce and circulate needed ingredients and materials for creating baby formula. In recent years, the DPA has been invoked to respond to needs of the nation associated with the COVID-19 pandemic.
Congress has passed legislation to help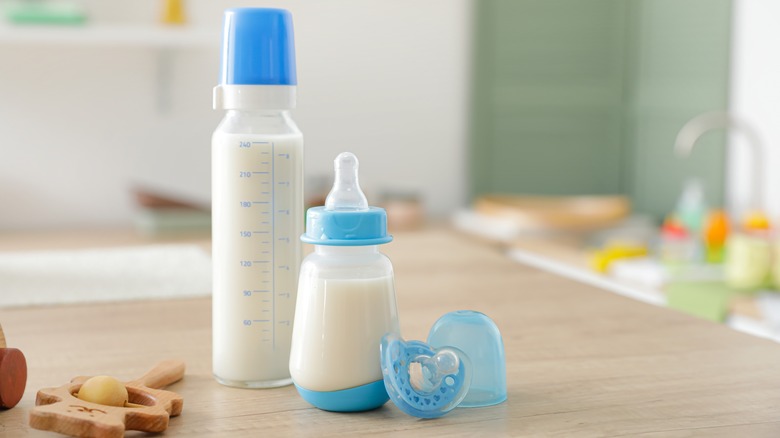 Pixel-Shot/Shutterstock
Within Congress, the House of Representatives passed two bills to help alleviate the shortage (via NBC News). One bill will permit a federal program to aid low-income women, infants, and children (WIC) to purchase more baby formula. The second bill will send the Food and Drug Administration (FDA) $28 million to help increase the formula supply. The second piece of legislation is also intended to serve as a preventative measure against future baby formula shortages.
The first piece of legislation, which will expand access of baby formula for WIC, requires that all baby formula manufacturers have contingency plans in place to prevent future shortages and supply disruptions, particularly if a recall occurs (per CBS News). Additionally, the bill will provide the Agriculture secretary with an ongoing authority and flexibility to waive select requirements of the WIC program, which is a special supplemental nutrition program.