What Is Hair Botox?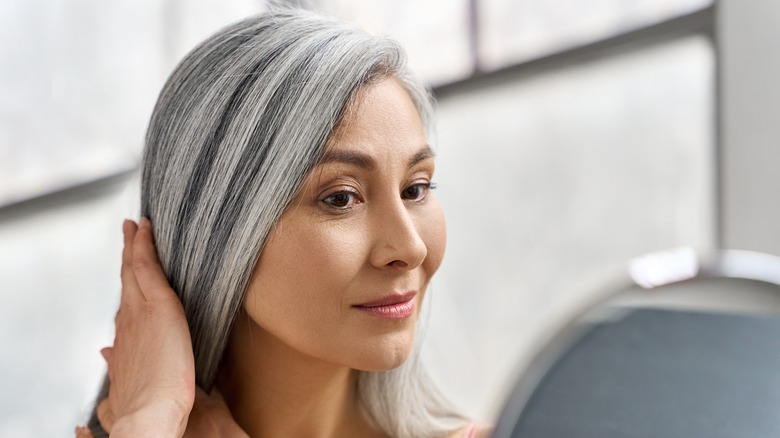 insta_photos/Shutterstock
If you've tried every conditioning treatment out there and still haven't secured the silky smooth hair you want, then you may be interested in learning about hair Botox. The Healthy reports that hair Botox is not synonymous with its namesake anti-wrinkle botulinum toxin, aka Botox, and is instead a non-invasive treatment for achieving lasting restoration to hair strands. Hair Botox does not contain chemicals and is not injected into your skin for the purpose of relaxing muscles, as traditional Botox is known to do. Rather, hair Botox is a deep conditioning treatment that can give you hair that is smooth, silky, and shiny.
Hair Botox is generally safe for all hair types (via Healthline). The deep-conditioning treatment is used to treat hair that experiences split ends, damage, excessive frizz, and hair that lacks volume or is extremely fine. You can also use hair Botox to straighten your hair. Even better, the benefits of hair Botox typically last between two and four months. If you're looking for a chemical-free option to strengthen your hair, here is what you need to know about hair Botox.
How hair Botox works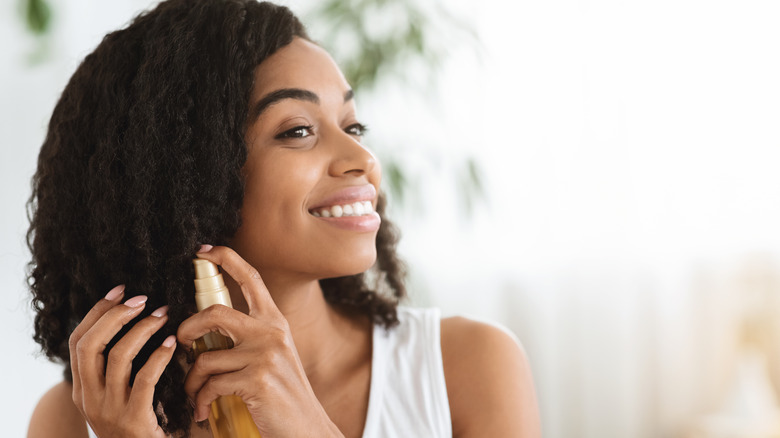 Prostock-studio/Shutterstock
Interestingly, hair Botox doesn't have specific ingredients that are required to be in it (per Byrdie). The most important factor is that it is void of harmful chemicals, so it shouldn't be mistaken for a keratin treatment, which often involves the use of the chemical formaldehyde. Instead, hair Botox treatments frequently use ingredients including vitamin E, B5, caviar oil, collagen complex, and antioxidants to achieve deep-conditioning results that last for months. The specific ingredients in a hair Botox treatment can vary per the brand of treatment utilized.
According to Healthline, hair Botox works by coating hair fibers with a filler, particularly collagen, to make up the "Botox" portion of the treatment. Because hair Botox is not true Botox, no injections are involved. Rather, application involves applying the filler solution to hair strands, massaging the solution from the ends of your hair to the roots, and then letting the solution set in for between 20 and 90 minutes, depending on the unique treatment, and then washing it out. At some salons, stylists may let the solution settle while your hair dries and then choose to straighten hair so that the treatment sets in even further. Noticeable effects of hair Botox are typically immediate.
Where to get hair Botox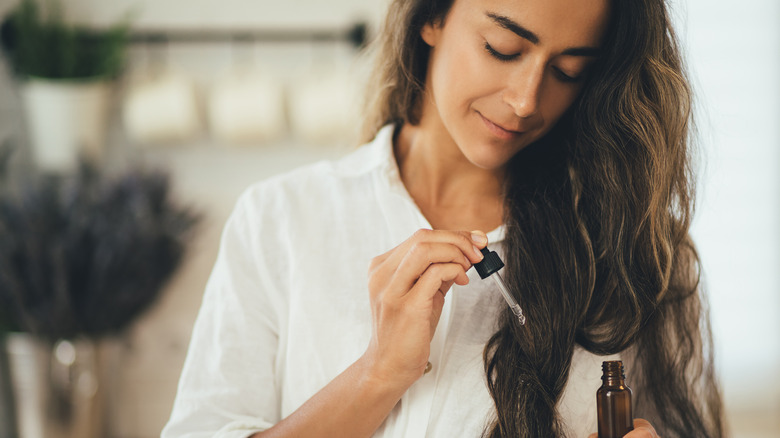 polinaloves/Shutterstock
Hair Botox can be performed in a salon or via at-home options, says Healthline. You should anticipate spending between $150-300 per hair Botox treatment, with factors including whether you purchase ingredients to make a DIY solution at home, go with a pre-made brand for at-home hair Botox, or visit a salon for the treatment. Again, it's important to note the defining factor in hair Botox is that it contains no harmful chemicals, so make certain that the treatment solution you're using is void of chemicals that are often present in other hair treatments. Look for hair Botox solutions that are clean and high quality.
Receiving the benefits of hair Botox, like added moisture and shiny hair, without paying salon prices is no problem because there are several affordable at-home hair Botox options available. However, it's recommended to at least consult with a salon professional to learn the proper procedure for applying hair Botox treatment at home before trying it on a DIY basis (via Softer Hair). This will ensure that you're aware of the correct way to apply hair Botox for results that can last up to four months.
Other important things to know when it comes to hair Botox include not washing hair face, nor engaging in physical exercise, for three days after treatment (per Byrdie). Even though hair Botox is safe for every type of hair, you should wait at least two weeks before dyeing or coloring your hair after receiving hair Botox.