Pfizer Reveals Their Efficacy Rate For The COVID-19 Vaccine In Children Under 5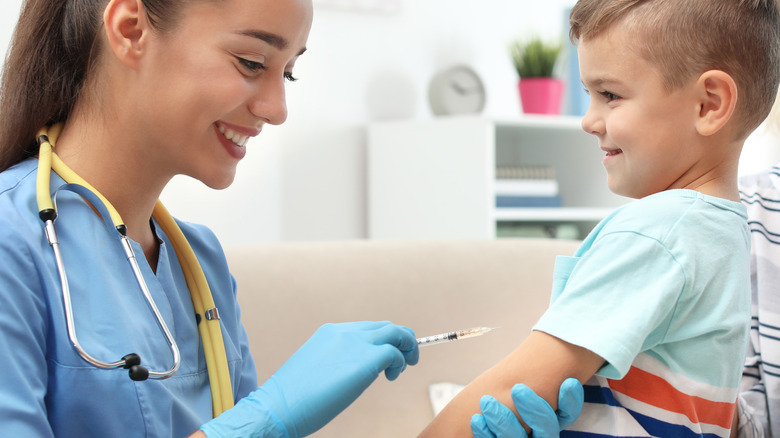 New Africa/Shutterstock
On track to complete the U.S. Food and Drug Administration (FDA) submission process this week, Pfizer and BioNTech SE are seeking emergency use authorization for their COVID-19 vaccine for children 6 months of age up to 5 years old (via Pfizer and BioNTech). Showing promising results from their Phase 2/3 clinical trial, the efficacy rate of their three-dose vaccine ranked at 80.3% during the midst of the Omicron surge.
"The study suggests that a low 3-ug dose of our vaccine, carefully selected based on tolerability data, provides young children with a high level of protection against the recent COVID-19 strains," said CEO and co-founder of BioNTech Dr. Ugur Sahin.
The vaccine was well tolerated in over 1,600 young children, and 10 children developed symptomatic COVID infections starting a week or more after completing vaccination in late April, according to WebMD. Final efficacy rates will be calculated after 21 child COVID cases emerging at least seven days following their third dose have been analyzed.
When can parents expect a decision from the FDA?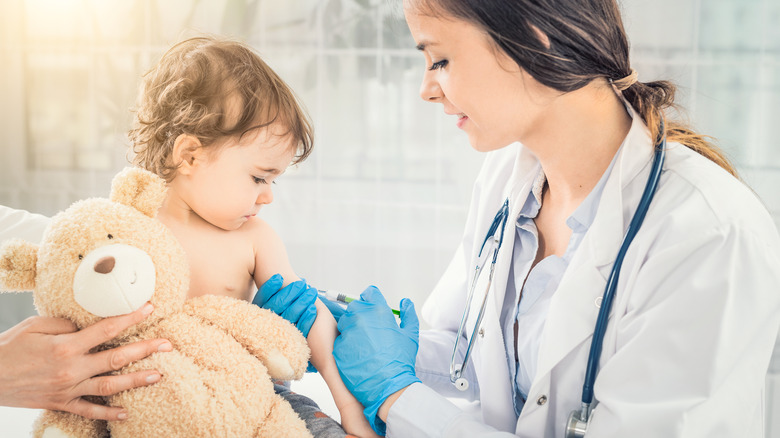 RedPixel.Pl/Shutterstock
Chairman and CEO of Pfizer Albert Bourla explained in a public statement how the companies decided on 3 micrograms as the optimal dose for those in the youngest age group. "Our COVID-19 vaccine has been studied in thousands of children and adolescents, and we are pleased that our formulation for the youngest children, which we carefully selected to be one-tenth of the dose strength for adults, was well tolerated and produced a strong immune response," Bourla stated. The reported side effects were mild to moderate.
Pfizer's plans to seek FDA emergency use authorization of its vaccine in children under 5 closely follow Moderna's request for approval, which was submitted last month, according to WebMD. Expected to arrive at a decision for both vaccines in June, some individuals are pushing for a quicker timeline rather than waiting for a joint announcement. "Each EUA application for children under 5 should be considered on its own merits and accorded the urgency of prior EUA submissions for every other age cohort," child vaccine advocacy group Protect Their Future stated (per WebMD).