Layo George Explains Why She Created An App Specifically For Pregnant People Of Color - Exclusive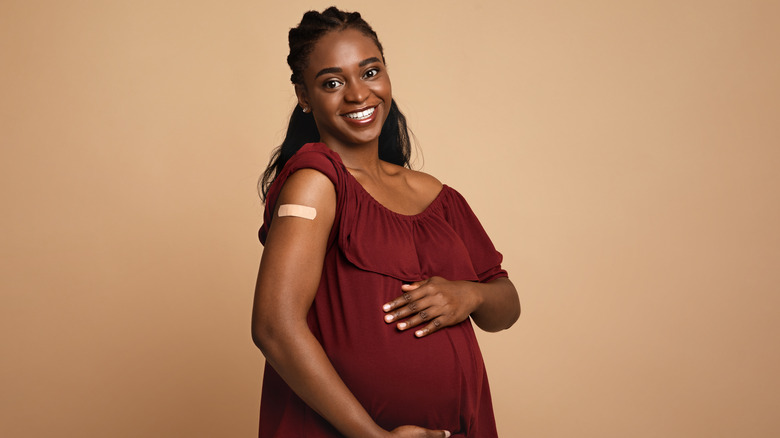 Prostock-studio/Shutterstock
Layo George, a maternal health nurse and healthcare administrator, has seen the racism inherent in the healthcare system. As a nurse, she saw how difficult it was for parents of color to navigate the system, make informed decisions about pregnancy and birth, and have safe and joyful birthing experiences. She also knew what the data had to say about birthing people of color — that Black birthing parents are three to four times more likely to have adverse outcomes during birth or postpartum, the worst of which is often death.
When she was in labor, George experienced that racism firsthand. She arrived at the hospital with her doula, who was white, and the people at the front desk addressed George's doula instead of her, even though she was clearly in labor.
George decided that she needed to do something to change the birthing experience for people of color. In response, she created the Wolomi app, the first pregnancy and postpartum app specifically for parents of color. In an exclusive interview with Health Digest, George discussed how she got the idea for Wolomi, how the app can help parents of color, and why it's so important to have an app specifically for parents of color.
She encourages parents to 'own their journey'
Layo George revealed that Wolomi was born from her desire to help birthing parents "own their journey." 
"When we get pregnant ... the healthcare system takes over and they tell us what to do, and then you have that baby," George said. "It's like, 'I don't know what happened to me.' That is what's missing."
She said that parents of color often don't have a lot of experience making the healthcare system work for them. On top of that, the majority of parents of color have experienced racism within the healthcare system, which makes them nervous about advocating for themselves. Sometimes, even when they do advocate for themselves, they're dismissed.
Wolomi gives parents of color the tools they need to confidently speak to their doctors and get the outcomes they want. "Oftentimes, moms come to the platform and they're like, 'I just had this conversation with this doctor, but I feel this way.' We help them take a step back and really figure out the words to use to get the things that you want from your provider, to speak in a way that your provider will understand."
Her app creates 'a safe space'
Layo George said that the other motivation behind Wolomi was "bringing a safe space where moms can feel validated, where they can feel joyful on their journey." The app does this by connecting parents of color with other parents of color, midwives of color, and culturally competent pregnancy, postpartum, and mental health experts for free.
George stressed that Wolomi is a community that purposely centers the experiences of people of color. She pointed out that almost all of the spaces and communities people encounter throughout their lives in the Western world — especially their workplaces — center the experiences of white people. People of color, and especially women and femme people of color, are always "othered" in these spaces and communities.
Wolomi is a community where parents of color are never the "other," George explained. It's a place where they can be fully themselves, honor all their cultural experiences with people who understand, and never have to "code switch" just to fit in.
Download the FREE Wolomi app in the Apple App Store or Google Play Store and become a member of the community at no cost for a limited time. Join their tribe to connect with health experts and other women on their pregnancy journey.