Fisher-Price Baby Rockers Have Caused More Than A Dozen Infant Deaths. Here's What To Know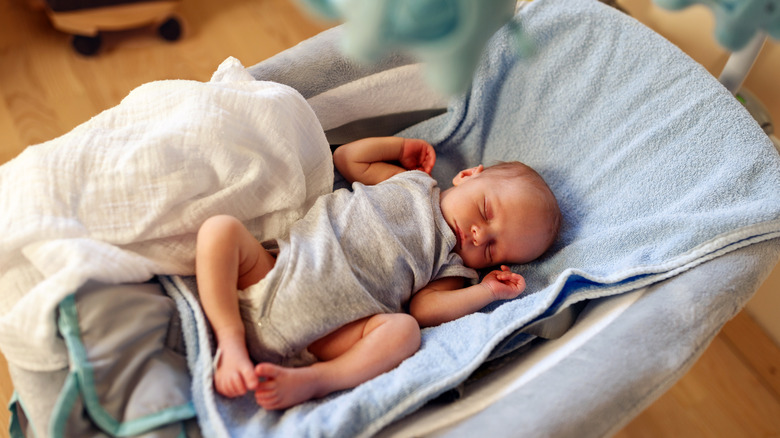 Lucky Business/Shutterstock
With so many baby products on the market, it can be hard to know which ones are best. As multiple advertisements picture peaceful infants fast asleep in rockers, you might think of trying one to help your baby get to sleep. However, an announcement from the U.S. Consumer Product Safety Commission (CPSC) and Fisher-Price may have you second-guessing that decision.
Over 3,600 babies die in the U.S. while sleeping each year, which includes suffocation, strangulation, and sudden infant death syndrome (SIDS), according to the American Academy of Pediatrics (AAP). The AAP recommends that infants sleep on their backs on a firm, flat surface. There should be no blankets, stuffed animals, pillows, or crib bumpers with them, and they should never sleep on a couch, sofa, or armchair.
The AAP also says that the safest place for babies to sleep is a crib, bassinet, or play yard. Babies shouldn't routinely sleep in positions that compromise their breathing, like in products with an incline, such as a car seat, swing, infant sleep positioner, or inclined rocker.
The newest data on inclined infant rocker deaths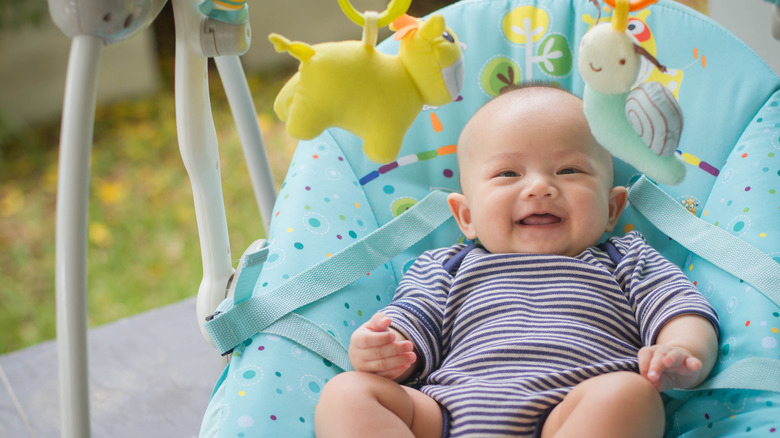 Bluedog Studio/Shutterstock
The CPSC and Fisher-Price recently reported more infant deaths related to inclined rockers (via CPSC). From 2009 to 2021, at least 13 deaths were reported due to ​​Fisher-Price Infant-to-Toddler Rockers and Newborn-to-Toddler Rockers. It is informing consumers that these rockers should never be used for infant sleep, and infants should never use them unsupervised. The Fisher-Price Rock 'n Play was recalled in 2019 after multiple infant deaths were reported.
The CPSC notes that any infant sleeper that is inclined more than 10 degrees should not be used for sleep (via AAP). These cause a chin-to-chest sleeping position, which can restrict airflow. Additionally, babies who can roll over are at risk of rolling over into the soft padding and not being able to lift their heads.
To report any incidents involving infant rockers to the CPSC, head to www.saferproducts.gov.
You can also report any incidents with Fisher-Price directly to the company at 800-432-5437. The company has a Safe Start webpage with safety videos and tips.