What We Know About The FDA's New Ban On Juul Vaping Products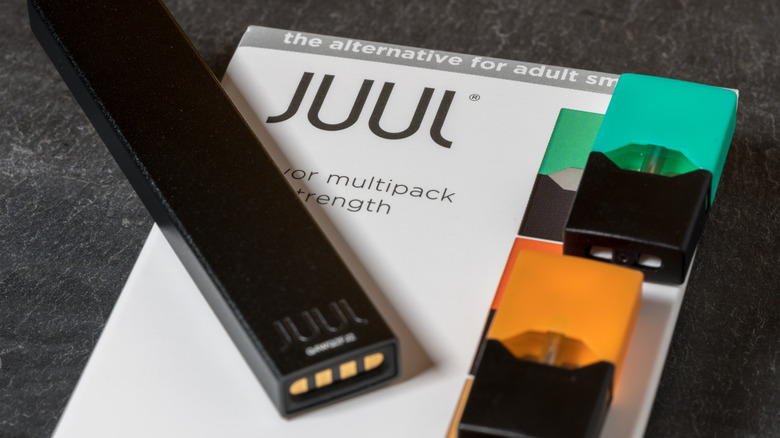 Steve Heap/Shutterstock
While it's been said that e-cigarettes may serve as a successful tool to help deter smokers from use of traditional tobacco products, such claims have not been backed by the U.S. Food and Drug Administration (FDA), as per Johns Hopkins Medicine. When smoked, the nicotine, flavored additives, and chemicals found in e-cigarettes are heated to create an inhalable aerosol substance. While various brands of electronic cigarette products exist on the market, Juul Labs Inc. has been tied to the widespread usage of vaping products amongst teenagers in recent years, reports CNN. No less addictive than traditional cigarettes (per Johns Hopkins Medicine), the American Cancer Society states that Juul e-cigarette pods provide users with more nicotine in each inhale than most other brands (via Healthline).
In a public statement released on June 23, the FDA issued an order to cease all selling and current distribution of the company's tobacco and menthol-flavored e-cigarette products and pods. The decision comes after data revealed "conflicting" and "insufficient" evidence regarding the products' safety for public use. Such concerns included possible effects on DNA and the seeping of potentially dangerous chemicals from their liquid pods.
How the FDA's decision will affect public use of Juul vaping products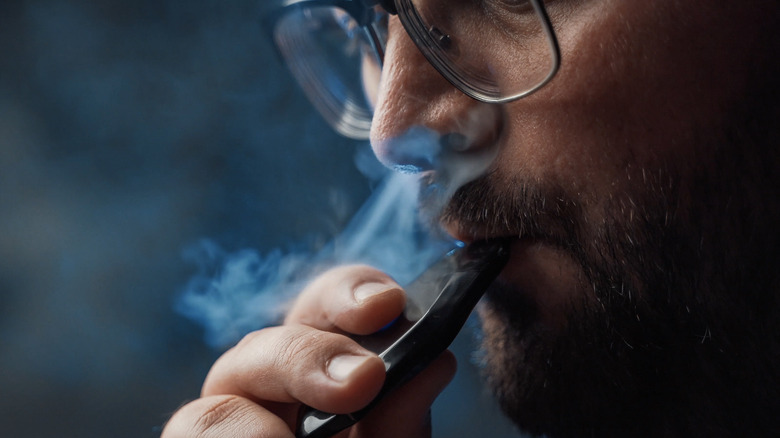 DedMityay/Shutterstock
U.S. Food and Drug Administration (FDA) Commissioner, Dr. Robert M. Califf, elaborated in their public statement, saying, "Today's action is further progress on the FDA's commitment to ensuring that all e-cigarette and electronic nicotine delivery system products currently being marketed to consumers meet our public health standards." At this time, the health experts stressed they have no reason to believe that Juul products pose an immediate risk to public health and that they will not pursue personal possession or use of the devices.
Currently objecting to the FDA's decision is Juul Labs' chief regulatory officer, Joe Murillo. He told NPR, "We respectfully disagree with the FDA's findings and decision. We intend to seek a stay and are exploring all of our options under the FDA's regulations and the law, including appealing the decision and engaging with our regulator." 
Users of Juul e-cigarettes and vaping products may report any side effects experienced to the FDA, as outlined in their press release. Those seeking to cease cigarette use are encouraged by the FDA to utilize resources such as the 1-800-QUIT-NOW (1-800-784-8669) hotline or TTY 1-800-332-8615, for those who are hearing impaired.