Travis Barker's Pancreatitis Fully Explained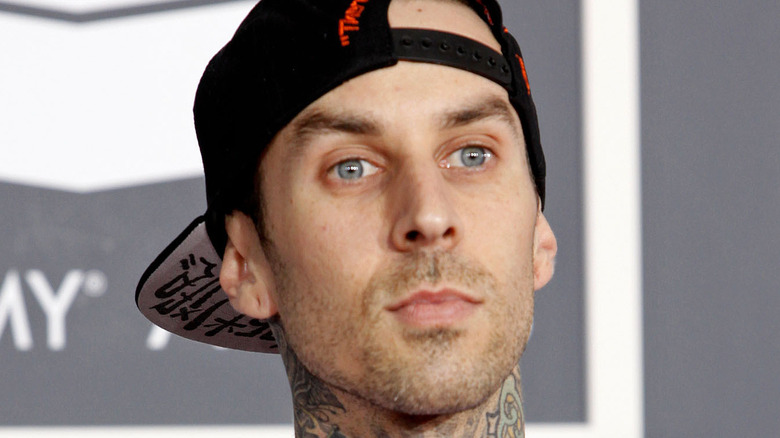 Joe Seer/Shutterstock
Blink-182's Travis Barker was taken to the hospital Tuesday morning for a case of pancreatitis potentially linked to a recent colonoscopy procedure, according to TMZ. Initially taken to West Hills Hospital and Medical Center by wife Kourtney Kardashian, the musician was promptly transported via ambulance to Los Angeles' Cedars-Sinai Medical Center.
In a now deleted TikTok post, Barker's 16-year-old daughter, Alabama Barker, shared a close-up photo of her father in a hospital bed as she held his hand, which bore a wrist brace and a hospital bracelet (via Variety). The post had been captioned to fans, "Please say a prayer."
In previous years, Barker has experienced health conditions such as staph infection, cellulitis, and blood clots, reports Variety. Currently, doctors have reason to believe his case of pancreatitis may have been prompted following a colonoscopy (per TMZ). Characterized by inflammation of the pancreas, cases of pancreatitis can develop progressively over time or may come on abruptly, according to the Mayo Clinic. While gallstones, certain medications, high amounts of calcium in the blood, infection, or injury are all possible causes of acute pancreatitis, some research suggests that in rare cases, it is possible for patients to experience colonoscopy-induced pancreatitis (via International Journal of Surgery Case Reports).
What causes colonoscopy-induced pancreatitis?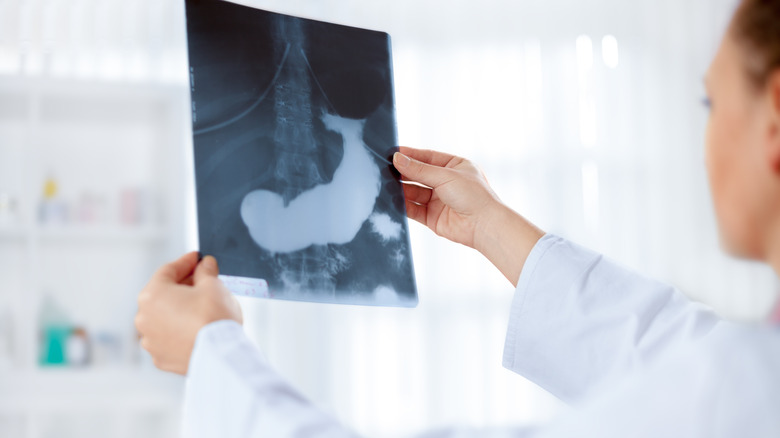 Cherries/Shutterstock
Located behind the stomach, the pancreas plays a vital role in digestion and our processing of glucose (per Mayo Clinic). Symptoms of acute pancreatitis can include upper abdominal pain and tenderness, back pain, fever, rapid pulse, and nausea or vomiting. The condition occurs when cells within the pancreas become irritated from digestive enzymes and trigger an inflammatory response.
Research published in the Canadian Journal of Gastroenterology explains that colonoscopy procedures do not generally pose serious side effects to patients. Most often, potential complications include bleeding, tearing, or sedative-related side effects. However, instances of colonoscopy-induced pancreatitis are possible, although incredibly rare. Outlining a case study in which a patient with no previous indicators of pancreatitis developed the condition after undergoing a colonoscopy, researchers theorized the cause of the condition to be related to "blunt trauma" to the pancreas, incurred during the procedure. Such trauma may be a result of pressure placed on the pancreas, or burns inflicted on it during the cauterization of any polyps being removed.
According to experts at the Mayo Clinic, acute pancreatitis cases often last no more than a few days. Hospital treatment methods include the use of pain medications and intravenous fluids. A surgical procedure may be required if an obstruction is found to be causing the inflammation. Overall, mild cases of the condition respond well to treatment.