Healthy Stir Fry Recipe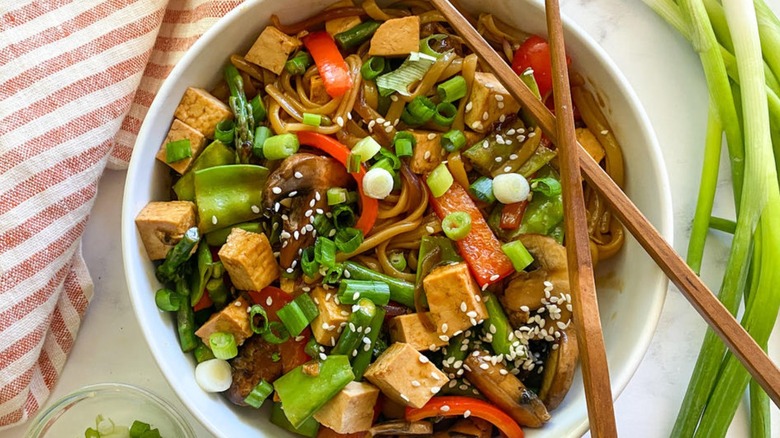 Miriam Hahn/Health Digest
For a quick, healthy meal, you can't do much better than a stir-fry. As recipe developer Miriam Hahn tells us, "Stir-fries, in my opinion, are one of the easiest dinners to make with whatever veggies you have on hand." She goes on to call then "super versatile because you can serve [them] with a noodle or a grain, and so many different vegetables work." What makes this particular stir-fry so healthy is the fact that Hahn uses a large amount of produce — all high in vitamins, minerals, and fiber. The tofu this dish contains is also rich in fiber and calcium, but if you are soy-allergic or just not a tofu fan, you could always use a similar amount of chicken instead for some tasty lean protein.
There is one special ingredient Hahn likes to use in her stir-fry sauce: date syrup. She says this sweetener is much healthier than sugar, but you could also swap it out for maple syrup, honey, or brown or white sugar, or just ditch the sweetener altogether. You've got options!
Gather the ingredients for this healthy stir fry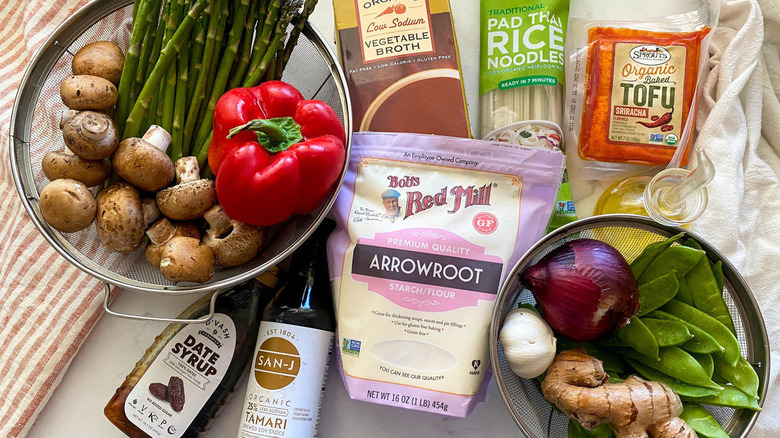 Miriam Hahn/Health Digest
Hahn likes to use a number of different vegetables in her stir-fry; red onion, red bell pepper, asparagus, mushrooms, and snow peas are what she's using here, although she tells us "I often add broccoli, cauliflower, green pepper, bok choy, and carrots, just to name a few substitutes." She also flavors the dish with garlic and ginger.
Other ingredients you'll need to make this dish include pre-baked tofu as a protein source (Hahn uses one that's Sriracha-flavored for an extra kick), oil for frying, broth (she uses vegetable, but chicken would work, too), date syrup, soy sauce or tamari, and arrowroot to thicken the sauce. Hahn prefers arrowroot over cornstarch because she tries to avoid genetically-modified foods. Arrowroot, she says, is more likely to be GMO-free than conventional corn products.
Cook the noodles and vegetables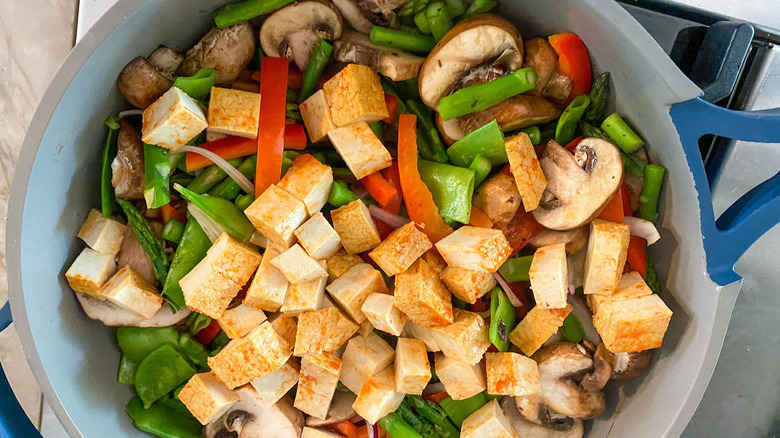 Miriam Hahn/Health Digest
Cook the noodles according to the directions on the package, whether that's cooking them in boiling water or simply pouring boiling water over them. Once the noodles are done, drain them.
As the noodles cook, you can also heat the oil in a frying pan and sauté the chopped vegetables. They will need to cook over medium-high heat for about 10 minutes.
Make the sauce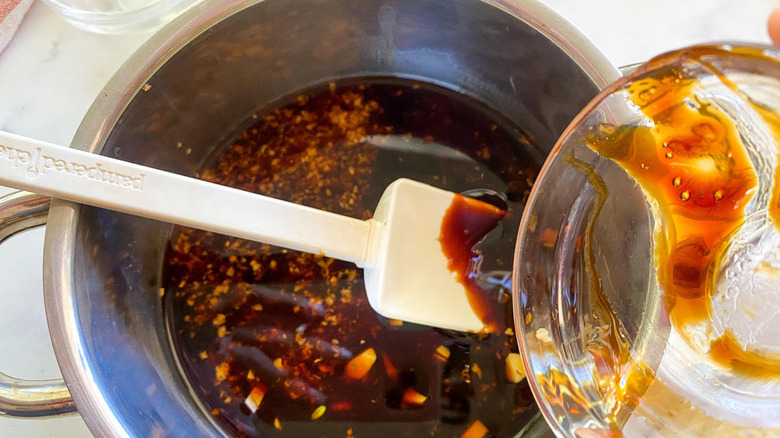 Miriam Hahn/Health Digest
Meanwhile, in another pot, mix the soy sauce with the date syrup, plus the ginger, the garlic, and the arrowroot powder. Be careful adding this last ingredient so that it does not become lumpy -– the best way to do this is to combine it with an equal amount of water, then stir the mixture into the sauce. Cook the sauce on medium-low heat for 5 minutes, stirring until it has thickened up a little.
Stir everything together
Miriam Hahn/Health Digest
Toss the noodles and the sauce into the cooked vegetables along with the tofu. That's it! Your stir-fry is done. If you want to fancy it up a bit, you can adorn the dish with scallions and a light sprinkling of sesame seeds.
Healthy Stir Fry Recipe
Stir-fries are a great dinner option as they are endlessly versatile. This particular version is veggie-forward, meaning it's loaded with nutrients.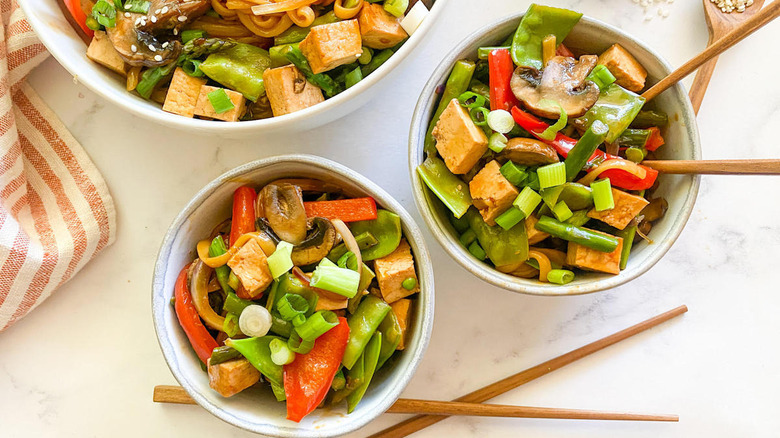 Ingredients
1 red bell pepper, sliced
1 bunch asparagus, chopped
1 ½ cups sliced mushrooms
1 ½ cups chopped snow peas
8 ounces rice or soba noodles
⅓ cup soy sauce
⅓ cup vegetable broth
¼ cup date syrup
2 teaspoons grated fresh ginger
2 cloves garlic, minced
1 teaspoon arrowroot powder
1 (7-ounce) package baked tofu, cubed
Optional Ingredients
chopped scallions, for serving
sesame seeds, for serving
Directions
Cook the noodles according to the package directions, then drain them in a colander. Set aside.
Heat the oil in a sauté pan over medium-high. Add the vegetables and cook for 10 minutes.
In a separate pot, combine the soy sauce, broth, date syrup, ginger, garlic, and arrowroot powder. Cook on medium-low, stirring frequently, for 5 minutes or until the sauce has thickened.
Stir the noodles, sauce, and tofu into the cooked vegetables.
Serve and top the stir-fry with scallions and sesame seeds if desired.
Nutrition
| | |
| --- | --- |
| Calories per Serving | 335 |
| Total Fat | 2.9 g |
| Saturated Fat | 0.6 g |
| Trans Fat | 0.0 g |
| Cholesterol | 0.0 mg |
| | |
| --- | --- |
| Total Carbohydrates | 66.3 g |
| Dietary Fiber | 3.7 g |
| Total Sugars | 16.6 g |
| Sodium | 1,633.1 mg |
| Protein | 17.5 g |