Kelly Hughes Talks Motherhood And Her Post-Childbirth Health Scare - Exclusive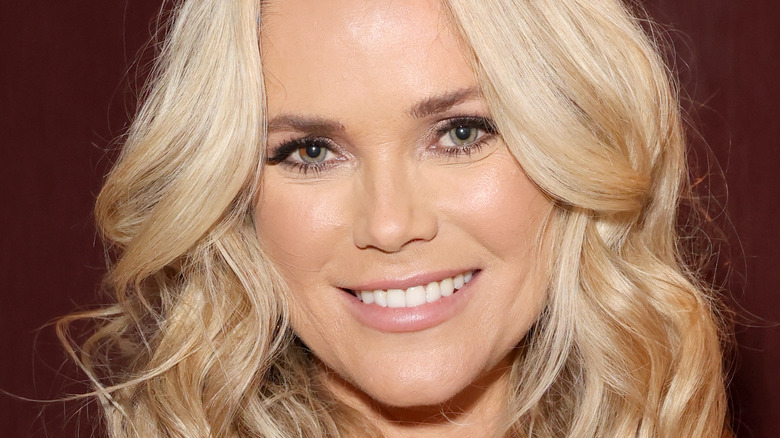 Alexander Tamargo/Getty Images
In an exclusive interview with our sister site The List, Miami-based model Kelly Hughes — who made Sports Illustrated history in 2022 when she posed for its annual Swimsuit Edition, revealing her C-section scar — opened up about life as a mom and her traumatic post-childbirth health scare in 2018.
Her openness has helped empower other women to embrace their own physical imperfections and normalize the conversation surrounding the often stigmatized childbirth procedure, where a baby is delivered via the abdomen, oftentimes in complicated or risky labor cases, as in Hughes' situation. With C-sections accounting for about one-third of all births in America, per the Centers for Disease Control and Prevention, they've become increasingly common.
Prior to delivering her son via emergency C-section, Hughes — who had intended to undergo a natural childbirth — was largely uninformed about the procedure. While she thought the worst was over after giving birth, she was in for an unfortunate surprise.
She contracted an infection from the C-section
Kelly Hughes had a fairly uneventful pregnancy and assumed that childbirth would be just as uneventful. But then she had to undergo an emergency C-section. "At the last visit right before I gave birth, my son was a lot higher than expected. When the babies are higher, it takes them longer to drop, which means a longer delivery, which means potential to go into problems, because time is of the essence once you start going into the delivery or the labor process," she explained. "When I ended up in a C-section, I knew, and the reason why I didn't want a C-section was because the recovery process is definitely longer."
Her recovery process was even longer than expected — after returning home from the hospital, Hughes contracted an infection. "I had to go back to the hospital. I was there eight days, and needed another surgery to remove the infection," she said.
Through this experience, she discovered inner strength. "I kept seeing where I was very fortunate, despite all the chaos and despite everything I was going through," she said. "The sooner that I got stronger, the more I could be with [my son] and take care of him the way that he needed. It's incredible ... the strength that's instilled inside of you."
Motherhood has helped her grow
It's been four years since Kelly Hughes gave birth to her son, Harlem, via emergency C-section. Fortunately, he was healthy, making at least one part of her post-childbirth experience a little easier. "He never had any issues. He wasn't colicky, he wasn't difficult. He was such an easy baby," she said.
Her favorite parts of being a mom include the day-to-day moments and watching him grow. "There's the day to day, the crazy ... getting ready for school in the morning or getting their things organized or the back and forth of all the stages when they grow up and they don't want to do what you ask them to do," she said, adding, "All the chaos pays off in those amazing moments."
Hughes has discovered the "beauty in the chaos." Motherhood, she said, has enabled her to relive childhood and experience personal growth. "It's been watching him grow, and Iearning from him, because I've changed after becoming a mom," she explained. "You learn how to grow into a different type of adult. Life is about evolving throughout any age or any timeframe of your life. That's the beautiful process about being a mom. You get to relive your childhood again, but, at the same time, you're evolving into a new adult form or a new being."

The 2022 Sports Illustrated Swimsuit Edition is out now in stores and online.