Healthy Salad Dressing Recipe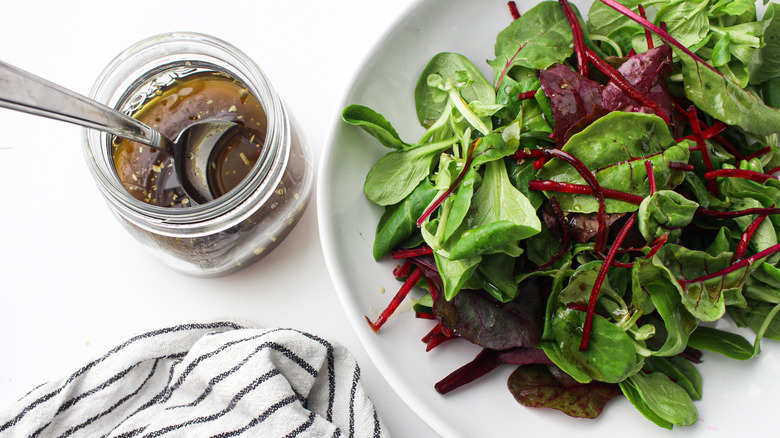 Susan Olayinka/Health Digest
If you're looking for an easy way to add flavor to your favorite salad in a way that won't add excess fat, salt, sugar, or calories, this healthy and easy recipe from chef and recipe developer Susan Olayinka of The Flexible Fridge will do the trick. "This recipe is amazing because it is so healthy! It is packed with nutrients and antioxidants, and it is incredibly delicious," she says. "This dressing is perfect for salads, wraps, or even as a dipping sauce." 
Oh, and another thing Olayinka wants you to know: "It is also very easy to make, and it only takes a few minutes." So perhaps a better question than "what do you like best about the recipe"?" would have been: "what's not to love!?" We're betting you won't find anything. The dressing really does come together in as little as 2-3 minutes, and it uses shelf-stable ingredients that can be readily found in almost any kitchen, including yours. So let's gather those ingredients and get mixing, shall we?
Gather your ingredients for healthy salad dressing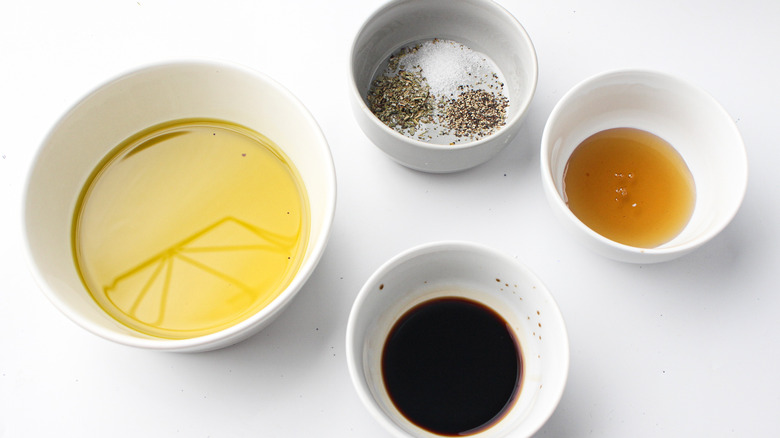 Susan Olayinka/Health Digest
We mentioned that this recipe uses only common ingredients, but did we say that it only requires six of them? All you need to make this dressing is extra virgin olive oil, balsamic vinegar, dried oregano, salt, pepper, and honey.
"Honey is the special ingredient in this recipe," says Olayinka, explaining: "It adds a touch of sweetness to the dressing, and it also helped to balance out the flavors."
Measure it out and mix it up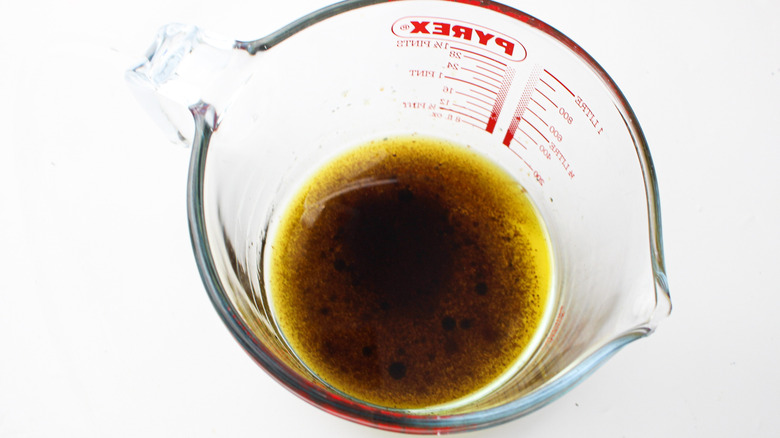 Susan Olayinka/Health Digest
OK, ready for some complex kitchen work? Great! Measure out all your ingredients, add them to a bowl or glass pitcher, and whisk them together until they're well-emulsified. And... that's it, more or less.
"If you want to make a slightly sweeter dressing, you can add a tablespoon more honey," Olayinka says. "You can also add a bit more vinegar if you like. Or you can use different herbs like basil or thyme. If you want to make a creamier dressing, you can add a tablespoon of Dijon mustard."
Adjust the seasoning, then enjoy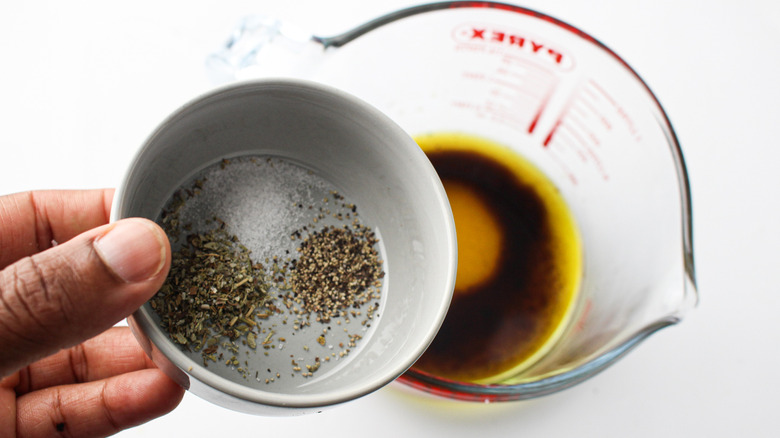 Susan Olayinka/Health Digest
OK, one more little step: Taste the dressing and adjust the seasonings as necessary, adding more salt if you want it, or more pepper for a bit more bite. And now you really are done! Enjoy some now or seal it in a jar and store it in the fridge for up to two weeks.
How best to enjoy this dressing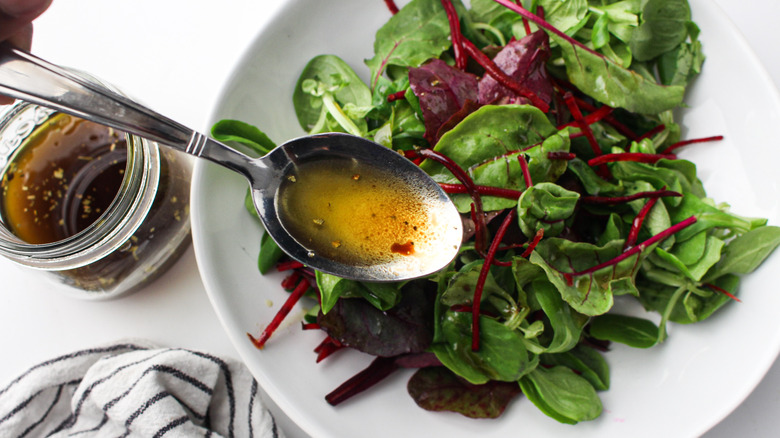 Susan Olayinka/Health Digest
While arguably it's best served over a bed of greens, that's hardly the only way this tasty dressing can be used. "In addition to using this dressing on salads, you can also use it as a marinade for chicken or fish," Olayinka says. "You can also use it as a dipping sauce for veggies, or even as a topping for grilled meats."
Healthy Salad Dressing Recipe
Not all salad dressings are healthy, but when you want a healthy option that doesn't skimp on flavor, try this balsamic-based healthy salad dressing recipe.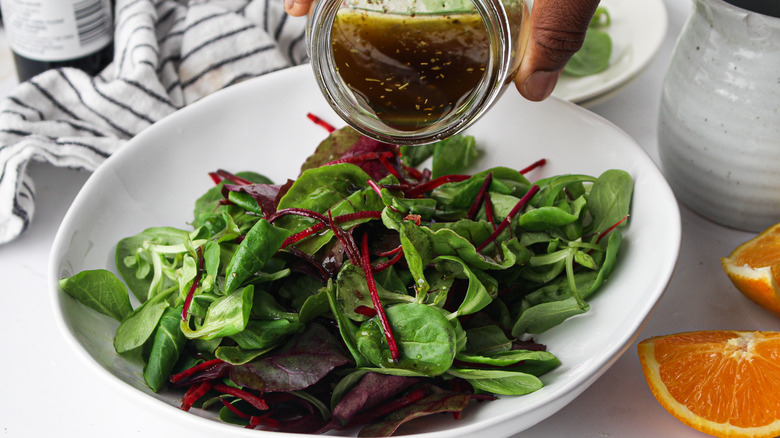 Ingredients
½ cup extra virgin olive oil
2 tablespoons balsamic vinegar
1 teaspoon dried oregano
¼ teaspoon salt
¼ teaspoon pepper
1 tablespoon honey
Directions
Combine all the ingredients in a small bowl and whisk together until emulsified.
Taste, and adjust the seasonings as necessary.
Serve over your favorite salad greens.
Nutrition
| | |
| --- | --- |
| Calories per Serving | 131 |
| Total Fat | 13.5 g |
| Saturated Fat | 1.9 g |
| Trans Fat | 0.0 g |
| Cholesterol | 0.0 mg |
| | |
| --- | --- |
| Total Carbohydrates | 3.0 g |
| Dietary Fiber | 0.1 g |
| Total Sugars | 2.8 g |
| Sodium | 47.3 mg |
| Protein | 0.0 g |