Which State Had The Most Cancer Deaths In 2021?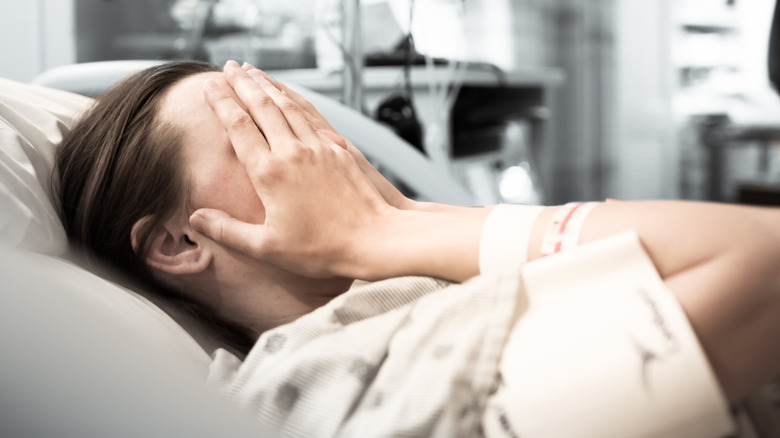 KieferPix/Shutterstock
While rates of cancer in the U.S. have been on the rise, the death rate from cancer has been steadily decreasing (via the National Institutes of Health). But even though cancer mortality is on the decline, certain factors may raise one's risk, including gender, ethnicity, cancer stage of diagnosis, and more.
Additionally, cancer is the second leading cause of death in the U.S., according to the Centers for Disease Control and Prevention (CDC). And the cost of cancer care in the U.S. is astronomical, with patients shouldering a burden of $21.09 billion in 2019, per the National Institutes of Health. Unfortunately, the costs of cancer treatments only continue to rise.
And among cases of cancer, deaths from lung cancer are the highest of all (via American Lung Association). Before 1987, breast cancer was the number one cause of cancer mortality. However, lung cancer quickly became the top killer in both men and women, peaking in 2005 at 159,292 deaths. Worldwide, lung cancer is the most common form of cancer, and the majority of people with lung cancer die within one year of diagnosis. Interestingly, the location of where you live may play a role in developing this kind of cancer or dying from cancer in general.
Does your state have a high cancer rate?
Rates of cancer differ by state, with some U.S. states experiencing much higher rates than others. While Utah, Hawaii, and Colorado had the lowest rates of cancer deaths in 2021, Kentucky, West Virginia, and Mississippi were the highest, with Kentucky coming in at number one. Per 100,000 people in Kentucky, 181.5 people died from cancer in 2021.
Kentucky and West Virginia are also the states with the highest rates of cigarette smoking, according to the CDC, which means there's likely a strong correlation that exists between the smoking rate and the cancer death rate.
Along with 10 other states, West Virginia and Kentucky make up what's called Tobacco Nation, according to the nonprofit Truth Initiative. These states not only have higher tobacco use, but also have poorer health outcomes, less access to healthcare, and a lack of tobacco control policies. Some of these lacking policies include forbidding smoking in workplaces and restaurants, raising the cigarette purchasing age to 21, and raising taxes on cigarettes to meet the national average. 
However, data show that regular screening for those who are at a high risk of lung cancer could mean earlier detection, which has the potential to decrease lung cancer mortality by 14-20% in high-risk populations (via American Lung Association).