Everything You Need To Know About COVID Rebound Cases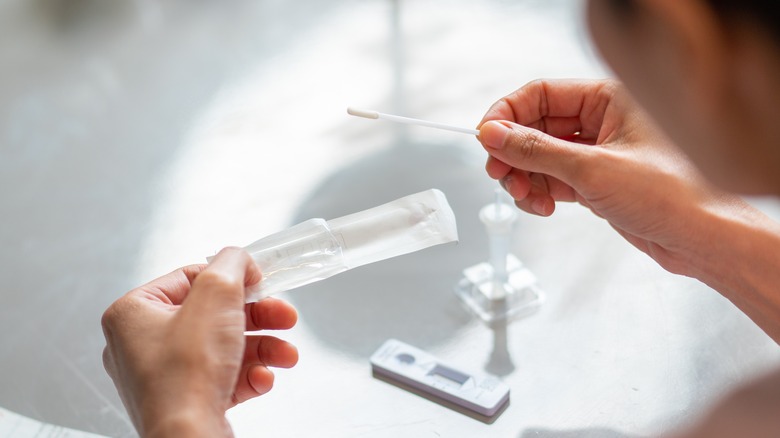 CandyRetriever/Shutterstock
President Biden tested positive again for COVID-19 on Saturday after receiving negative results from antigen tests last week, according to a statement from the White House. The President had begun a treatment with the drug Paxlovid on Thursday, July 21, according to People, and was testing negative by the following Tuesday. Paxlovid is an antiviral pill that can reduce the likelihood of being hospitalized for COVID-19, but people who have been treated with Paxlovid will infrequently see a rebound in testing positive for COVID (per Yale Medicine).
In May 2022, the Centers for Disease Control and Prevention (CDC) alerted the public about the potential for COVID-19 rebound, which was described as a reoccurrence of symptoms between two and eight days after initially recovering from the virus. This rebound was found in both in those who were treated with Paxlovid and those who were not, and could occur even if the patient was vaccinated. The CDC further noted that such rebound cases may be part of the natural progression of SARS-CoV-2. Those who are treated with Paxlovid and experience rebound symptoms don't need to be re-treated with the drug, but those patients testing positive again should adhere to isolation guidelines to prevent spreading the virus to others.
How common is COVID rebound?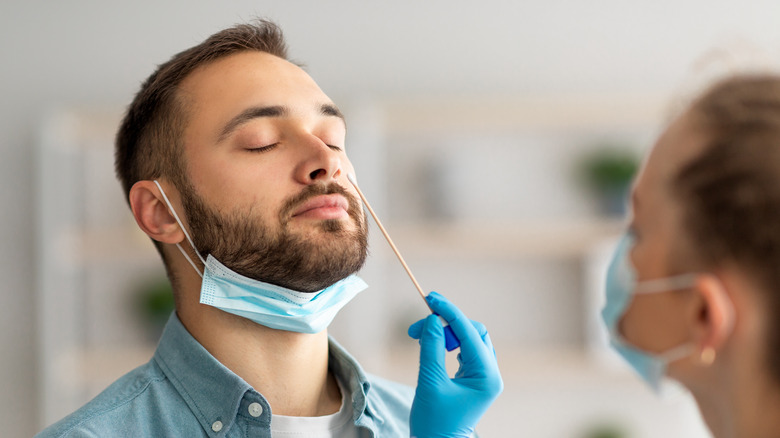 Prostock-studio/Shutterstock
According to a 2022 study in Clinical Infectious Diseases, less than one percent of patients treated with Paxlovid had a rebound of COVID symptoms. The researchers said in a press release about the study that COVID rebound might result if the patient didn't get enough exposure to the drug during treatment.
A 2022 preprint found COVID rebound among those treated with Pfizer's Paxlovid as well as Merck's Molnupiravir. After seven days of recovery, 3.53% of patients who took Paxlovid and 5.86% of those taking Molnupiravir experienced a rebound infection. Those who experienced COVID rebound were also more likely to have other medical conditions.
According to the British Medical Journal, COVID rebound can also occur in people who have not been treated with Paxlovid. Those who had tested positive again didn't become severely ill, and they usually tested negative again after a few days. A 2022 article on the JAMA Network cited doctors who have heard about COVID rebound from patients who never took any treatments such as Paxlovid. These patients reported a positive antigen test up to three weeks after recovering from COVID-19.
If you've taken Paxlovid and are experiencing a COVID rebound, Pfizer asks for you to report your symptoms to the Pfizer Safety Reporting website.