This Is How Long It Takes For Omega-3's To Start Working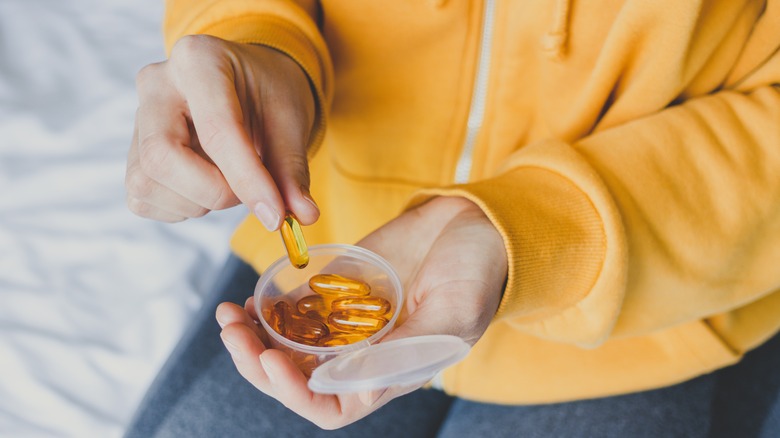 ThirtyPlus/Shutterstock
Nutrition experts recommend eating more fish for a reason. Salmon, tuna, sardines, mackerel, and other fish are loaded with omega-3s, a class of long-chain fats. These nutrients can bring down inflammation, lower blood pressure, and protect against cardiac arrhythmias, among other benefits, says Harvard T.H. Chan School of Public Health. What's more, diets rich in omega-3s may decrease the risk of age-related macular degeneration by nearly 40%, according to clinical research published in the journal Archives of Ophthalmology.
However, some people don't like fish. Additionally, there are some concerns related to its mercury content and other contaminants, including pesticide residues, notes Harvard T.H. Chan School of Public Health. One option is to take omega-3s in supplement form. These products may contain alpha-linolenic acid (ALA), docosahexaenoic acid (DHA), or eicosapentaenoic acid (EPA), with ALA being derived from plant-based foods, explains the National Institutes of Health (NIH). Cod liver oil, fish oil, and krill oil are excellent sources of DHA and EPA, whereas algal oil (made from algae) contains ALA omega-3s.
These dietary supplements support cognitive function and heart health, according to the NIH. Some studies also suggest that omega-3s may benefit those with dry eye disease, cystic fibrosis, and rheumatoid arthritis, but more research is needed in this area. The question is, how long does it take for omega-3s to start working? Should you take these supplements daily or only as needed? Let's find out. 
Omega-3s take several weeks to kick in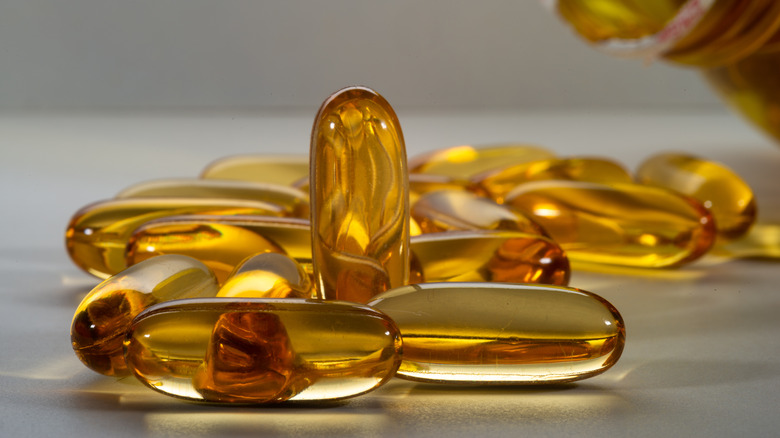 Robert N Brown/Shutterstock
Omega-3 essential fatty acids are not a quick fix and can take weeks to start working. Generally, it takes anywhere between six weeks and six months to notice a difference in how you feel, explains the University of Wisconsin-Madison. The fats build up in your tissues over time, and their efficiency depends on the amount and quality of EPA and DHA in the products used, explains Omega-3 of Norway.
You also need to consider the condition that is being treated. In one study published in Surgical Neurology, these products were found to be just as effective as ibuprofen at reducing neck and back pain — but without the side effects. It took time, though — most patients experienced a significant reduction in pain after taking 1,200 to 2,400 milligrams of omega-3s daily for about 10 weeks. Clinical evidence also suggests that omega-3s may ease the symptoms associated with inflammatory bowel disorders and dysmenorrhea, according to the journal Pain. These supplements may work faster for some conditions and slower for others, says Omega-3 of Norway, noting that it can take up to six months to see relief from pain or mood swings. 
Also, note that not all supplements are created equal. For example, a 2011 study found that krill oil causes a more significant increase in blood EPA and DHA levels compared to fish oil, reports the journal Lipids in Health and Disease. 
What to look for in omega-3 supplements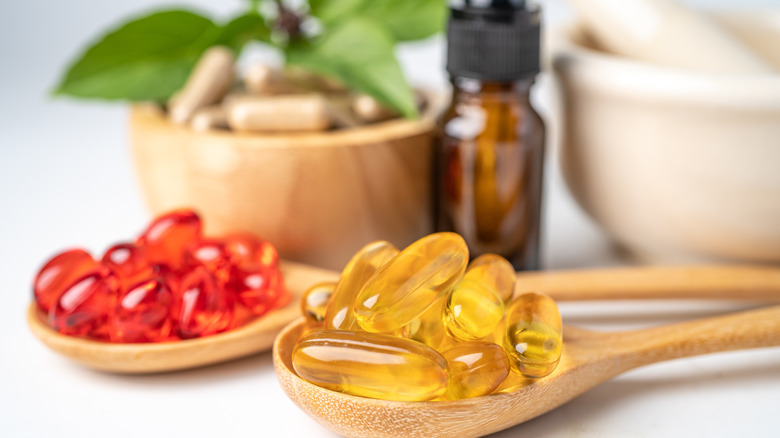 Sasirin Pamai/Shutterstock
So, which supplement to choose? Plant-based ALA doesn't accumulate in the bloodstream, meaning that it may not be as effective as other omega-3s, according to evidence featured in the American Journal of Clinical Nutrition. However, some of it is converted to EPA and DHA, explains the National Institutes of Health, which is good news for vegetarians. DHA may be a better option, but it still takes longer than EPA to reach optimal levels in the blood, reports an earlier study in Biochimica et Biophysica Acta.
With that in mind, look for omega-3 supplements that fit your lifestyle. If you're a vegetarian, consider using algal oil or ALA oil. The former also boasts small amounts of DHA, which has similar bioavailability to the fatty acids in salmon, notes a 2008 study presented in the Journal of the American Dietetic Association. Green-lipped mussel oil, krill oil, and fish oil contain varying amounts of EPA and DHA from marine sources, notes Healthline. Alternatively, you can take omega-3 softgels. 
Registered dietitian nutritionist Keri Gans suggests choosing a sustainable brand certified by third-party organizations, such as the GOED Voluntary Monograph. "You should also look at the EPA and DHA levels, as you want to choose a brand with higher levels of these compared to just total omega-3s," she told Forbes. As far as dosage goes, Gans recommends 400 to 500 milligrams of DHA and EPA per day — or up to 1,000 milligrams daily if you have heart disease.