Data Shows Which Country Has The Most Cases Of Monkeypox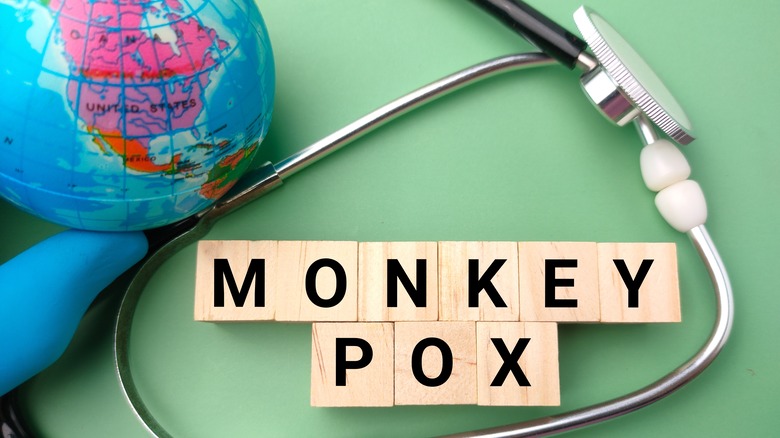 Azrin Aziri/Shutterstock
According to a recent report from the World Health Organization (WHO), more than 34,000 cases of monkeypox have been reported across all of WHO's member states and regions since January 2022. The WHO considers the outbreak to be a moderate risk globally, but Europe is at high risk.
Monkeypox is known for causing a blistery rash that can appear in genital areas, face, or extremities, according to the Centers for Disease Control and Prevention. This rash could appear within three weeks of exposure to someone infected with monkeypox. Monkeypox can also produce flu-like symptoms, such as fever, chills, and body aches. The virus spreads primarily through direct contact with someone who has the virus, but it can also spread through the bedding or towels that an infected person has used. Animals can also become infected if someone with monkeypox touches them.
The WHO said that monkeypox cases increased by 0.8% during the week of August 8-14. In the past four weeks, most of these cases came from the Americas and Europe.
The countries with the most monkeypox cases
The United States has seen the largest uptick in cases, increasing almost 10-fold from 960 cases on July 9 to more than 10,000 on Aug. 10. Spain saw a 150% increase in cases from 2,034 in July to 5,162 in August. Germany now has 3,025 cases, but it didn't quite double its number of cases of 1,558 on July 9. The United Kingdom is the fourth-highest country with monkeypox with 3,022 cases.
Some countries are seeing a more pronounced increase in monkeypox cases. Although Brazil has 2,415 cases as of August 9, its cases of monkeypox saw a 10-fold increase since July. France has more than doubled its cases from 721 in July to 2,591 in August. Portugal saw the smallest increase, rising 50% from 473 cases in July to 710 cases in August.
Even though the United States saw a significant increase in cases in the past month, the 10,361 cases of monkeypox make up less than .003% of the U.S. population of 331 million (per Data Commons). Compare that to the current daily average of COVID-19 cases, which is 103,105 as of Aug. 12, according to the Centers for Disease Control and Prevention. The total reported cases of COVID-19 is more than 92 million in the United States.