What You Need To Know About The Recent Mama Roo Infant Swings Recall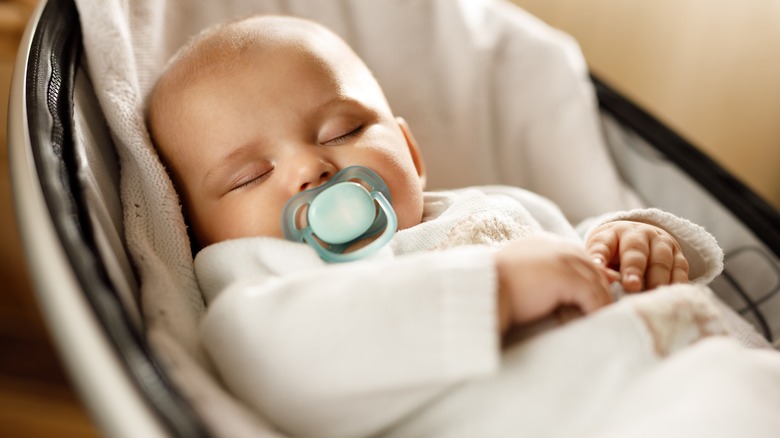 KDdesignphoto/Shutterstock
Baby swings may offer benefits to both children and parents alike, according to baby products manufacturer, 4moms. Creating rocking sensations similar to that of the womb, baby swings can be an effective means to soothe an upset child into a state of calm. This may be especially beneficial for babies affected by colic, as the swing helps keep the baby upright and may help relieve symptoms thought to be associated with acid reflux. For caregivers, the benefits of a baby swing include getting a break from manual rocking while still being able to keep the child in sight.
In conjunction with the Consumer Product Safety Commission (CPSC), 4moms announced in a recent press release that it has issued a global voluntary recall of roughly two million of its MamaRoo swings and 220,000 RockaRoo rockers. As per the company's FAQ webpage, the recall specifically pertains to MamaRoo Swing models 4M-005, 1026, and 1037, as well as model number 4M-012 of the RockaRoo Rocker. The decision comes following two reports of infant entanglement in the product's straps, one of which resulted in death due to strangulation, reports the CPSC. Both reports were in relation to the MamaRoo Swing, and no incidents of entanglement have been reported in connection to the RockaRoo Rocker.
How to request a free strap fastener
Prostock Studio/Shutterstock
Both incidents occurred when the infant crawled underneath the swing and became tangled in the unoccupied straps hanging beneath the seat, per CPSC. One of the infants sustained bruises around the neck before a caregiver intervened. In the other report, the child died due to asphyxiation. Both infants were 10 months of age.
As part of the recall, 4moms announced via its FAQ webpage that it will be offering a free strap fastener to those who have purchased the affected products. The fastener attaches to either device and keeps the straps securely in place so they do not hang below the swing or rocker. For the time being, the company advises users to keep the affected products out of reach of children. Caregivers can request their free strap fastener either online or by calling 877-870-7390. Users can expect delivery within about two-to-four weeks.
The U.S. Centers for Disease Control and Prevention (CDC) reports that in 2020, accidental suffocation and strangulation in bed accounted for 27% of infant deaths. Dr. Kecia Gaither, who is double board-certified in OB/GYN and maternal fetal medicine, tells Healthline that baby swings are not designed as sleep devices. "Their unsupported heads can drop forward and impede breathing," Dr. Gaither told Healthline. As per the American Academy of Pediatrics, it is safest to place infants on their backs while sleeping.