This Is How Long It Takes For Vitamin C Serum To Start Working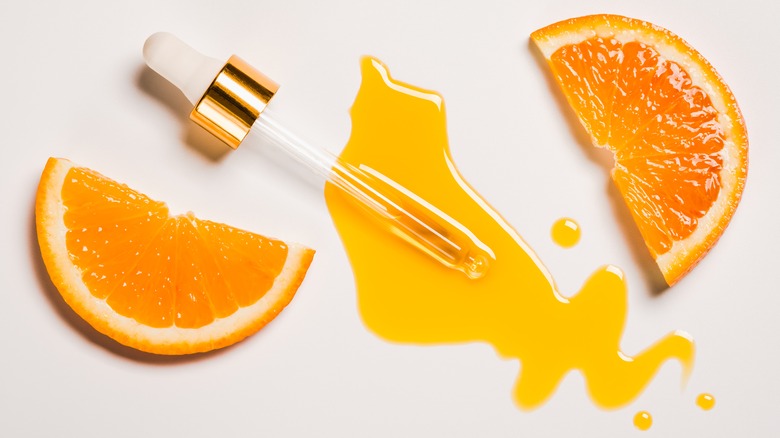 leonori/Shutterstock
Skincare can be confusing, and choosing from the plethora of serums on the market doesn't make the process any easier. But one of the best serums you can use on your face, no matter your age or skincare goals, is topical vitamin C. 
According to WebMD, vitamin C is filled with antioxidants that, when used with sunscreen, can protect you from harmful ultraviolet (UV) light and the damage the sun's rays can do to your skin, and it can brighten your complexion. When combined with hyaluronic acid (which lubricates and hydrates skin) and vitamin E, vitamin C serum can decrease the amount of oil on your face, moisturize your skin, and give you a healthy glow (per Healthline). 
So now that you know the benefits of vitamin C serum, how exactly do you apply it, and how long does it take for the benefits to begin taking effect? Here's what you need to know about this hydrating, brightening serum and how to incorporate it into your skincare routine.
Vitamin C takes time to work, but the results are worth it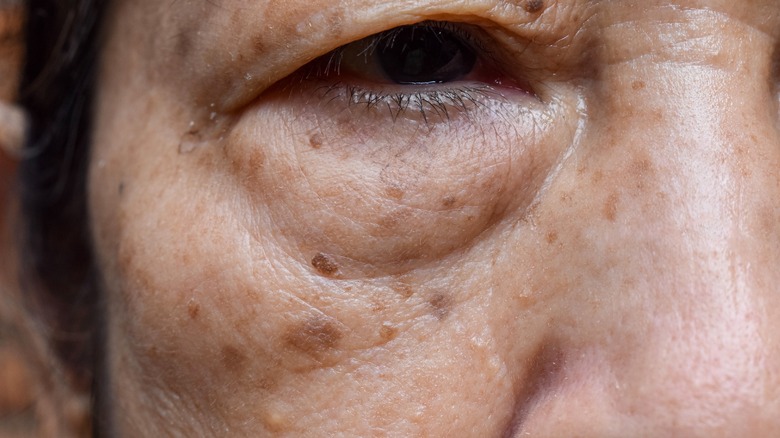 Zay Nyi Nyi/Shutterstock
Vitamin C serum can do wonders for your skin, especially in providing defense against free radicals from the environment and air pollution, reports Elle. Since pollution has been linked to premature aging, think of vitamin C serum as a superhero in a bottle to save the day (and your skin!) For people with oily skin, using vitamin C regularly can also reduce sebum on the skin and hyperpigmentation of acne spots (per Harvard Health Publishing).
However, to see results, you'll have to wait a bit. The results from using topical vitamin C serums or creams typically take about three weeks to become noticeable and at least two months for hyperpigmentation to start to visibly fade (per Birchbox Magazine).
You also need to choose the right products. Harvard Health Publishing recommends finding serums, as well as other topical products, with vitamin C strengths of 10% to 20% alongside pH below 3.5. These concentrations and numbers have been studied in clinical trials by experts and have been proven to be effective in mitigating sun damage to the skin, decreasing the appearance of dark spots and wrinkles, and improving acne inflammation.
Even though the results of vitamin C serum require a wait time, know that you're nourishing your skin with valuable antioxidants that protect your skin from toxins and environmental agents. Trust in the process because patience pays off. The benefits of vitamin C serum are worth it!
Creating a skincare routine with vitamin C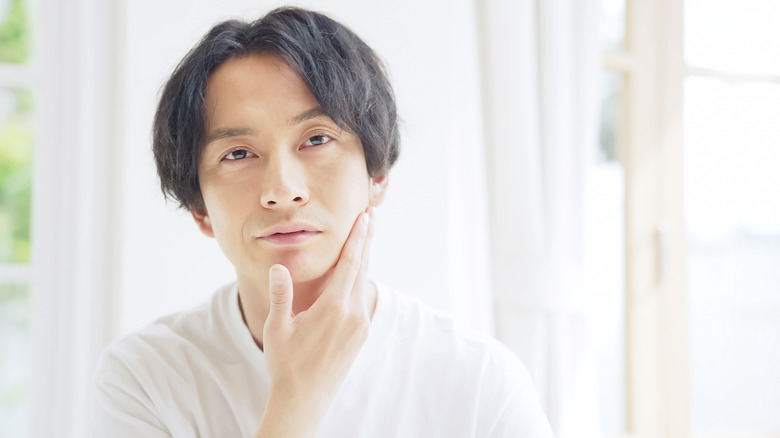 metamorworks/Shutterstock
To achieve the benefits of vitamin C serum, you'll want to ensure that you're following the best skincare routine. Since you're likely to use multiple products in your daily skincare practice, always follow the rule of applying products from thinnest to thickest (per Well+Good). Give each product a few minutes to absorb into your skin before applying the next. Harvard Health Publishing recommends a three-step process of washing your face with a gentle cleanser and then patting your skin dry, followed by applying the recommended number of drops of vitamin C serum to your face and neck, then concluding your routine by applying moisturizer and sunscreen. Some products available on the market combine vitamin C with moisturizers and SPF to protect your skin. You may want to start by applying vitamin C serum once a day until you know how your skin responds to the product, but for those with oily skin, it's recommended that vitamin C serum be used twice daily. If you have questions about incorporating skincare products like toners and exfoliants, talk with your dermatologist to determine what's best for your unique skin.
The effectiveness of the serum you use can be enhanced by finding vitamin C products that also include L-ascorbic acid (via Healthline). For sensitive skin, L-ascorbic acid may cause irritation, so instead, try to find products containing magnesium ascorbyl phosphate. Both are vitamin C derivatives that help the topical products retain effectiveness and potency.