Study Shows Benefits Of Paxlovid May Be Limited To One Age Group
rarrarorro/Shutterstock
Results of a study recently published in The New England Journal of Medicine revealed that Paxlovid — the COVID-19 oral antiviral therapy manufactured by Pfizer — is an effective treatment for older adults in reducing the risk of hospitalization and death, but far less impactful for younger people. According to AP News, the Israeli study, which included a little over 109,000 participants, showed that when adults over 65 took Paxlovid within the first few days of COVID-19 infection, the drug had a positive impact, reducing hospitalizations by approximately 75%. However, Paxlovid showed no measurable effect on study participants between 40 and 65 years of age.
An article in Health Policy Watch reports that this study was notably different from the Pfizer clinical trials, which were conducted upon participants who were unvaccinated during the Delta wave. This latest study took place during the Omicron wave and with most participants having already received their primary series of vaccinations plus a booster shot. 
According to Reuters, the U.S. Food and Drug Administration (FDA) has also recently requested that Pfizer re-test Paxlovid on those who experienced a recurrence of COVID-19 symptoms despite an initial course of the treatment. The Biden administration has already spent $10 billion on Paxlovid, making it more widely available by allowing state-licensed pharmacists to prescribe the drug, per AP News.
Why health experts are concerned about Paxlovid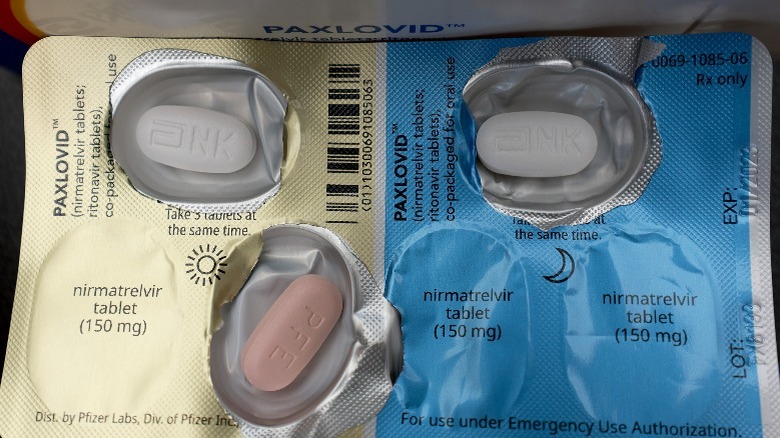 Joe Raedle/Getty
Paxlovid is an oral antiviral treatment developed by Pfizer designed to help treat COVID-19 infections for people over 12 years of age. According to the experts at Yale Medicine, Paxlovid is considered an especially important safeguard for high-risk people, providing protection against hospitalization and a higher risk of death. A dose of Paxlovid is a three-pill dose made up of two medications — nirmatrelvir and ritonavir — that must be taken within five days of experiencing symptoms while the illness is at its earliest stage and when all antiviral medications are at their most effective. The Paxlovid regimen is two doses of nirmatrelvir, followed by one dose of ritonavir. The full course of the treatment is two sets of three pills per day over five days, or 30 pills total.
While this latest study indicated that Paxlovid can be an effective treatment against severe cases of COVID-19 for older adults, other recent studies seem to indicate that it may be limited in its effectiveness in relation to future COVID-19 mutations (per Science). As more and more people take Paxlovid, the COVID-19 virus will naturally find ways to survive and evade the drug by mutating. Some experts feel this could mean that as new mutations continue to emerge, Paxlovid may no longer be a viable therapy. In the meantime, Paxlovid remains one of leading COVID-19 treatments until pharmaceutical companies and researchers develop new antiviral treatments to stay ahead of the virus.